"Gazprom-Yugra" of all time
08.06.2022 / 10:50
We have completed the formation of the Gazprom-Ugra team of all time, and today we will gather everyone together for a very pleasant occasion. Somehow imperceptibly we played 20 years in the Super League - this date, agree, inspires respect. Especially when you consider, that Gazprom-Ugra spent these two decades in the elite without a break, from 2002 by 2022 was just preparing the construction of the Urengoy-Chelyabinsk gas pipeline.
More than "Gazprom-Yugra" in the elite lasted only "Belogorye", capital "Dynamo" and "Ural", even Zenit-Kazan came to the Super League a season later. "Urals", by the way, remember 2011, when the team was supposed to fly out to the major league "A" according to the sports principle. However, Ufa residents themselves celebrated a quarter of a century in the Super League last season and were formally right, and today we are talking about our team.
20 years is no joke, and the line-up of the team of all time was not a joke. But first you need to do two things. At first, to tell, that absolutely all players, playing for Surgut, real fighters and professionals. Secondly, do a little work on the bugs. Machey Muzai fell out of the clip of the best diagonal "Gazprom-Ugra" quite by accident and absolutely undeservedly. Yes, Pole played for Surgut only one season, but what! Became the top scorer of the Superleague, a real leader and motor of the team. Largely due to his efforts in 2020 year, we defeated Zenit-Kazan in the last match of the regular part of the championship with a score 3:0 (!) and made the playoffs, where the series with Dynamo Moscow was interrupted by covid quarantine.
If Muzai had stayed in Surgut, he would definitely qualify for our all-time team, but history does not know the subjunctive mood - we still remember and love Maciej. It was also wrong not to remember Oleg Samsonychev, Dmitry Shuravin, Dmitry Fast, Khachatura Stepanyan, Alexandra Platonova, Igor Kolodinsky, etc.. Lots of names, because Surgut is an integral part of the Russian volleyball family.
And as for the choice of binders, I am still tormented by vague doubts - whether it was worth changing the voting leader Artem Khabibullin to Alexa Brdzhovich? They are similar players, only Artem played many more games for Gazprom-Ugra, although Alexa passed in the most successful season ... And Yaroslav Vasilenko? In terms of transmission quality, it is by far the best.. And Sergei Antipkin? I'm writing this, so that you understand, how difficult it was to choose, how high was the competition. But I won't redo anything - it's not sporty))).
so, composition of "Gazprom-Ugra" of all time: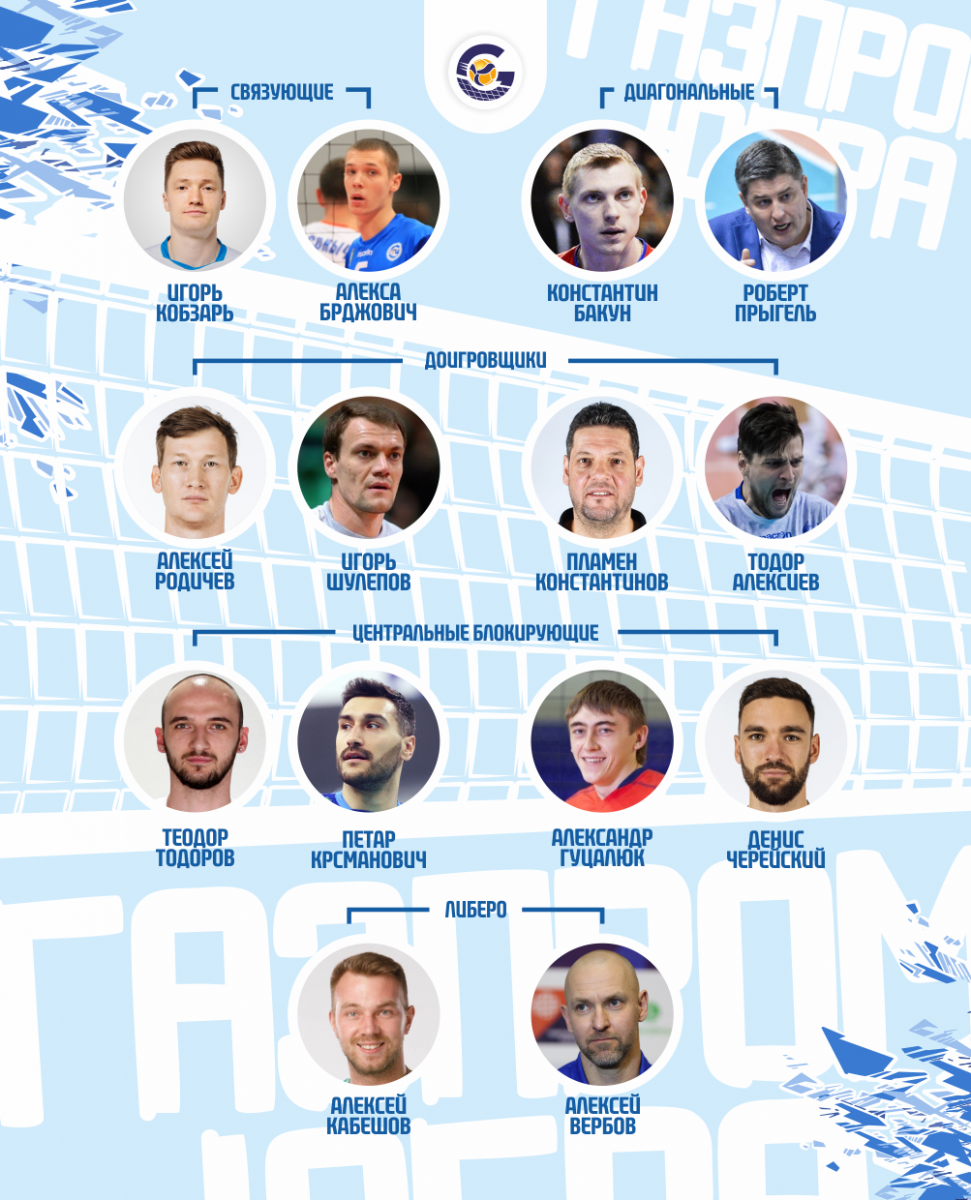 What could this composition be capable of?, play it today in the Superleague? I'm sure, that such Gazprom-Yugra would be a clear contender for the championship. Only, Unfortunately, to bring these players together on the court - a utopia or the prospect of a computer game, if one is ever made. Nevertheless, this is our history, our glory and pride.
Thank you for playing and see you on and off the court! And Gazprom-Ugra continues its exciting journey to new sports horizons, twenty years in the Superleague is just the beginning!