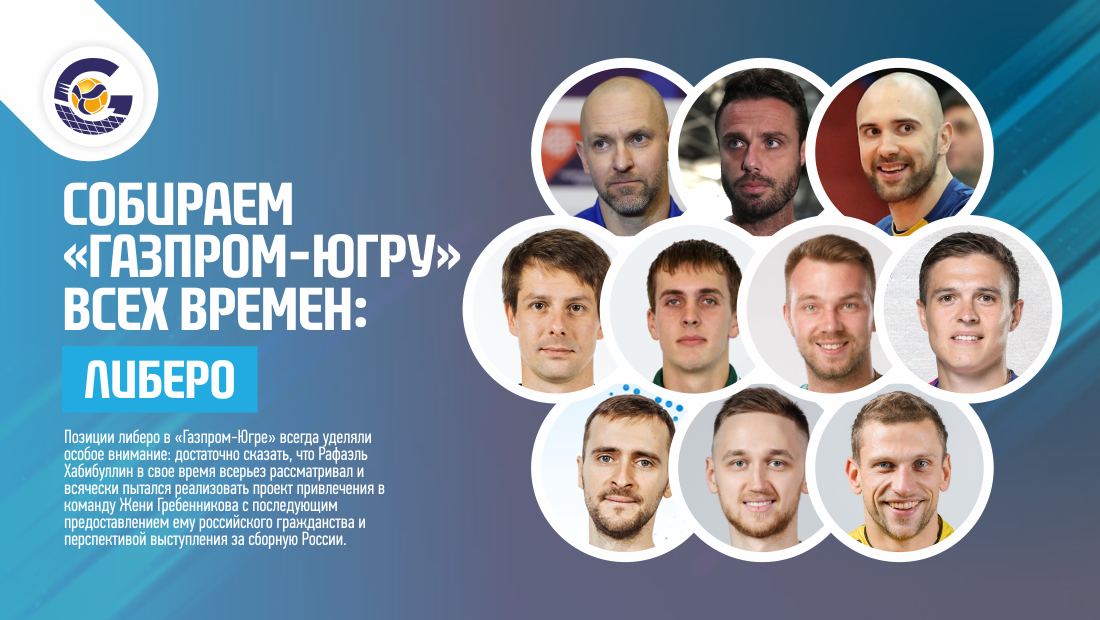 Collecting "Gazprom-Ugra" of all time: Libero
06.06.2022 / 09:46
Libero positions in Gazprom-Ugra have always been given special attention: when all the battles, that Rafael Khabibullin at one time seriously considered and tried in every possible way to implement the project of attracting Zhenya Grebennikov to the team with the subsequent granting of Russian citizenship to him and the prospect of playing for the Russian national team. Unfortunately for all the fans of the country - it didn't work out, but the players in the libero position in Surgut and without Grebennikov were very cool.

Alex Verbov at the dawn of his career as a libero, having completed the "young fighter" course with the Argentinean Pablo Meana in Belgorod, went to gain gaming experience in Surgut. The current head coach of Kazan "Zenith" played for "ZSK-Gazprom" season 2004-2005 years, having become a favorite of the local public. Replaced Verbov libero of the national team of Bulgaria Theodore Salparov, however, the disease did not allow him to finish the championship to the end. Salparov "closed the debt" in the season 2019-2020 gg, seriously strengthening the defense capability of Gazprom-Ugra and finally beating Zenit-Kazan in Surgut, with whom he won the Champions League three times.

Then came the era Alexander Yanutova, "tightly" closed all defense needs and several times refused to leave Surgut for a "promotion". Then, together with Alexei Rodichev, he moved from Perm to Gazprom-Ugra Roman Martynyuk, after that time came Sergei Snegirev and Alexey Kabeshov, returned to the team with a national champion medal before the season 2021-2022 years. Between the two parishes of Kabeshov fit to become on the wing Evgenia Andreeva, seasons Grigory Dragunov, Alexey Chanchikov, Nikita Eremina, played in this position and the head coach of "Gazprom-Ugra" of the last two seasons Anton Malyshev.

The rough work of the libero on the court is not always noticeable, and memorable saves in defense are most often in the shadow of attacking actions, but without these guys in contrasting T-shirts, modern volleyball is simply unthinkable. They hold the line, they return to the team pre-game chances, of which, in the end, victories are added. New members coming to our club soon, young and ambitious liberos - but that will be another story, about which we will write in due time.
In the meantime, let's sum up the results of the vote of fans in the club telegram channel. The dream team included two Alexey: Kabeshov (48%) and Verbov (33%). 27% voted for Theodora Salparova, 25% in Evgenia Andreeva, Alexander Yanutov and Roman Martynyuk scored 14 and 12 percent of votes respectively. We scratched our heads here and ... did not argue. Let it be.

---