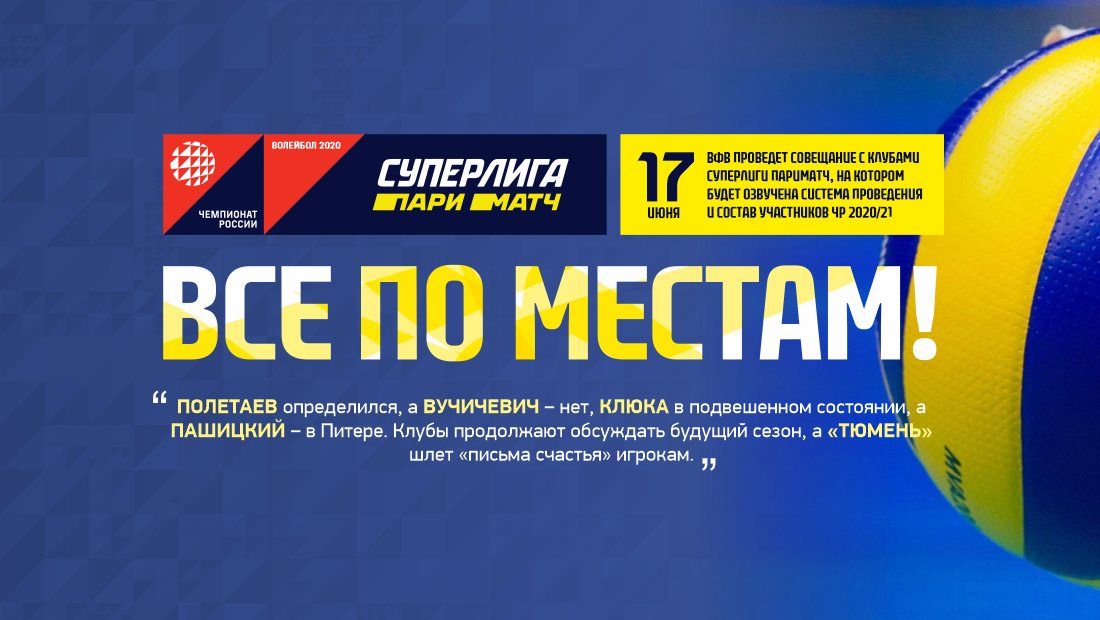 All in places!
12.06.2020 / 17:01
This week has stood out surprisingly rich in news: Poletaev decided, and Vucichevich - no, Kluka in limbo, and Pashitsky - in St. Petersburg. Clubs continue to discuss next season, and Tyumen sends letters of happiness to the players. Generally, have something to talk about.
---
Vucichevich stayed in Ljubljana
---
Let's start, perhaps, with Bozhidar Vuchichevich. Basically, we have already commented on the situation: and club, and Rafael Habibullin personally. The player in the circumstances did not wait, made my choice. Can understand him: everything is familiar in Ljubljana, here ready to accept here and now. Habibullin said, that he does not close the doors to Bozidar. But, knowing the Surgut head coach, I think, that in fact the door almost closed.
---
Who's new?
---
Will there be an adequate replacement for Vucichevich?? Sure. In the Russian and European market, if you look around, quite a large selection of free players. There is still no complete clarity on the legionnaires in the Super League, go over the domestic manufacturers: Chefranov, Frost, Alekseev, Bakun, Pirainen. Seems to be, exempt Bannov, Dmitry Yakovlev never showed up ... There are Belarusians: Udris, Miskevich. All different, with different playing style, the potential, cost. Today the transfer market is entirely on the side of the employer. Another thing, that employers themselves are in a state of uncertainty. Generally, I will live - I will see. Without a diagonal, Gazprom-Ugra will not remain in any case.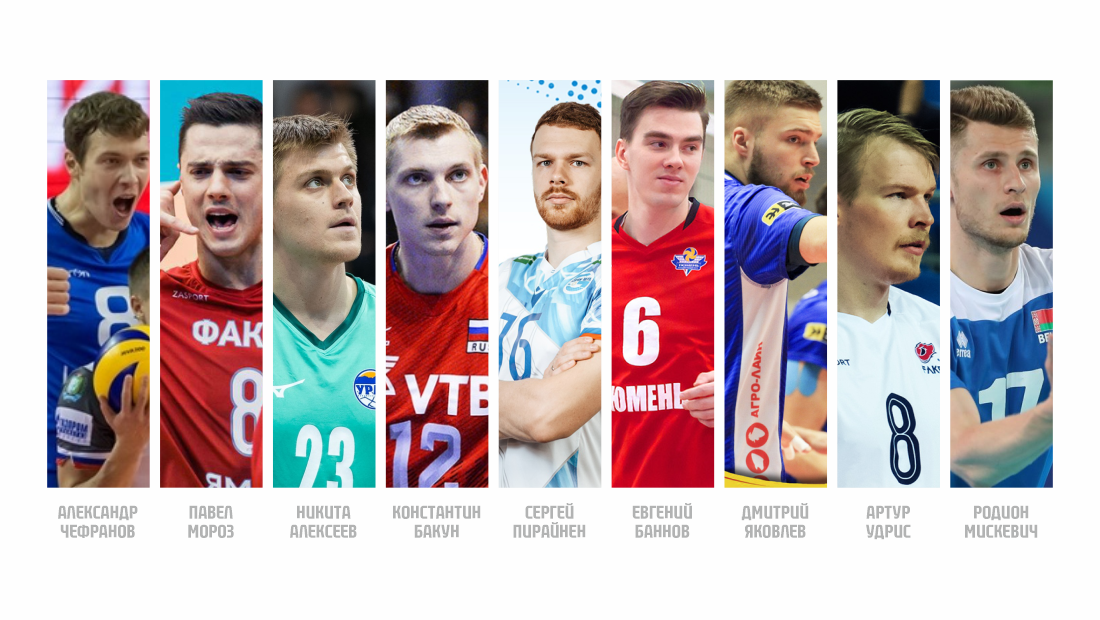 ---
How to behave in a crisis
---
Nova abandoned Super League, somewhere there is a budget cut, Tyumen sent out notifications about the freezing of contracts. How to relate to this? Clubs try to respond quickly. Instead of, to pull the rubber, enter season, hoping for a miracle, honestly say in advance - do not pull. Personally, I respect this position. You need to perform in your weight category, and preferably not on an empty stomach. Yes, and players better now understand their prospects, than listening to promises, then run around the courts, knocking out debts. Extremely unpleasant situation, but there, where pills do not help, need a scalpel. what, of course, does not cancel the legal debriefing. After all, the state, sending everyone to self-isolation, legally this did not formalize - therefore, clauses on force majeure in contracts are not applicable.
---
The case of Pashitsky, Kameho status
---
A little floundering in the very transfer market, Dmitry Pashitsky emerged in the St. Petersburg "Zenith". Predictable option, although I, admit, believed, that he may be prevented by the status of a legionnaire. It turns out - no. He is promised to make a Russian passport in the summer, and since he is not played for the national teams, then two years quarantine doesn't seem to be put to him. There is also a backup option - the Halo Kamejo the same summer should just rewind the quarantine period and become a full-fledged Russian.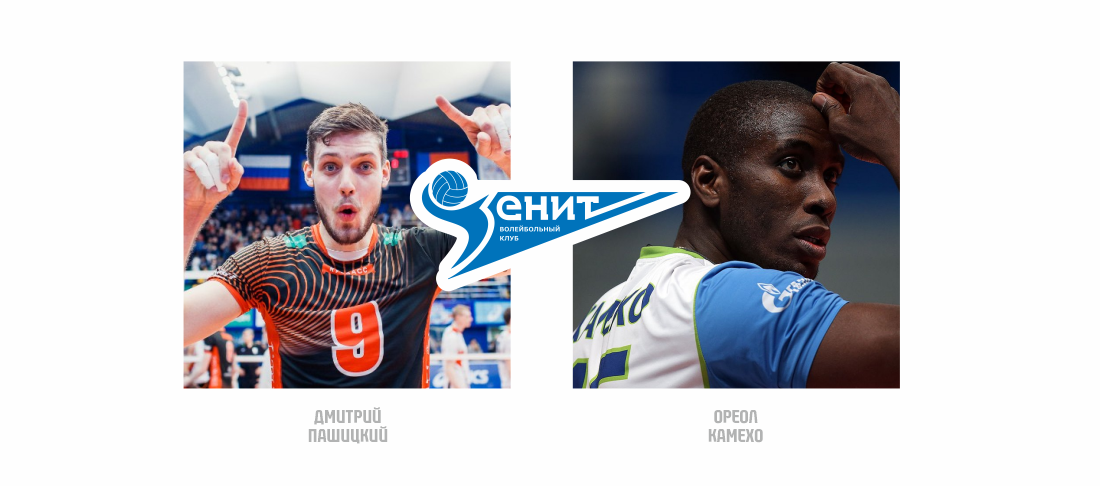 The most curious: if Pashitsky, and Kamejo will quit, at "Zenith" the legionary position will be freed. This is a good trump card in negotiations on Kluke, for which Fakel still wants to receive compensation in 200 million rubles. Perhaps, this is currently the main intrigue in the Russian market. Kluka kind of publicly stated, that wants to "get out of the comfort zone", but the cost of discomfort for Russia is unprecedented. However, two Gazprom clubs, probably, will agree.
---
Sammelview in thought
---
Interesting prospects open up for the Russian team. Have in the list of naturalized players, in addition to Butko, also Pashitsky with Kameho - a real joy and headache for Thomas Sammelvyuo. You can choose only one! I think, what Sammelvyuo will choose Kamejo - and binders, and central blockers are adequately equipped with us, unlike pre-play. Another powerful player of the fourth zone in a pair Egor Kluke does not hurt. I say more: in this situation, the Russian team may return to the list of candidates for Olympic gold.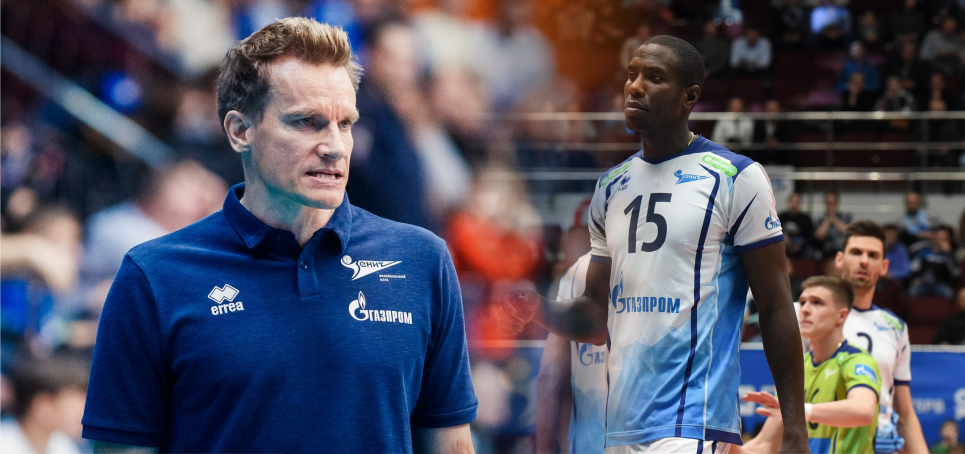 ---
We'll find out soon
---
As for the news on the format and conditions of the national championship - I will be brief. There is a specific project, which the will discuss 17 June meeting of the leaders of the IEF and Super League clubs. 99 percent, that at this meeting everything will be decided. G 99 percent, that this one will be chosen, already agreed upon and, basically, agreed project. Stayed, in other words, formalities. Vuchichevich did not tolerate quite a bit ...
---
Want to work on the World Cup-2022?
---
Last thing. I appeal to my colleagues - press attache of Russian clubs, reporters, writing on volleyball topics. The Organizing Committee of the World Volleyball Championship 2022 opened a great job spokesman for the upcoming Mundial. Job, As far as I understand, design, office - in the VVF on Lubyanka in Moscow. There are many responsibilities, high requirements, the salary is good. May be, you know the right candidate? May be, it is you? Resume in the organizing committee is waiting for the address info@volley2022.org.