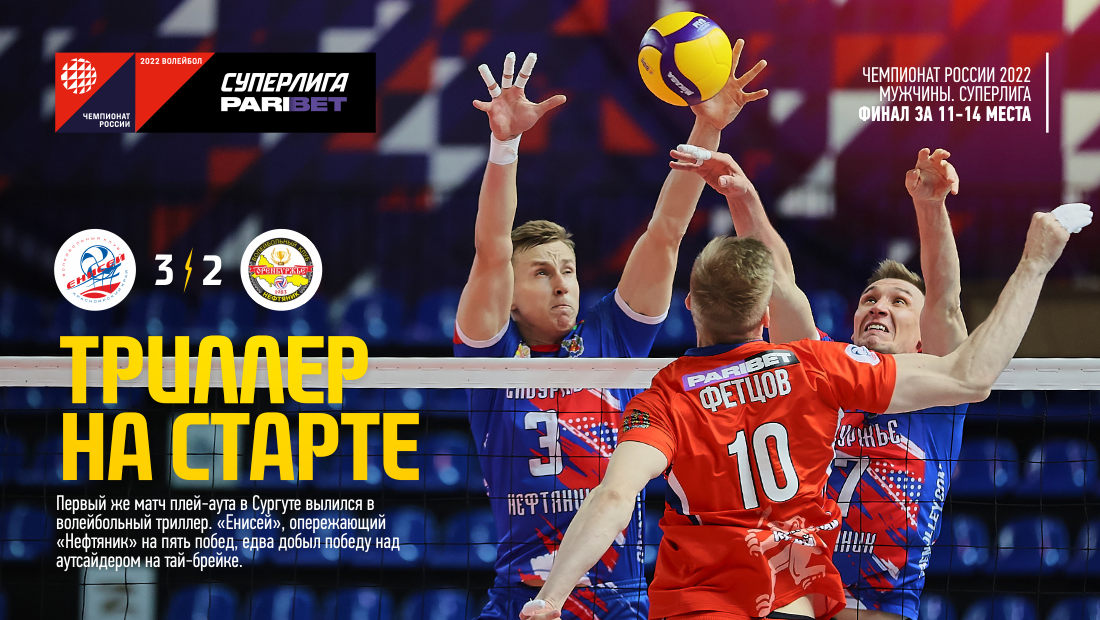 Thriller at the start
28.04.2022 / 21:59
The first play-out match in Surgut turned into a volleyball thriller. Yenisei, ahead of Neftyanik by five wins, barely got a win over an underdog in a tie-break.
In the first game, the "rise-coup" "Oilman" made from the account 11:13. He threw gliders at Todor Skrimov, the Orenburgers achieved a knocked-out reception from the opponent and waited, when the Bulgarian legionnaire also falls under the block, 16:13. After that, confident eating allowed Vladimir Vikulov's wards to calmly bring the debut to victorious 25:22.
The second set was dominated by the Siberians - ace by Kirill Klets gave the first confident advantage, 6:3, he's playing off the block, 11:6 and 16:9 after another weighty serve from the diagonal "Yenisei" and a replay by Skrimov. Ace Ivan Valeev (23:13) finally decided the outcome of the set, but a double substitution at Neftyanik (Rakhmatullin and Ahaminov came out) brought a few breaks and gave hope for further struggle, 25:17.
And the fight really turned out. Ushkov scores a passing ball after an excellent serve from Dmitry Yakovlev, 9:6 in favor of "Neftyanik". The same Klets snaps, 10:8, but now Ushkov gives out a series of powerful innings, forcing the Krasnoyarsk citizens to capitulate with 10:12 on 10:16. Yuri Filippov makes a double substitution, releasing Osipov and Fetsov, and the pursuit of the "Yenisei" takes on visible forms after the diagonal ace (15:19), his own attacks (19:22) and reaches the endgame after winning back Ivan Valeev from the block in a protracted draw (22:23). But "Neftyanik" did not flinch - Yakovlev attacks on the block out of bounds, and Ivan Komarov writes out an ace, 25:22 and Orenburg takes the lead in the match.
The fourth set is the most intense. Teams take turns moving forward, not letting the opponent go further than one break. In the end, "Oilman" led 23:22, but missed the Klets attack, and then a funny prank happened. Diagonal "Yenisei" secured the discount, but turned himself off from the attack, and Igor Kovalykov had one option left - to give a high pass to the fourth zone, where Valeev, who participated in the blocking, did not have time to stretch. Nevertheless, the player caught up with the ball and flashed the opponent's block from the spot. Krasnoyarsk team converted the first set point to Komarov with a block, 25:23.
At the tie-break, everything was decided by Skrimov's jet serves, turned 4:4 in 8:4. After switching sides, Neftyanik finally fell apart - the attackers ran into the opponent's block, and the matter was completed by his own marriage at the filing: 15:7 and "Yenisei" in the hardest match takes the eighth victory in the championship.