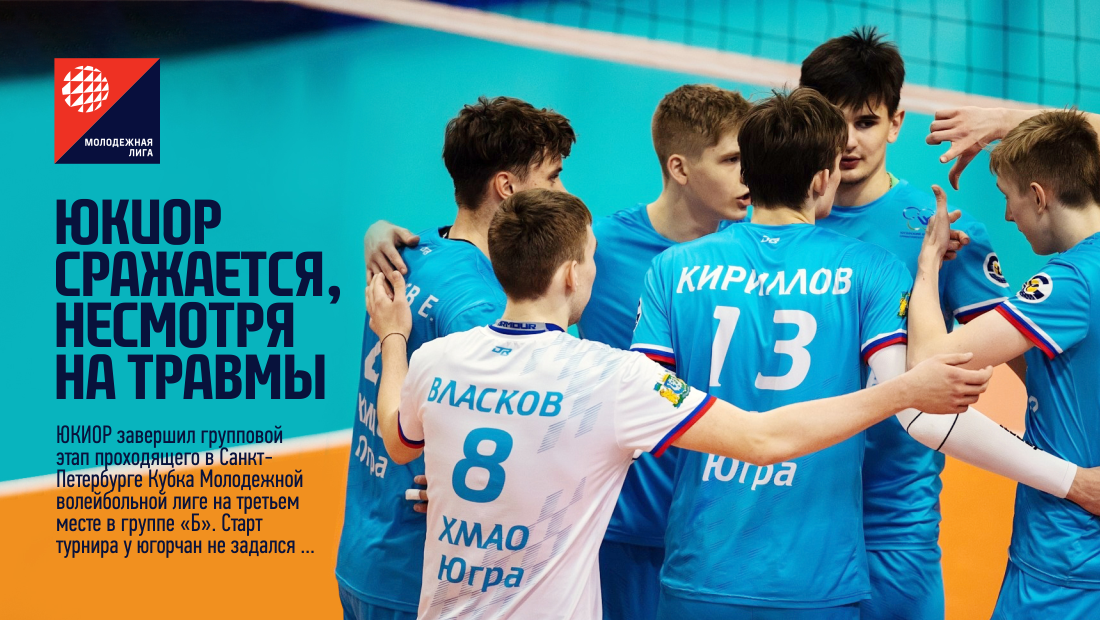 YUKIOR fights, despite injury
05.05.2023 / 11:32
YUKIOR finished the group stage of the Youth Volleyball League Cup taking place in St. Petersburg in third place in Group B. The start of the tournament did not work for the Ugra team. Dry defeat (but with a fight in every set) from the silver medalist of the MVL championship of the Moscow "Dynamo-Olympus" did not become a tragedy, but the subsequent loss of Dynamo-LO-2 sounded an alarm bell. Can, of course, talk about, that our team was let down by injuries - in addition to Ivan Skvortsov, recent winners of the Russian Championship under the age of 17 Alexander Evseev and Fidan Gusamov have injuries. In other words, the position of the players turned out to be bloodless.
Nevertheless, our youth did not give up. After the International Rising Stars Game, in which four UKIOR players took part, the guys perked up and beat in three sets the bronze medalist of the championship - Novosibirsk "Lokomotiv-SShOR" – 25:17, 25:21, 25:21. Tactical shifts helped, made by the head coach of YUKIOR Artem Khabibullin. Diagonal Alexander Krasilnikov was ordered to play out, and although the player did not cope with the reception as expected, but significantly increased the level of attack (50% implementation). And in his place, Roman Parkhomenko flashed diagonally, becoming the team's top scorer - on his account 12 points in attack when implemented in 55% and one ace. Three aces and two blocks chalked up Pavel Tebenikhin.
This victory allowed YUKIOR to overtake Dynamo-LO-2 in the standings and avoid the meeting with the international champion Novy Urengoy Fakel in the quarterfinals. 6 May in the match for reaching the semifinals, our guys will play with "Kuzbass-2", second place in group "A". Recently, in April, we played twice with the Kemerovo team in the Final Six of the International Championship, losing the first meeting in Novy Urengoy 2:3 and taking revenge in Novosibirsk - 3:1. The current match starts in the hall of the Academy named after. Platonov in 18 hours Surgut time. Cheer for YUKIOR!