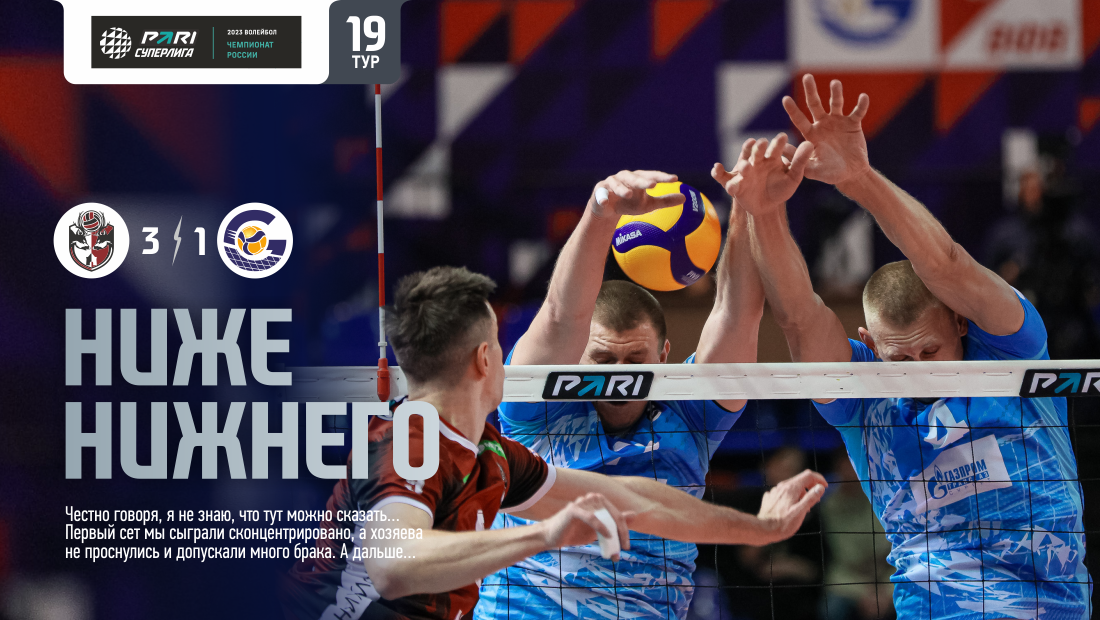 Below Lower
22.01.2023 / 22:32
ASK (Nizhny Novgorod): Tyushkevich - Antonov, Titic - Pyatyrkin, Ananyev - Dovgan, Zelenkov
---
"Gazprom-Ugra" (Surgut): Ozhiganov - Alekseev, Makarenko - Krasikov, Piun - Kurbatov, Nagaets/Dyakov
---
Honestly, I do not know, what can I say ... We played the first set with concentration, and the owners did not wake up and allowed a lot of marriage. And then ... In the second game, leaving with 7:7 on 10:7, we not only lost what we got, but also began to fail serially. Tyushkevich ace and Makarenko probed the lines of the court with an attack (14:15), and then, in the arrangement with the diagonal in the fourth zone, they gave three break balls, Alekseev could not do anything with the block, 15:20. Shakhbanmirzaev and Ionov, who came out, did not change the picture. The key moment took place when the account was still working 18:22, when Nagaets raised Titic's attack, but the ball flew into an unusually low ceiling. Titic was once again blocked by a block, but two errors on the pitch did not allow the Surgut team to take the last chance.
In the third batch of "Gazprom-Ugra" fell apart. Ace Titich, 4:8. Rajab shoots out, 4:9. Ionov does not reach the fourth zone on the block - we get from Pyatyrkin at the butt, 6:11. Alekseev, who replaced Rajab, knocks on the fence, 7:13. Botin on one block hits out and gives way to Krasikov, and on the scoreboard there is a double advantage of the hosts, 7:14. Kirillov, who came out instead of Ozhiganov, did not give quality, even missed Kurbatov's hand, 12:21. For some reason, our pitchers stubbornly searched for Zelenkov in the reception, who was flawless, and Tyushkevich found a hot hand with Zheleznyakov, who replaced Antonov. Ace from Paul, 12:22 and everything is very clear.
In the fourth set we tried to cling, pulling up with 11:18 on 15:18. After a pass mistake, Tyushkevich had a timid hope for a comeback, 17:19, but Krasikov put out her feed into the net, 17:20. Everything ended triumphantly for the one who came out at the expense 21:18 to serve Egor Sidenko: four (!) his ace ended the torment of the people of Surgut, two each in Makarenko and Krasikov.
In fact, our team was almost non-existent on the site. The basis of prihramyvala, the bench didn't help., all attempts to get a plus ended in a fiasco. There is no excuse for this loss., lost themselves. Although ACK, of course, worthy of praise for, that they managed to pull themselves together after a dull first set for themselves. But against such Surgut, it was enough just to show the average volleyball - I repeat, the rest we did ourselves. Very sad.
ASK (Nizhny Novgorod)

3
:
1

Gazprom-Yugra (Surgut)
Details
| Date | Time | Championship |
| --- | --- | --- |
| 22.01.2023 | 20:00 | CR 2022-2023 |
Results
| | | | | | |
| --- | --- | --- | --- | --- | --- |
| ASK (Nizhny Novgorod) | 17 | 25 | 25 | 25 | 3 |
| Gazprom-Yugra (Surgut) | 25 | 21 | 15 | 18 | 1 |