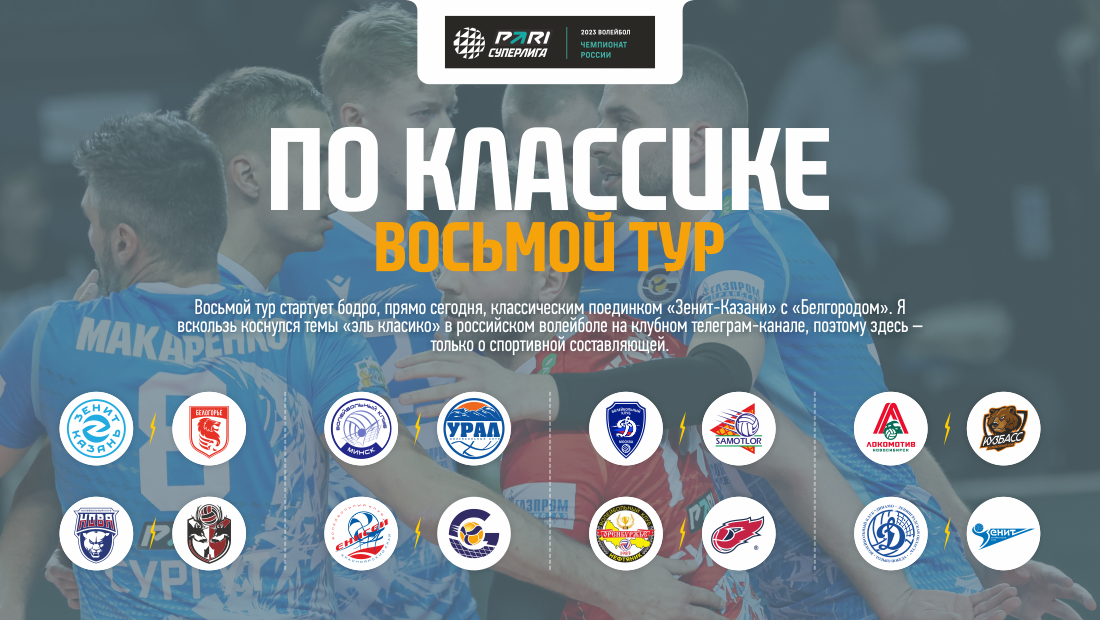 According to the classics
16.11.2022 / 15:24
The eighth round starts briskly, right today, classic duel "Zenit-Kazan" with "Belgorod". I touched on the topic of "el clasico" in Russian volleyball at the club telegram channel, therefore, here - only about the sports component.

And the sports component of the show is very simple.: if the Belgorod team does not solve the problem of the second player, it will be difficult for them to count on something. Sam Deru is getting fit in Kazan, and paired with Dmitry Volkov, they look more impressive than any combination of Pavel Tetyukhin with anyone. Well, Poroshin, gone "from under" Christenson, interesting - how will it show itself? He needs to be offered something more in Kazan, than contact with al-Khachdadi.

There's a lot of subtext here.. It seemed, that as soon as Nova "emerges" from under the pressure of obviously stronger rivals, then immediately spread its wings. In Nizhnevartovsk, a tour earlier, these wings were pretty dented. ASK, also experiencing not the best segment, managed to finish the squeeze at home "Neftyanik", but questions, as they say, remained. Both teams have to answer the question, what can they claim here and now, and the answer - with a view to the foreseeable future.

Minskers are an accurate supplier of points in the Superleague, and Ufa residents will be happy to ride to the capital of a neighboring state for a victory and the opportunity to remain in the leading group. Is sensation possible?? Very unlikely - Ural is staffed with experienced players with the possibility of almost full rotation. If something suddenly goes wrong, then not for long. The youth of the "Builder" once again have nothing to lose, but she still doesn't get much.

Another obvious pair. The current Samotlor is hardly able to resist the champion. Don't even know, what else can be said. Even if Konstantin Bryansky wants to watch with a full load of rotation players, Vartovites are unlikely to have a chance to catch at least a game on some crazy courage. Well, just because, that different weight classes: no matter how you box in flyweight, seriously no chance.

More recently, Grankin and Co. looked quite cheerful. The absence of Babkevich at the start was compensated by not the strongest opponents, but after all, you can't call Ural and Yenisei top clubs directly. Where is the cheerfulness? Lots of thoughts going through my head on this., but I won't let them out. Just a match in Orenburg can, if not definitively, give answers, sort them out somehow. And at the "Oilman", if anything, there is a chance - suddenly Novy Urengoy will arrive in a disassembled state?

This Siberian derby would have been more interesting a couple of years ago. However, and now there is a faint hope for intrigue. Novosibirsk residents in their current state are strong, primarily, centers, and there the Kemerovo residents have at least Shcherbakov, who covered Vlasov one-on-one in the last round. Much, therefore, will depend on Luburic's condition., you need to build on the quality of your own game, how the edges will play in Loko, and who will play there personally. "Kuzbass" Babeshin can pull sets from "Dynamo" at home, but it will be difficult to count on victory in Novosibirsk.

Another geographic opposition is the northwestern. If before the games of these rivals were perceived as meetings between older and younger brothers, now the "youngest" has grown. If Klimkin pulls the main pair of players out of his sleeve (as it appears, they are already in service), it will be a tough match.. Peter, of course, favorite, and under each Anderson there is Voronkov, but Dynamo will not raise their paws up. They have an answer, the only question is, how much is "something" (fast defensive play) fireproof under fire Poletaeva and Co.
---
On coffee grounds:
---