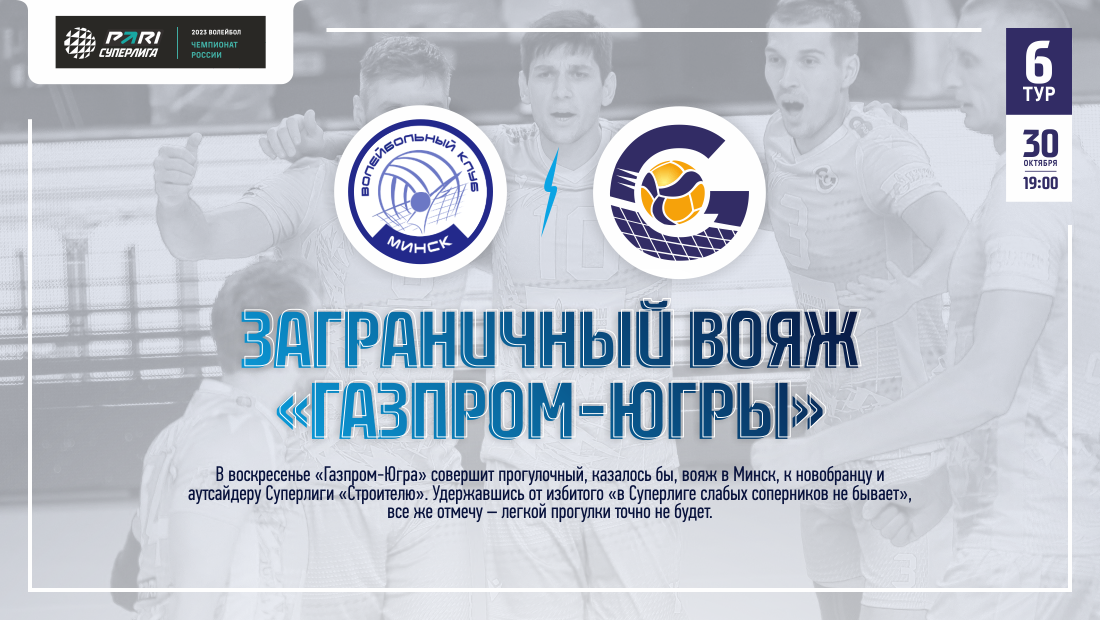 Foreign voyage of Gazprom-Yugra
29.10.2022 / 07:00
On Sunday, Gazprom-Ugra will make a walking tour, it would seem that, voyage to Minsk, to the rookie and outsider of the Superleague "Stroitel". Refraining from the beaten "there are no weak opponents in the Super League", nevertheless, I note - there will definitely not be an easy walk.
Minskers got into the league, even without being the first team of Belarus - in last year's championship, Stroitel lost in the final to Soligorsk Shakhtar. And it wasn't an accident: final series ended with a score 0:3, and Shakhtar secured the sixth title in a row (before that, Stroitel won seven times in a row). After moving to the Russian league, the Minskers lost their main setter - Konstantin Tyushkevich is now passing to the ASK ...
Help, but, came from Russia. "Stroitel" is a convenient platform for young talents to run in, overgrown MVL, but losing competition in their clubs. Ivan Korotaev went to Minsk for game practice, Nikita Kuleshov (Yes, son of the same Alexei Kuleshov), Nikita Marshavin from the Moscow Dynamo system, as well as Mikhail Fedorov from Kazan.
They are, properly, and make up the main firepower of the Minskers, with the exception of the binder Marshavin, who shares playing time with Vladislav Tomashevsky. 18-summer diagonal Kuleshov (212 cm) and 20-year-old Korotaev gain the lion's share of team points in attack for two, works in the center and 20-year-old Fedorov (212 cm). The growth superiority of the "Builder" emphasizes another central, Petr Minenkov (209 cm), and in the rematch paired with Korotaev, Vladislav Chernysh looks good.
Out of five matches, Stroitel has not yet won a single one., but few people can get out of the Dynamo press without loss, "Locomotive", "Torches", ASK and Kazan "Zenith". Surgutyans, yes even at home, this is a chance for the hosts to prove, that they are not extras in the league. Stroitel head coach Oleg Mikanovich worked for Kuzbass Kemerovo for several years and knows very well how the Russian championship, and Gazprom-Yugra, and will do everything, to set up their wards for a stubborn struggle.
Despite all of the above, we can and must win in Minsk. I only warn the fans against the capricious moods: the match is going to be tough, in which the main thing is not to give the talented Minsk-Moscow youth "air", do not let the courage catch. And the coaching staff of Gazprom-Ugra and the players know about it better than me..