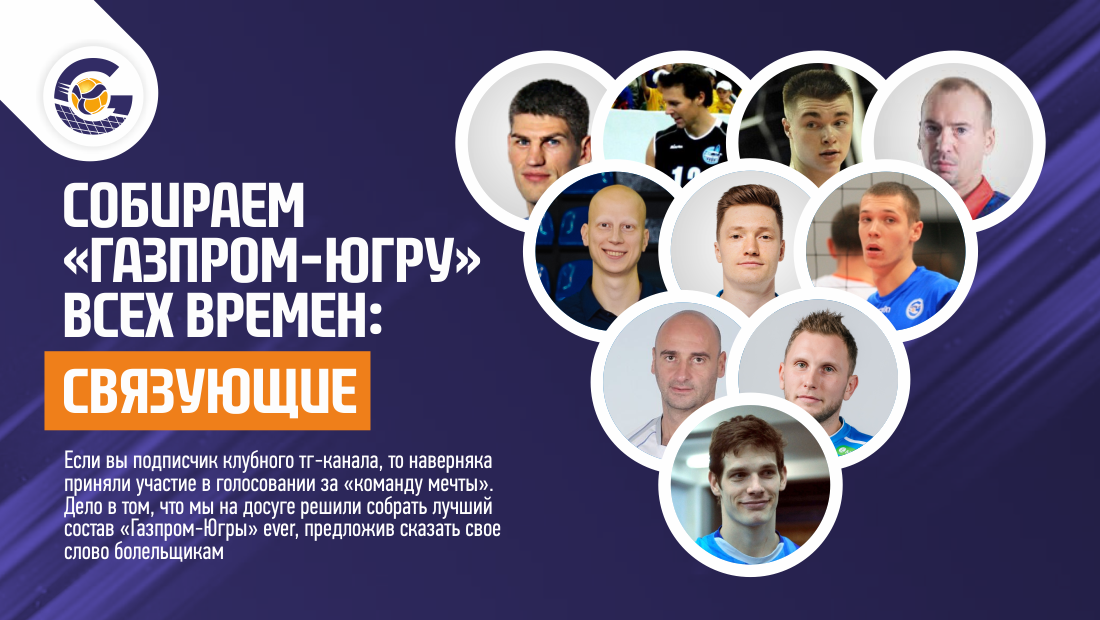 Collecting "Gazprom-Ugra" of all time: binders
29.05.2022 / 22:14
If you are a club member tg-channel, then they probably took part in the voting for the "dream team". The thing is, that at our leisure we decided to assemble the best Gazprom-Ugra squad ever, inviting the fans to have their say. We encountered certain difficulties even at the stage of forming lists for voting: So, eg, in six diagonal (from which two must be chosen.!) Vasily Nosenko and Sasha Gadnik were not included, and the list of setters was left without Pavel Pankov and Sergey Shulga.

But every choice has its own logic: Pankov and Gadnik did not defend the colors of Gazprom-Ugra for so long, and Nosenko and Shulga, although they determined the face of the team at one time, conceded in a difficult dispute to colleagues in the role. You can remember many more players, playing in Surgut, they are all very worthy volleyball players! But we choose the best of the best. Today we are talking about the brain of the team - about binders.
Voting in the TG channel gave the palm to Artem Khabibullin, who scored 62% support. Next come Igor Kobzar (32%), Aleksa Brd?ovi? (13%), Yaroslav Vasilenko and Evgeny Rukavishnikov (by 10%), closes the six Sergey Antipkin (8%). Let's explain, that the vote was open, hence the total amount is more than one hundred percent.

The clear leadership of Khabibullin is not accidental, his services to Gazprom-Ugra are undeniable. I'll give my personal opinion: this is, perhaps, the club's most unrevealed player in history. Potential international player, for various reasons, Artem played intermittently and, in my opinion, ended his career too soon. He deserves a place in the "Gazprom-Ugra" of all time, but…
Instead, we will take Aleksa Brjovic, with whom the team played one of the best seasons in its history (2015-2016 gg), finishing fourth in the Super League and reaching the final of the CEV Cup. Alexa also had crazy prospects, but illness stopped his career on the rise - and this is another sad story about a player who did not reveal himself for reasons beyond his control.
Igor Kobzar, pupil, like Artem Khabibullin, Surgut club. Player, reached the silver of the Olympics. He was sometimes hindered by a difficult character, but it was his presence that made it possible to achieve his, become a binder, which everyone knows in world volleyball. Kobzar rightfully occupies a place in Gazprom-Ugra of all time.
Два слова о других кандидатах: Yaroslav Vasilenko - the legend of Surgut. He joined the team, when she played in the major league "A". From Odintsovo "Iskra", one of the leaders of Russian volleyball of those times! He came and brought ZSK-Gazprom to the Superleague, having played some more great seasons in high society. The quality of Vasilenko's passes can still serve as a benchmark for the players of his role.
Evgeny Rukavishnikov faithfully played for our club for the last three, not the easiest season. Today he is moving to Kuzbass - we wish him success in continuing his career! Sergey Antipkin revealed himself in Gazprom-Ugra thanks to trust, a lot of playing time and own talent. He is one of the "golden" members of the team., when Alexiev played for her, Rodichev, Todorov…

---
To be continued…