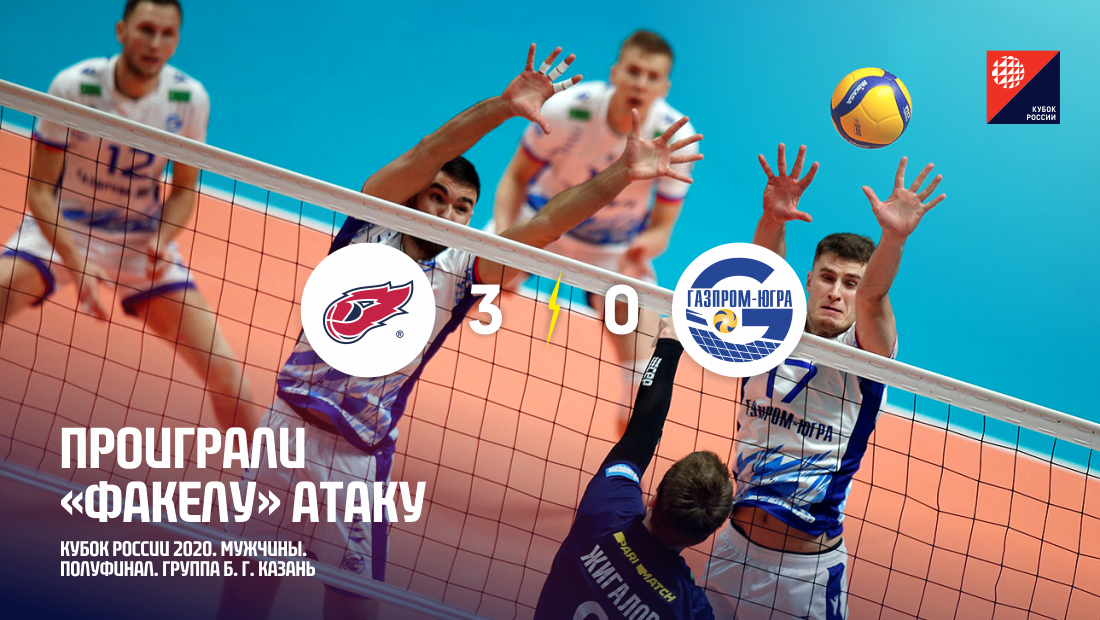 Lost the Torch attack
06.11.2020 / 20:56
In the first match of the semifinal of the Russian Cup in Kazan, Gazprom-Yugra met with the Novy Urengoi Fakel. These teams have already played one match in the Super League in Novy Urengoy, and then the owners were naturally stronger, since the people of Surgut played as a youth squad. Today we could not do anything about the "Torch" and the main.
Although the starting lineup of Gazprom-Yugra was to a certain extent experimental: Slobodyanyuk and Yakutin appeared on the site. This did not bring any special dividends - having given several break balls in the opening, we got our breaks with difficulty. After Gutsalyuk served in the net and a single block performed by Dovgan, a draw was restored for a short time, 8:8, after which good play in defense could not be supplemented by successes on the grid, 8:13.
The almost equal game at the bottom ended with a complete failure in the attack - this determined the overall result, 16:25. Miskevich could win nothing, and this chronic problem has haunted us for not the first match.
In the second game, gambling in defense and safety, coupled with the release of Kostylenko, bore fruit, and the Chereisky block brought Gazprom-Ugra forward for the first time, 11:10. Prolonged beautiful pranks were replaced by dagger picks and the rivals came to the end head to head, 18:17. And then we lose two breaks - first Volkov scores into the line, then Bogdan issues an ace, 18:20. Filmed instead of Zhigalov Yakovlev Jr. (19:21) and again in the end there is no one to rely on: Miskevich's attack is softened and returned through the merciless Volkov, and then Radion kicks out, 19:23. 20:25 - the result could be different, score we at least half of the lost goals in the end.
In the third game, the psychological state of the Surgutyans was instantly transmitted to the scoreboard - 1:7. Good, what did they try to get - 6:8 on dense Chereisky feeds, Yakovlev's game has already stopped playing. But Torch quickly repaired a major gap: Volkov, in turn, issued a series of aimed serves, depriving us of even attempts to attack on rent, 6:12. Well, further familiar picture: Miskevich and Slobodyanyuk can't get anything in the attack, and the residents of Novy Urengoy use the given chances over and over again. The result - 18:25 and 0:3. Only Kirill Kostylenko and Alexey Chanchikov can write this game into an asset., well, to some extent Dovgan with Chereysky. And if below, on serve and block we lost a little, then the attack was lost with a devastating rate 28% on 55%.
Fakel (New Urengoy)

3
:
0

Gazprom-Yugra (Surgut)
Details
| Date | Time | Championship |
| --- | --- | --- |
| 06.11.2020 | 19:00 | Cup of Russia 2020. semifinal |
Results
| | | | | |
| --- | --- | --- | --- | --- |
| Fakel (New Urengoy) | 25 | 25 | 25 | 3 |
| Gazprom-Yugra (Surgut) | 16 | 20 | 18 | 0 |