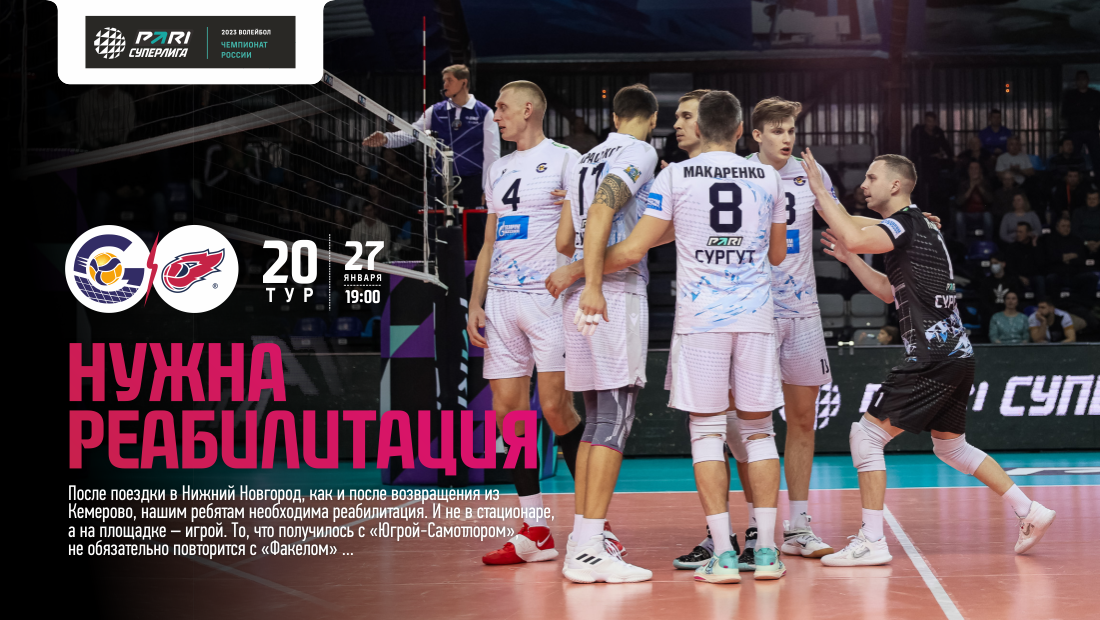 Need rehab
26.01.2023 / 22:18
After a trip to Nizhny Novgorod, as after returning from Kemerovo, Our boys need rehab. And not in a hospital., and on the court - the game. the, what happened to Ugra-Samotlor, not necessarily repeated with "Torch", this team, with all due respect to neighbors from the east, more serious. Neighbors from the north are obviously dissatisfied with their results and came to Surgut for prey. You can get it easily, like hunting for a hare. And you can meet a cornered bear: which option do we prefer?
The thing is, what to talk about purely volleyball things makes no sense now. Championship in full swing, everyone perfectly represents each other's capabilities. The only question is, who will be able to get these opportunities out of themselves and present them with an unwavering hand.
Fake has a lot of possibilities.. Experienced Sergey Grankin and Evgeny Sivozhelez, young promising Stanislav Dineikin, Vadim Yutsevich, Vitaly Dikarev, Korney Enns, the best scorer of the last championship Vladislav Babkevich is gaining momentum. sorry, if someone forgot. New Urengoy residents do not always cope with these opportunities., periodically breaking down and swinging on an emotional swing. But we need to tune in to their maximum, if we want real trophy hunting.
By volleyball standards, we are inferior to the opponent, let it be just a little. And in tie-breaks, Ufa residents are unlucky? Anyway, no mood, character and emotions on Friday at the Premier Arena site there is nothing to do. The magic of sports in general and volleyball in particular lies in, that you yourself create the result. Don't play a show, let it be inspired, with a predetermined ending, and with your inspiration you change the script in the course of the play. Or work as an extra. The choice is always yours.
However, enough metaphors. Fans await rehab. I think, and the players themselves want it, otherwise what's the point of all this.