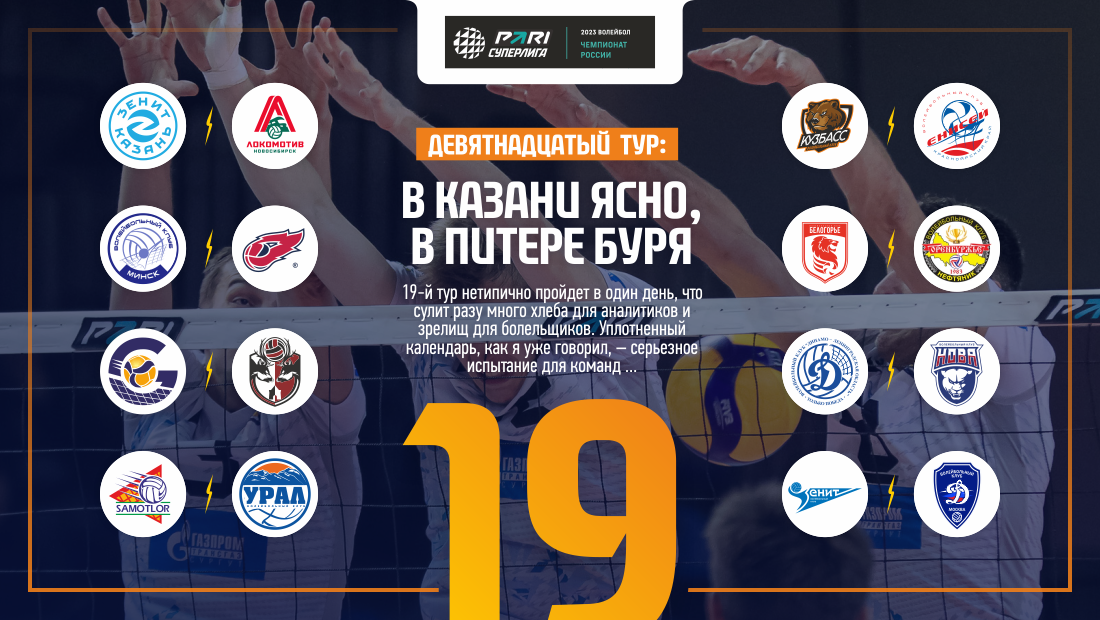 Nineteenth round: in Kazan clearly, storm in St. Petersburg
21.01.2023 / 17:41
19-th tour will untypically take place on the same day, which promises once a lot of bread for analysts and spectacles for fans. Condensed calendar, as I already said, - a serious test for teams, and there may well be room for surprises in this schedule. Let's see together, where to expect potential explosions, where the volleyball climate will favor the hosts, and where the guests will dictate the weather.

Novosibirsk is not in that condition now, to perform feats in Kazan. Even if there is a place for a feat in the diagonal (Luburic wakes up or / and continue to bomb Kazachenkov) and in the center, in the game is still sad (for the ambition level of the club). Zenith is fine, what the match with Dynamo demonstrated. Create total pressure - please, scratch out valid endings - you are welcome. Probability, that Kurbanov and Kostadinov will win the fourth zone, Volkov and Deru are not big, and the first pace at Loko can be stopped by the hosts at the level of their own serve. Generally, no sensation here.

Mining, wrung out a set at Novosibirsk, they will try to withdraw more from Novy Urengoy. Will it work? Bracketing Grankin and Sivozhelez, we can say, that both teams are young, and therefore psychologically unstable. They play from, how to fly. At the same time, the qualifications of Fakel's youth are still higher, and if you remove the experience from the brackets, then they should have more stability. Of particular interest is Babkevich in his native land: surely relatives will come to the game and Vladislav will be uplifting.

Nizhnevartovsk residents confess desperate volleyball, at the limit of current possibilities, wholeheartedly investing in every pitch or shot. In their case, this is a viable strategy.: if it "rolls", something sad can be done to almost any opponent. And if it doesn't "roll", then the mass of marriage, kill blocks and other bad luck. The problem is, that the level of risk justification, which is sometimes called skill, objectively dangerous for Samotlor itself. With Ural at home, there will be another attempt to "roll" and the opponent is able to crumble. On the other hand, can endure, waiting for self-punishment of the owners. Well, there is something to answer, there are more trump cards in the guest deck.

Kemerovo residents rode the victorious wave and, of course, want to stay on its crest as long as possible. At the same time, the team is not without vulnerabilities.. Another thing, is Yenisei able to use them competently. You never know in advance, how the same Markin will play, what foot will Krechetov get up from, How good will Klets be?. "Yenisei" are able to drag the Screams, Dmitriev, Yakovlev, but they are also in approximately the same stability paradigm, as the hosts. One of the unpredictable, in my opinion, round matches, with some still the superiority of "Kuzbass", who is at least more positive and free-minded.

Belgorod residents will develop a new "home" and there is no particular doubt, that the debut will take place without excesses. The team used to wander around the country, and in Tula he will find at least sympathy and friendly tribunes. What can "Oilman" find against the power of Al-Khachdadi, Zabolotnikov heights, Poroshin's stability, Chervyakova, Tetyukhin, Bragin? "Belogorye" is coming, crushing so far all rivals, but February is critically important for them, where the entire set of top clubs awaits. "Oilman", of course, will snap back, but will only become a successful sparring partner, no more: it's a matter of resources, nothing personal.

"Emerging" from under the "Zeniths", Volga residents will try to take a breath in Sosnovy Bor. Not a bit of it: "Dynamo-LO" continues to fight for a place closer to the sun and will not let down. Sosnovobors has one of the most even lineups in the league, interchangeability is close to ideal, any options on the site are capable of producing results. I think, that Biryukov and Jovovich will create a reserve, and there you will see: "atomic", like "Belogorye", ahead waiting for a strip of meetings with the tops. Oleg Sogrin - patience.

Very, very, very important match.. On the agenda: will Peter be able to defend the leadership, will Dynamo be able to stay in the fight at the very top of the standings? clear, that everything will be finally decided in the playoffs, but it's a matter of mentality, dominance, self.
Zenit won its victory in the first round with Viktor Poletaev, but without Matthew Anderson, now the situation is reversed. It's time for the Storyteller to show, why is he here. And in general, for Zenit, this meeting is a complete challenge., everyone has something to prove, justify, confirm. Teamwork can be the deciding factor: will synergy come from personal ambitions?
In "Dynamo", rather, situation, related to self-esteem: champions lost in Kazan, the fiasco in St. Petersburg can undermine a very subtle aura of mental dominance. Which, paradoxically, can eventually turn into a plus, but here and now no one thinks about it. Muscovites probably remember the starting pressure in Kazan, for which they were not ready, and draw conclusions. Wangyu, that the game will immediately go bone to bone, with a parallel search for weak areas of the opponent here and now. It's like a game of staring: who will flinch first.
---
Vangomet tour:
---