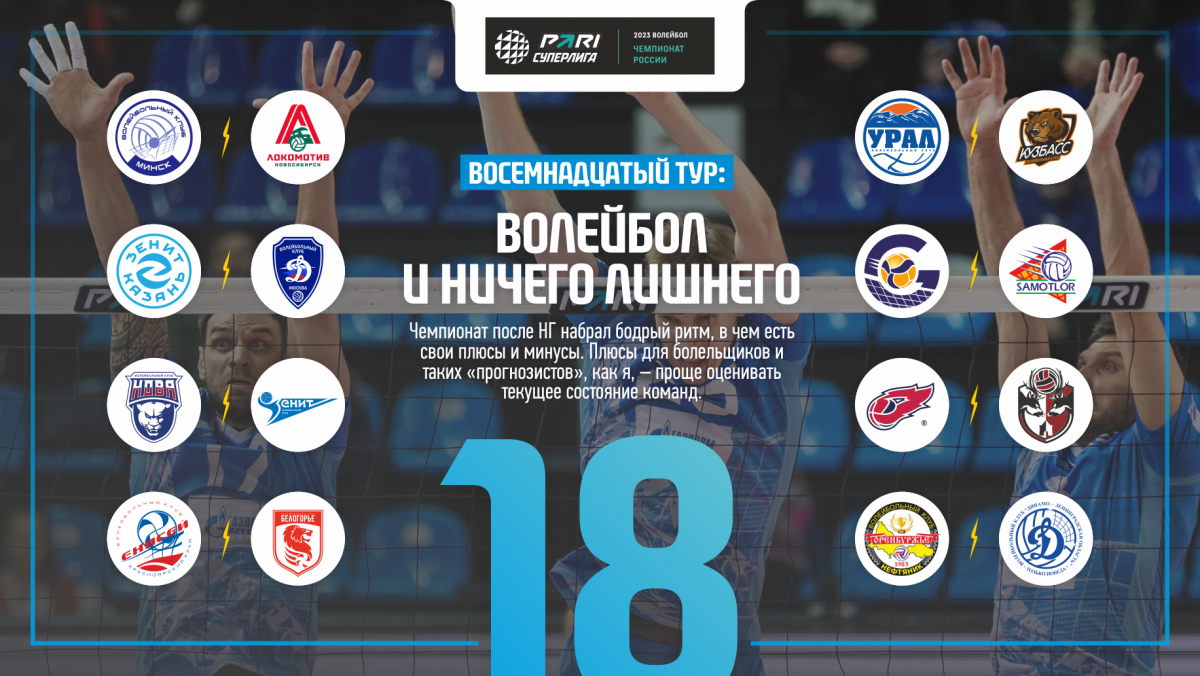 18-first round: volleyball and more
17.01.2023 / 10:09
The championship after NG gained a vigorous pace, which has its pros and cons. Benefits for fans and such "forecasters", like me, – easier to evaluate the current state of teams. Working cons for clubs: no time for training and adjustments, solid road, testing and, properly, games. Generally, this is true, the time for rocking is long gone, right now, the hottest winter heat in the PARI Super League.

the, what Novosibirsk lacked in the match against Dynamo, more than enough in Minsk. The only chance for the hosts is a knockout serve, depriving guests of the first pace, and trying to catch on the edges. I doubt, what will happen throughout the match, maximum can be some segments. In turn, Lokomotiv outperforms Stroitel in terms of experience, and quality, plus the thirst for rehabilitation after harsh words Flames will not let you relax in the game with an outsider.

Signboard not only tour, but, perhaps, and the entire regular season. 15 October, in an epic five-set battle in Moscow, Dynamo inflicted one of two defeats on the season against Kazan. Then Sam Daru was adapting and Andrei Surmachevsky fired against his former club - 30 points at 70% effectiveness in attack. Today Deru is firmly in the roster and will be even more interesting. It is super important for Kazan citizens to endure the reception of the crazy serving of guests, and guests - to present this serving with a minimum amount of marriage. However, Kazanians have an ace up their sleeve: Mike Christenson is able to provide a distinct removal from negative finishing. There are many duels in this game., but win, of course, team game, teamwork and moral-volitional qualities.

Oleg Sogrin continues to be tested by Zenit and, as I already said, this has its advantages. Almost impossible to win, so you can use the match as a visual tutorial for future battles. Zenit really wants to finish first, and for this you can not allow stupid misfires, so they will hit hard.

Belgorod, exhausted by the road, continue to demonstrate sports vivacity on the court. In the course of the championship, Zabolotnikov also joined two points of support - Al-Khachdadi and Tetyukhin, and this is a triangle, i.e. a stronger foundation for success. The owners are getting more and more unsteady: can shoot and Yakovlev, and Fetsov, give out quality then Scrimov, then Dmitriev, Kovalikov replaces Osipov and vice versa, but together this ensemble does not always play harmoniously. Unless Yanutov is unshakable in his power. Guests win in the comparison of potentials, but it won't be easy. If only because, that Enisey is holding its fourth home match in a row and the feeling of domestic comfort against the backdrop of Belgorod residents wandering around the country can have a certain effect: residents of Krasnoyarsk simply sleep better in their native time zone.

Both teams claim about the same, go on a par. After a series of defeats from the leaders, the Ufimians "sleep well" on a competitor from Sosnovy Bor, and here's the question - what about Kuzbass?? Kemerovo players play unevenly, but you can't deny them the potential, about the same can be said about the "Ural": then they burn the site, then they lose themselves. Cavannah is more inventive than Krechetov and Rukavishnikov, and if we equalize the attacking possibilities, then it might make a difference.

Novy Urengoy residents are determined to continue licking their wounds, as, however, and ACK. Interesting, can Babkevich be useful and what is the newly returned Antonov capable of? But it is unlikely that the matter will be decided by a duel of diagonal, ASC is always about character, and "Torch" - about the mood. In other words, much will be decided psychologically. Gray iron, showing his teeth in his native Nizhnevartovsk, may well balance Titic, and there it's already a matter of either the courage of the youth of the owners or the experience of veteran guests.

For a long time, admit, did not see in the "Oilman" case, so I can't really judge. Judging by the results, favorite of Dynamo-LO. However, at home, Orenburg residents are able to cling, It's just a matter of resistance level.. If the Sosnovoborists do not turn on the resource austerity mode, then they have every chance to replenish the piggy bank.
---
Nostradamus 18th tour
---