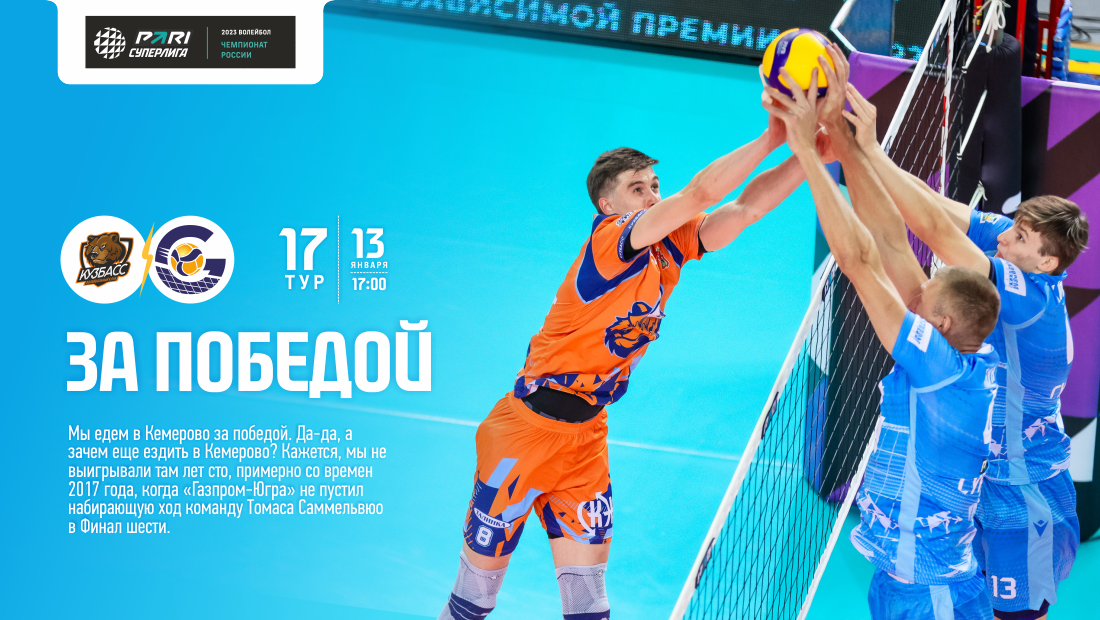 For victory
11.01.2023 / 12:25
We are going to Kemerovo for victory. Yes, yes, why else go to Kemerovo? it seems, we haven't won there for a hundred years, since about the time 2017 of the year, when Gazprom-Ugra did not let the growing team of Thomas Sammelvuo into the Final Six. It was especially embarrassing in 2019, when at the Kuzbass Arena we led 2:0 Poletaev's team, Kobzar, Podlesnykh and Pashitsky, but lost the tie-break. That game, by the way, also in January.
In Kemerovo, that match should be remembered by Karpukhov, Shcherbakov and Tavasiev, and we have no one to remember. Outside 2023, Kuzbass returned from Novy Urengoy, inspired by the victory over the "Torch", and we seem to be demoralized after the inglorious defeat of Belogoriya. Question: will it be possible to wash off this aftertaste? Can, match 14 January will also be remembered in years to come?
Kemerovo residents have a very solid composition, starting with the Olympic champion Alexei Obmochaev and ending with the armor-piercing Kirill Klets (can be counted backwards, not to offend anyone). Growing up Roman Pakshin and unfading Alexander Markin, two super-experience centers, who played well in Urengoy - the same Shcherbakov with Tavasiev. Many criticize Yegor Krechetov, but it's not horror, it's horror, but just working questions on the conduct of the game and the option to attack the opponent through the fourth zone. Can, and "our" Evgeny Rukavishnikov will appear, but for us, according to old memory, will not try.
Generally, tough opponent, especially at home. In Surgut, we made it to the fifth installment, but not pulled, however, as in all the "five-hat" of the season. Here, probably, our problem is buried: not enough resource, pressure, self-confidence, to squeeze. Can you do something about it here and now?? Rafael Khabibullin often had non-standard moves, to shake the team, yes guys should understand, what is what. Gazprom-Ugra goes to Kemerovo for a victory.