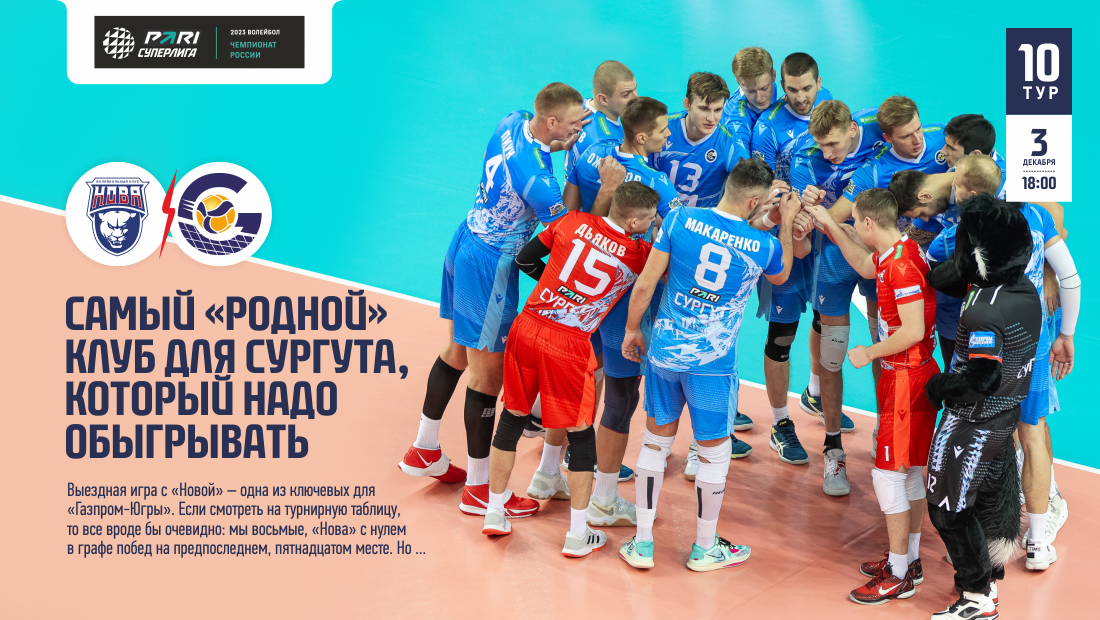 The most "native" club for Surgut, which must be played
01.12.2022 / 21:00
The away game against Novaya is one of the key ones for Gazprom-Ugra. Looking at the league table, everything seems to be obvious: we are eighth, "Nova" with zero in the column of victories on the penultimate, fifteenth place. But numbers are numbers, but in essence we are waiting for a meeting with a very difficult and incredibly motivated opponent to win. What makes this meeting so important is the fact, that after leaving the banks of the Volga, we will have a series of games with the leaders of the Superleague, get hold of glasses in which it will not be that impossible, but very very difficult.
Thus, you need to replenish your stock of points here and now. And Nova is like a wounded animal - they lost the last two matches in a tie-break. First missed the home game with ASK, leading 2:0, and then, bouncing back in an incredible fourth set in Novy Urengoy (with minus six points during the set and two match-balls for Fakel), could not endure in the decisive game. Represent, what is the motivation of the team now?
«New», returning to the Super League this season, lost many participants of the triumph in the major league "A". Coach Alexey Babeshin and center Alexei Lobyzenko now in Kuzbass, Fannur Kayumov in "Dynamo-LO", Vadim Ozhiganov at Gazprom-Ugra. But notorious people in Surgut remained in the team: diagonal team captain Alexander Chefranov, Spiker Kirill Fialkovsky, central blocker Nikolay Beskrovny, Libero Grigory Dragunov. The new head coach Igor Shulepov invited Nova old-timer Belarusian Sergei Busel to join them, Ivan Lukyanenko, who played last season for Gazprom-Ugra, plus another pupil of the Novosibirsk school, Slavi Kostadinov, Libero Nikita Eremina (ex-Gazprom-Yugra), players Savely Pozdnyakov and Maxim Shpilev from Samotlor, and diagonally - Vitaly Papazova.
Papazov was seriously injured and out for a long time, he was replaced by young Denis Litvinov from the Kazan "Academy". And how he replaced it - in the last match with Fakel he was almost the main creator of the almost sensation! Along with Veteran (plays here with 2021 of the year) "Nova" by player Sergey Zhukov. Generally, the composition of the Volzhans is at least interesting. Even more interesting, who will play against Gazprom-Ugra. Chefranov or Litvinov? Lukyanenko or Kostadinov? Interchangeability in the team is high, but, perhaps, Shulepov himself, who played in Surgut, will bet on ex-Surgut and we will see Chefranov on the other side of the site at the same time, Lukyanenko, Bloodless, Fialkovsky and Dragunov and Eremin.
And to finally spin this carousel, let's add, that the head coach of Gazprom-Ugra Alexander Gorbatkov worked for a long time in the coaching staff of Nova, including head coach, Nikita Alekseev spent a season in Nova 2016-2017 years, and our captain Dmitry Makarenko played four seasons for the Volga, from 2014 according to 2018. Here is such a Surgut-Novokuybyshev batch. It remains to be seen, who will bake something more delicious from this dough on the site.