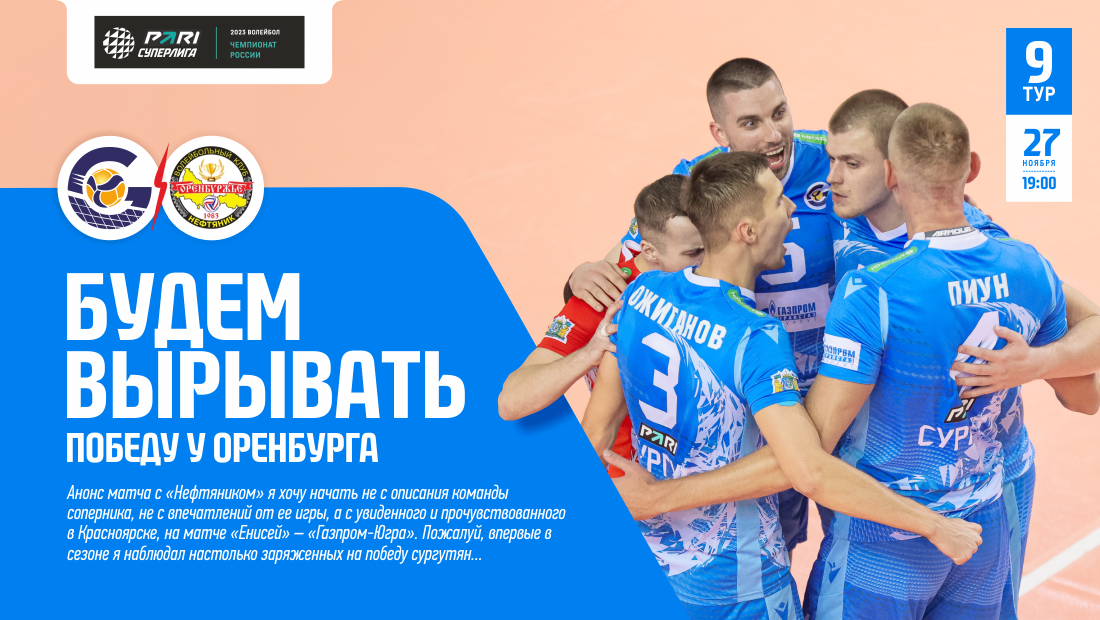 We will snatch victory from Orenburg
25.11.2022 / 12:00
I want to start the announcement of the match against Neftyanik not with a description of the opposing team, not impressed with her game, and from what he saw and felt in Krasnoyarsk, at the match "Yenisei" - "Gazprom-Ugra". Perhaps, for the first time in the season I watched the Surgut team so charged for the victory. There is always a hidden nerve on the court, but at the Sports Palace. Ivan Yarygin's team literally bubbled with emotions after each, no matter, lost or won draw.
Everyone was on the same wavelength and that's why this wave became victorious: emotions flowed into action on the court, they, in turn, fueled new emotions ... Vsevolod Dyakov was ready to gnaw teraflex, Vadim Ozhiganov shone, like Ilyich's light bulb, after each success of the partners, how do you like Nikita Alekseev in the last time-out of the match, when counting 24:23: "Reception and pass me!». And I got what I wanted, and scored.
If Gazprom-Ugra maintains this attitude, then he will be able to beat not only Neftyanik. At, of course, proper tactical training, etc.. Leons are not found in Surgut, but there is something else, what money can't buy: character and desire to fight for every ball. In such an atmosphere, the players reveal themselves: Nikita Alekseev shows leadership talents, Kirill Piun holds the best(pah-pah-pah) career season, Vadim Ozhiganov straightened his shoulders, Dmitry Makarenko rumbles command engine, Milan Katic enjoys the game, young liberos tear and toss, the square of substitutes seethes and is always ready to lend a shoulder. Newcomer Dmitry Kurbatov took a sip of the Superleague for the first time, and if his head doesn't spin, he will come in handy with his 212 see and killer feed.
Generally, we are determined to win next sunday, I play, what is called, "Push", pushing your limits. It won't be easy, which is obvious. "Neftyanik" team in a good adult way, toothy, capable of courage, and after a comeback in the home match with Fakel, he will come to Surgut liberated and self-confident. Generally, pretty flammable set.
Orenburg has an experienced qualified diagonal player Vitaly Vasiliev, capable of "shooting" serially, not shying away from scoring points and winning back from the block, and prudent discounts. There is a pupil of Surgut volleyball Sergey Panov in the rematch, able to stall, and issue a miracle segment, but I would pay special attention to his partner Mikhail Danilov. This 20-year-old Dynamo Moscow player from the MVL-2022 champion squad appeared in Neftyanik under the youth in exchange for experience program and immediately established himself as a formidable weapon.
In the center of the net to last year's clip by Kirill Kranin, Slavomir Byarda and experienced Ivan Kozitsyn were joined by Anton Andreev, which the, perhaps, looks at the moment the most interesting in this position. In reception and defense there is an experienced Maxim Maksimenko, Andrey Ushkov and Alexander Khaibulov can be seen in the pinning position with equal chances. Yesterday's "number two" in ASC Khaibulov, true, increasingly "squeezes" his younger colleague from work, having in arsenal, among other things, also a powerful biting feed.
In doigrovku, if something goes wrong with Panov and Danilov, we will be able to see Ivan Nikishin, well known to Surgutians, which one, perhaps, there will be a special mood in the game against Gazprom-Ugra. To complete the picture, let's introduce an understudy Vasilyev Ilnur Rakhmatullina, extraordinary player, who started his career as a binder.
Defeat The Oilman, repeat, Gazprom-Ugra is capable and, Furthermore, simply must - when it comes to getting into the playoffs. But, I repeat again, it will be very difficult to put it into practice.. Whipping boys are over in Minsk, now only equal opponents, victories that need to be pulled out with blood, like in Krasnoyarsk, or top clubs with obviously more powerful resources - a separate conversation about them.