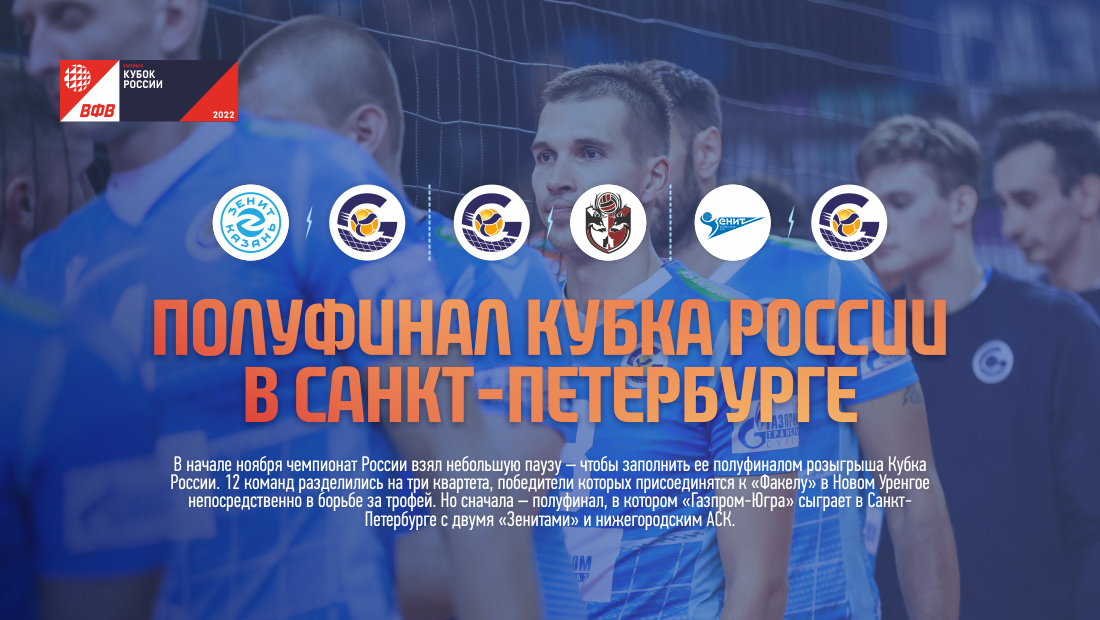 Semi-finals of the Russian Cup in St. Petersburg
02.11.2022 / 09:34
In early November, the Russian Championship took a short pause - to fill it with the semi-finals of the Russian Cup. 12 The teams were divided into three quartets, the winners of which will join Fakel in Novy Urengoy directly in the fight for the trophy. But first, the semi-final, in which Gazprom-Ugra will play in St. Petersburg with two Zeniths and Nizhny Novgorod ASK.
Counting on success in the semi-final bullet against such opponents would be, probably, somewhat presumptuous. Yes, coaches and athletes always talk about the winning attitude, but objectively - the struggle for a ticket to the final will unfold, probably, in the Zenit derby 5 November. the day before, 4 November, Gazprom-Ugra will play with Kazan, 5-go fight ACK, and on the final day he will try his hand at confrontation with Peter.
Interesting, that literally on the eve of the semi-finals of the Russian Cup, two Zeniths played an enchanting five-set match in Kazan as part of the national championship, where success was on the side of St. Petersburg. Zenit from the northern capital at the start of the season looks very confident and, more than ever, corresponds to the initially declared status of a superclub. But Kazan people are full of energy, opportunities and ambitions, only the position of the second player can raise some questions in this top club: a certain symbiosis of Surmachevsky and Deru is needed, and Verbov has to choose one.
For our team, the semi-final is a great opportunity to test their abilities in games with the strongest teams in the country., and also check those developments and blanks, which cannot be run in the championship matches due to the importance of the result. In the Cup of Russia, this importance fades into the background, opening room for maneuver - players, schemes, game connections. I really want, to be honest, look at Vsevolod Abramychev in the case, understand, what Rajab Shahbanmirzaev is capable of, as far as Milan Katic approached the court, etc..
Russian Championship for Gazprom-Ugra will resume 13 November home match with Ufa "Ural", in the meantime, all attention to St. Petersburg.