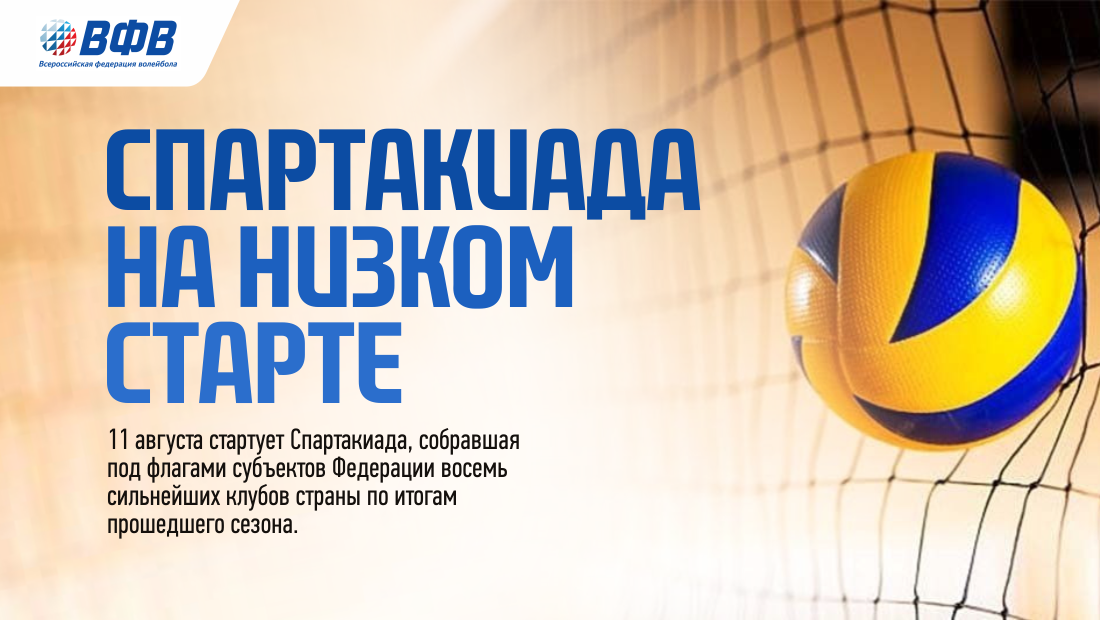 Spartakiad at a low start
09.08.2022 / 19:51
11 Spartakiad starts in August, brought together under the flags of the subjects of the Federation eight of the strongest clubs in the country following the results of the past season. Tatarstan will meet in Kazan ("Zenit-Kazan"), Moscow ("Dynamo"), St. Petersburg ("Zenith") and Belgorod region ("Belogorye"), Novosibirsk region will measure strength («Lokomotiv»), Kemerovo region ("Kuzbass"), KhMAO-Yugra (Samotlor) and Leningrad region ("Dinamo-LO").
Opponents will play in one round, after which they will go together to Moscow and Odintsovo, where they will finish the round-robin tournament with those opponents, who have not yet played in Kazan or Novosibirsk. The final and the match for third place will be held 21 August in Moscow.
The line-ups of the teams became known the day before - a kind of mix of well-known names and newcomers in the complete absence of legionnaires. We would call the same teams the main contenders for victory, that claim the highest places in the championship: Moscow, Tatarstan, St. Petersburg, Novosibirsk.
the only, perhaps, the problem of Muscovites is the absence of Tsvetan Sokolov. However, Romanas Shkulyavichus has a very high qualification and is certainly eager for self-realization. Tatarstan has a similar hole - in place of the second player, which Sam Deru will fill in the championship. But even here Alexei Verbov has a good option with Andrey Surmachevsky, also long seeking recognition. Interesting, that Belogorye player Roman Poroshin will pass in the absence of Mikey Christenson, this is the condition for the transition of Roman from Kazan to Belgorod. For the southern region, the "old" Belgorod resident Igor Kolodinsky will play, among the interesting newcomers of the team are Ruslan Galimov from Nizhnevartovsk and Ivan Podrebinkin from St. Petersburg.
There is no Zhenya Grebennikov in the St. Petersburg team, but with Viktor Poletaev, Egor Kluka, Igor Kobzar, Dmitry Kovalev, Ivan Yakovlev, Fedor Voronkov, the team looks very solid. Here is our "former" Yegor Yakutin. If we continue about those who left Gazprom-Ugra, it will be interesting to watch the debut of Evgeny Rukavishnikov in the team of the Kemerovo region. The Novosibirsk players suddenly had a bottleneck in the rematch - there is no one to back up the age-related and injury-prone Sergey Savin and Alexei Rodichev. Thus, a young local pupil Ilya Kazachenkov was also included in the application, seconded for the season to the Krasnoyarsk "Yenisei", and experienced Yuri Berezhko.
It remains to be added, that despite the importance of the tournament, this, by and large, just a large-scale review of forces before the official season, designed to partly make up for the lack of an international summer calendar. Games will not become less interesting from this., and the fight on the courts is less hot, just need to understand, what to expect high quality volleyball in August at the start of the championship in October is hardly worth it. Nevertheless, volleyball is back! Looking forward to the start of the tournament.