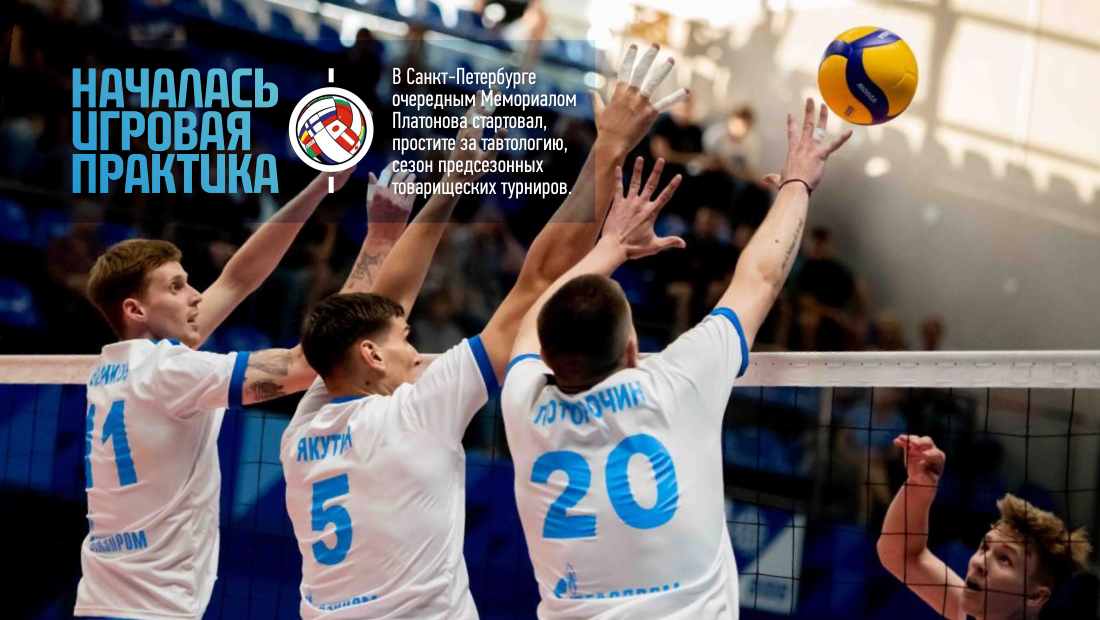 Practice has begun
28.07.2022 / 22:41
In St. Petersburg, another Platonov Memorial started, sorry for the tautology, season of pre-season friendly tournaments. The early start of the traditional competition is explained by the Spartakiad scheduled for August, in which the first eight clubs of the Superleague will take part. true, only two of them will play in St. Petersburg, local "Zenith" and Sosnovy Bor "Dynamo-LO".
St. Petersburg in the group will compete with the Belarusian "Shakhtar" (Soligorsk) and the Russian national team U-19. Young collections have already lost to Zenit in their debut match 0:3, which is not surprising - half of the main team played against the hosts on the court. of curious: the match at the start was held by Dmitry Kovalev, Igor Kobzar came off the bench. Yegor Yakutin made his debut in the second installment, he also spent the entire third set on the court, with three attacks (one of them is in the block). In the youth team, our Maxim Kirillov passed the whole match, earned ace and one scoring block.
In the second group, Dynamo-LO also lost to Ural with a dry score.. Both teams played far from optimal lineups., checking, primarily, nearest reserves. Ufa residents sniffed gunpowder Superleague Kharitonov, Pivovarov and Ivankov were more ready, and among the Sosnovobors, the newcomer from the Novosibirsk Lokomotiv system, Roman Murashko, became the top scorer, collected 13 points. Next, both teams will have matches with the national team of Belarus.
As for the "Gazprom-Ugra", then the team does not force preparation, working in the hall, swimming pool and outdoors according to the plan. Meanwhile, the contours of the tournament in Ufa finally cleared up, in which Surgut residents will take part at the end of summer. The memorial of Ulfat Mansurovich Mustafin will be held from 22 by 24 August, our sparring partners - "Ural", Orenburg "Neftyanik" and the club of the highest league "A" "Tarkhan" from Sterlitamak. 23 August "Gazprom-Ugra" will play with "Tarkhan", the next day will meet with "Neftchik", and end the tournament 25 August match with the owners of the site.
---
Photo: Press service of the Volleyball Club "Zenith"