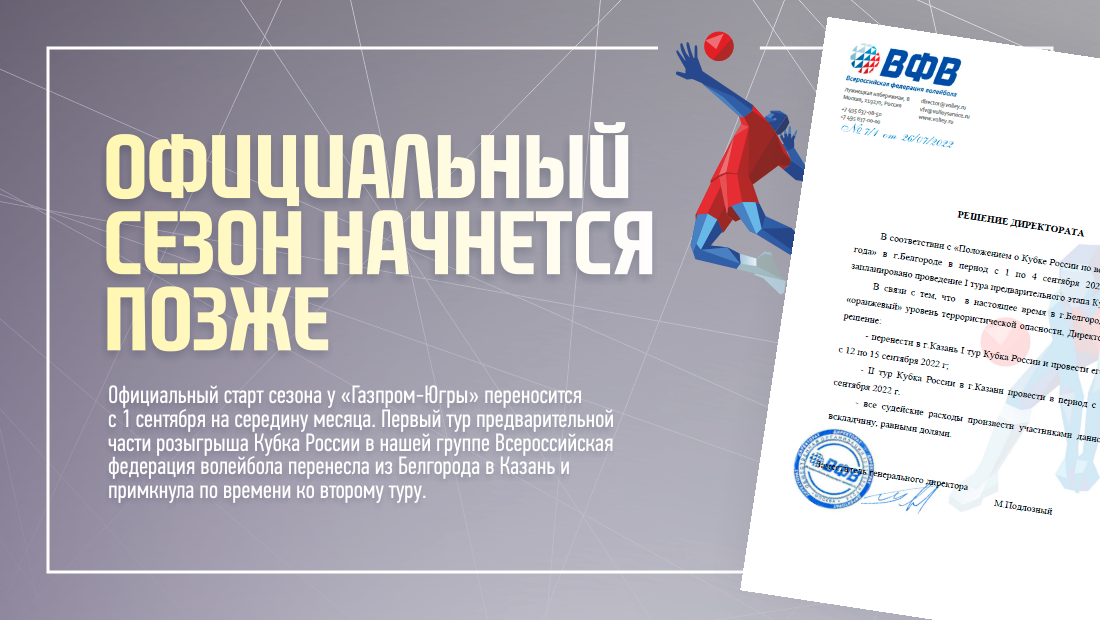 Official season will start later
30.07.2022 / 20:31
The official start of the season at Gazprom-Ugra is postponed from 1 September in the middle of the month. The All-Russian Volleyball Federation moved the first round of the preliminary part of the Russian Cup in our group from Belgorod to Kazan and joined the second round in time.
Thus, "Zenit-Kazan", "Belogorye", Gazprom-Yugra and Neftyanik (Orenburg) will actually play one two round robin tournament with 12 by 19 September in the Kazan volleyball center "St. Petersburg". The transfer is related to, that an "orange" level of terrorist threat has been declared in Belgorod.
Recall, that at the end of August Gazprom-Ugra will take part in a friendly tournament in Ufa. FROM 22 by 25 August our team will play within the Ulfat Mansurovich Mustafin Memorial with Sterlitamak "Tarkhan", Orenburg "Neftchinik" and local "Ural". It turns out, that before the start of the championship, Gazprom-Ugra will have time to play nine control matches - three friendly and six as part of the Russian Cup.