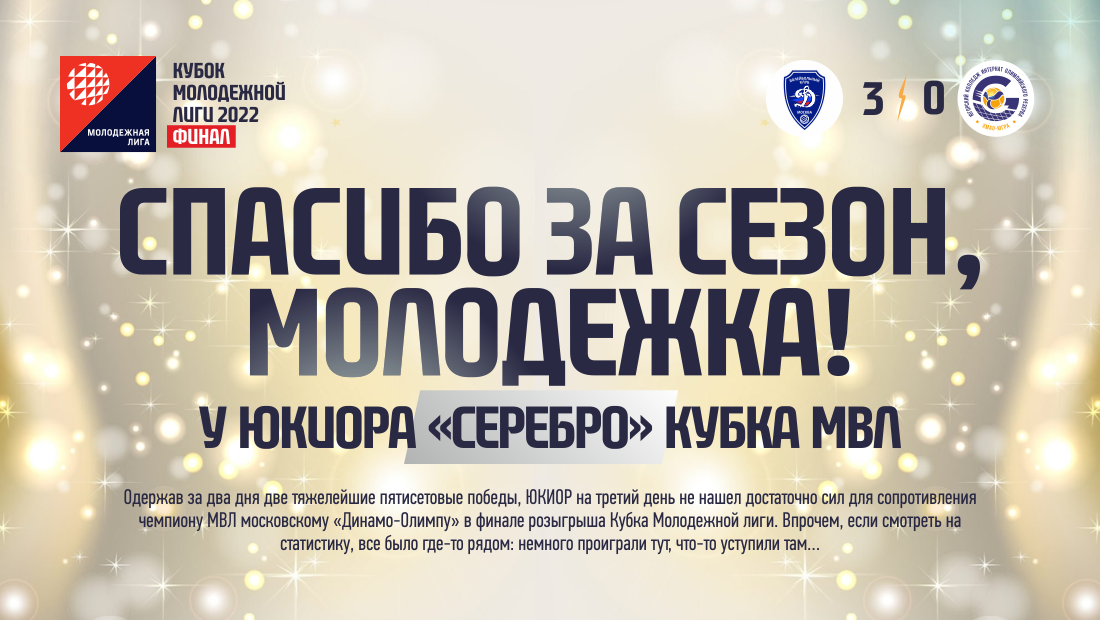 Thanks for the season, youth! YUKIOR has the "silver" of the MVL Cup
11.05.2022 / 00:51
Having won two hardest five-set victories in two days, YUKIOR on the third day did not find enough strength to resist the international champion Dynamo-Olympus Moscow in the final of the Youth League Cup. However, if you look at the statistics, everything was around: lost a bit here, something was lost there ... But, objectively speaking, Muscovites are too strong a team, to prolong the cup fairy tale with them on moral and strong-willed efforts. For today YUKIOR has shown its maximum, raising the bar of their own expectations to the final battles.
Final game score 0:3 (18:25, 19:25, 22:25). Ivan Skvortsov again became the best in the Ugra team, credited 12 points - it's not for nothing that he and YUKIOR setter Maxim Kirillov were included in the symbolic team of the tournament. Say something about the game itself, about its content, it doesn't make much sense - we fought, how could, and lost to a more than worthy opponent. Youth season ended on a positive note, and we are sure, that in the future the players of the team are waiting for new volleyball peaks.
Final word - one of the main authors of the transformation of the team, head coach Artem Khabibullin: Thank you all for the season., everyone deserves praise! Feel the support of the club management, parents and close players. The past week has been very cool., she will remain in the memory for a long time - and the guys, and I have. The end result is fair: Dynamo played more stable. Physiology can't be fooled, two such thrillers are not without consequences. We are satisfied with the result and appreciate that, what we have thanks to the work in training and dedication in games".
Dinamo-Olimp (Moscow)

3
:
0

YUKIOR (KhMAO-Yugra)
Details
| Date | Time | Championship |
| --- | --- | --- |
| 10.05.2022 | 21:00 | YOUTH LEAGUE CUP 2022. MEN. YOUTH LEAGUE CUP. |
Results
| | | | | |
| --- | --- | --- | --- | --- |
| Dinamo-Olimp (Moscow) | 25 | 25 | 25 | 3 |
| YUKIOR (KhMAO-Yugra) | 18 | 19 | 22 | 0 |