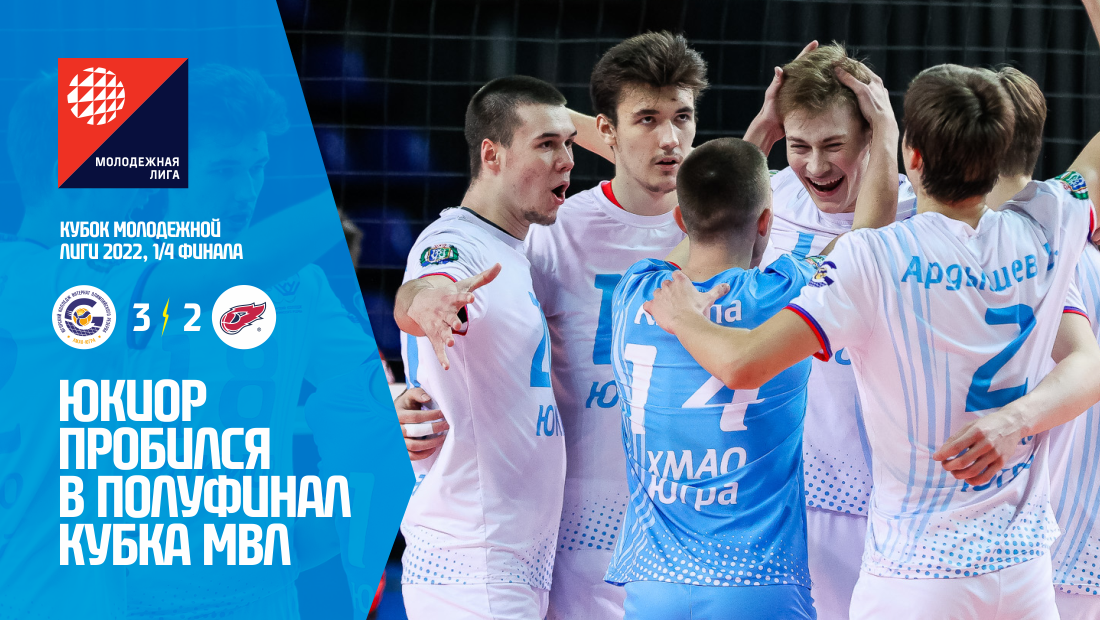 YUKIOR made it to the semi-finals of the International Cup
09.05.2022 / 01:09
8 May was a great day for Surgut volleyball: "Gazprom-Ugra" scored a "dry" victory in the play-out, and YUKIOR made it to the semi-finals of the International Cup, beating Fakel-2 in the quarterfinals.
The Fakel youth team is always in good standing, it is enough to remember the names of her pupils - Kluka, Volkov, Yakovlev, Vlasov, Bogdan, etc.. The current youth won the "silver" in the international championship, beating UKIOR twice in the Final Six. Respectively, despite third place in Group B, "Fakel-2" looked like a favorite in the confrontation with YUKIOR.
The beginning of the match seemed to confirm this - 15:25 in favor of the Yamal people. But the next set was already dictated by our guys, 25:19. In the third, the Ugra team immediately seized the initiative, 6:1, he says 10:5, gave a break - 10:7, after which there was a technical incident: was found, that the Torch players mixed up the formation at the start of the set. A long hitch led to the removal of all points from Novy Urengoy, which allowed YUKIOR to crush the set 25:10. In the fourth installment "Torch" returned to business, gradually increasing the advantage and bringing it to the mark 17:25.
It seemed, that our opponents will look psychologically more confident in the tie-break, but the result of the segment before the change of sides did not bode well for them - 8:2 in favor of YUKIOR. At the "Torch" reception crumbled, and attempts to compensate for this with aggression in the attack ran into a block. The endgame of the match was also dictated by YUKIOR, who did not allow the opponent to raise his head - 15:6 and in a sense a sensational victory for our youth.
As usual, Ivan Skvortsov played super effectively for us - 24 points, 55% efficiency in attack, 2 block and 1 ace. 18 points on the account of Alexander Slobodenyuk, in attack 41%, 2 block and 3 Ace. Overall, the YUKIOR game is built through the players, Alexander Krasilnikov is helping a little so far (9 points), albeit with good performance. (50%). Our centers, Konstantin Bessogonov and Ilya Yudenkov, noted 5 blocks for two, and Maxim Kirillov was also little involved in the attack.
The head coach of the team Artem Khabibullin noted after the game, that they played "as a team and disciplined, except for the first batch. The next one will be even harder, but I really want more, despite the strength and age of our rivals". Also he said, that the support of relatives and friends of our volleyball players who came to the match played a role. It remains to be added, that today our rival in the semi-final will be the hosts from the Samotlor school, half of the starting lineup consists of Super League players (Sapozhkov, Litvinenko, Kreskin). Despite the clear superiority of the hosts, Surgutians are planning to fight.
YUKIOR (KhMAO-Yugra)

3
:
2

Fakel-2 (New Urengoy)
Details
| Date | Time | Championship |
| --- | --- | --- |
| 08.05.2022 | 16:30 | KML 2022 |
Results
| | | | | | | |
| --- | --- | --- | --- | --- | --- | --- |
| YUKIOR (KhMAO-Yugra) | 15 | 25 | 25 | 17 | 15 | 3 |
| Fakel-2 (New Urengoy) | 25 | 19 | 10 | 25 | 6 | 2 |