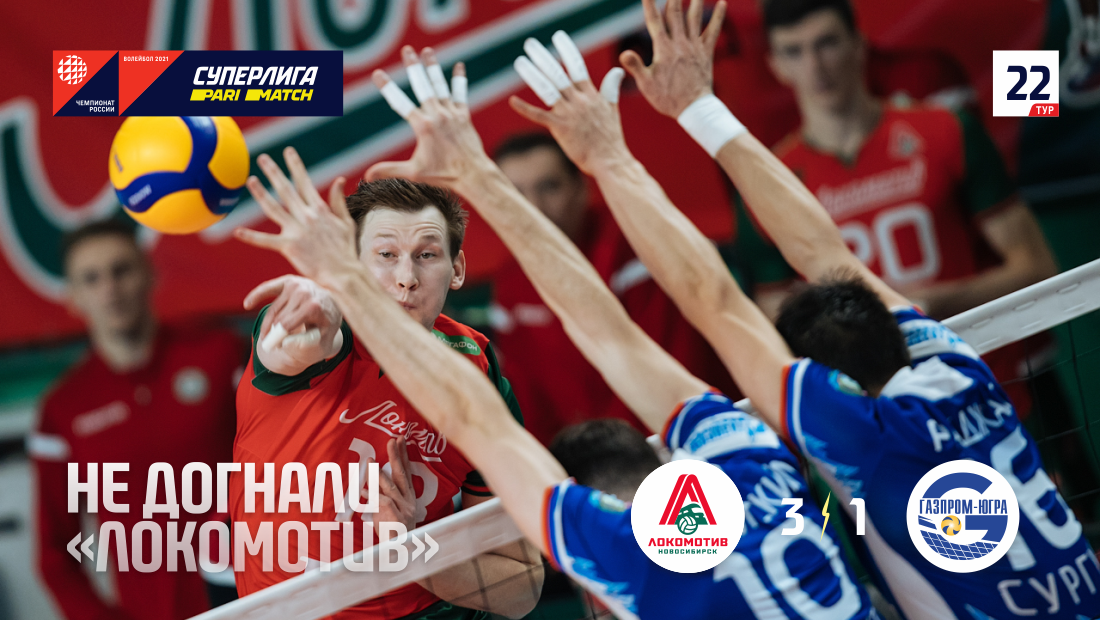 Didn't catch up with Lokomotiv
14.02.2021 / 19:46
Gazprom-Yugra started the game more than confidently in Novosibirsk: starting 4:1 transformed into 8:2 - the hosts lost Luburic in the attack, and at the Surgutian Shakhbanmirzaev svirepstvoval. Having lost a few faithful final games, the guests allowed the opponent to sneak up to a distance of three breaks, 11:8, but then again confidently took the threads of the game into their own hands. Having played more concentrated and evil, winning serve and take, residents of Surgut brought the game to logical 25:19.
The second set became, perhaps, decisive in the match. Throughout its entire length, none of the teams managed to create at least a two-point reserve, Gazprom-Ugra and Lokomotiv alternately took the lead and balanced the situation again. At the beginning, Rodichev became more active among the hosts, then he was replaced by Ivovich. Surgut residents acted a little more varied, but every time something prevented you from earning more than one break on one serve. The denouement came after the mark 22:22: Ivovich issued an ace, and then Kostylenko got stuck in the Luburich block, 22:24. Rajab played the serve, but Rodichev did not allow to tighten the set, 23:25.
In the third installment, Gazprom-Yugra stalled on Abaev's serves in line-up with Rajab in the fourth zone, paying off the opponent with three breaks, 8:11. Then Kostylenko became sad, giving way to Fialkovsky, 9:14. After an unsuccessful pipe, Rukavishnikov replaced Kirillov and immediately began to gain experience due to the quality of the programs. Nevertheless, in the fourth zone he masterfully worked with the Fialkovsky block, plus a block to Luburich and everything is not so tragic, 15:18. This surge of guests was suppressed by Rodichev, making Kirillov wrong and knocking out an ace, 15:22. Surgut residents made another attempt to catch up with Lokomotiv, but three points on set-balls did not make the weather, Ivovich put an end, 21:25.
In the fourth set, Gazprom-Yugra cheerfully started, 9:6, but again failed on the same serves Abaev in the same formation with Rajab in the fourth zone. Kostylenko time after time failed to cope with the cunning gliders of the Novosibirsk binder and eventually gave way to Nikishin, when the board burned 9:11. Having received "minus five" in one arrangement, Surgut did not find such impressive counterarguments, and for the owners, the command mechanism worked without failures. Again we won back two points on the flag, but Fialkovsky's feed into the net marked Lokomotiv's victory with the score 1:3.
locomotive (Novosibirsk)

3
:
1

Gazprom-Yugra (Surgut)
Details
| Date | Time | Championship |
| --- | --- | --- |
| 14.02.2021 | 17:00 | Russian championship 2020-2021 |
Results
| | | | | | |
| --- | --- | --- | --- | --- | --- |
| locomotive (Novosibirsk) | 19 | 25 | 25 | 25 | 3 |
| Gazprom-Yugra (Surgut) | 25 | 23 | 21 | 20 | 1 |