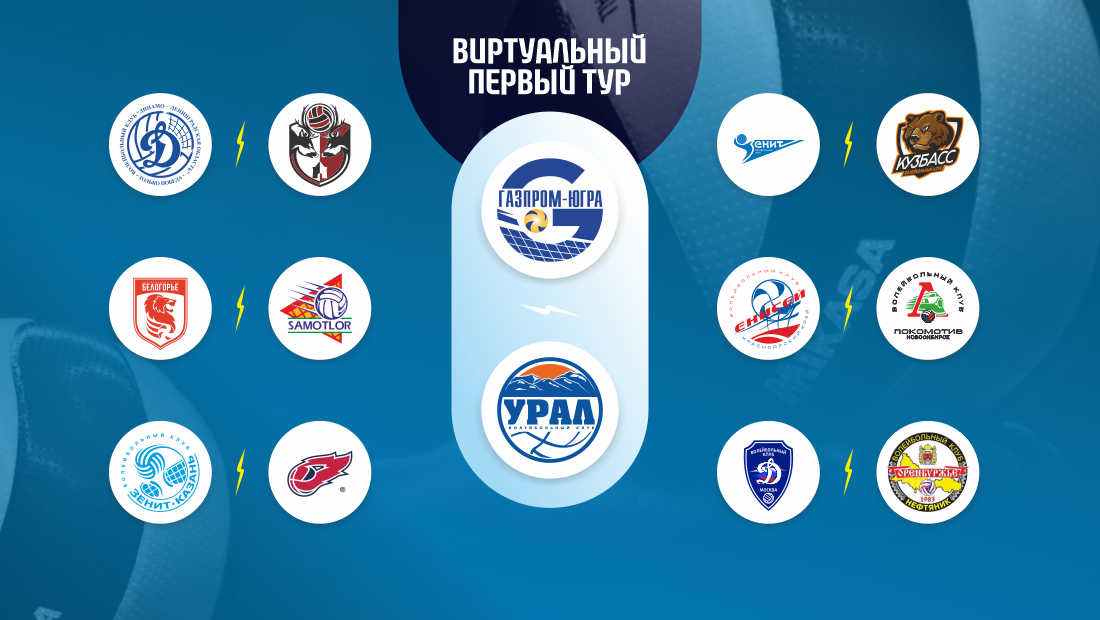 Virtual first round
03.07.2020 / 16:35
The farther in the summer, the less truly interesting talk. I've got, true, one, but the embargo on it so far. To discuss Kimerov's deed or Spiridonov's transition is from hopelessness. And I want some positive, drive. Therefore, I propose to be mentally transported to 26 September and "see" the games of the first round of the championship of Russia.
---
"Dinamo-LO" – ASK
---

Tisevich, Kolesnik / Alekseev, Biryukov, Divish / Shpilev, Abrosimov, Stork, Kirichenko
Petrovs, Wiecki, Titič, Pyatyrkin, Nikonenko, Shevlyakov, Zelenkov
clear, that the compositions are approximate, from the category that is at the moment. The hosts show some superiority - while, that there is another open position of the legionnaire and a fairly good rotation. ASK support pair Wiecki - Titic does not look stronger than Wendt - Markin, but let's see, how much Filippov will be able to compensate for the departure of Shulepov in terms of building a common game. Wangyu 3:1 in favor of Dynamo LO.
---
"Gazprom-Ugra" – "Ural"
---

Rukavishnikov, ???, Nikishin, Kastylenka, Chereiskaya, Dougan, Salparov / Chanchikov
Powder, muse, Perrin, Feoktistov, Kulikov, Kuznetsov, Bragin
An iconic match in many aspects. In principle, teams have fought in recent seasons for a place in the playoffs, "Surgutian" Muzay moved to Ufa, Shulepov is not a stranger in Surgut, etc.. It will be hot. I already know, who will play diagonal in Gazprom-Ugra (the same embargo before official signing), so I can figure out the balance of power. A pair of legionnaires stands out in the Urals, that's who you have to deal with. The rest is balance. I will put on five parties, and from feelings of patriotism - in favor of Surgut.
---
"Belogorye" – Samotlor
---

Kolodinsky, Nellie (?), Semyshev, Tetyukhin / Ilinykh, Samoilenko, Worms, Eremin
Kovalikov / Bezrukov, Papazov, Bogachev, Burtsev, Tsepkov, Right, Vyshnevetsky
"Belogorye" in recent years has been storming in a fairly wide range. Now visible stabilization elements (apart from the new coach, which is unknown how it will manifest itself in tough local realities and diagonal Nelly, which the, rumored, may not reach Russia). Samotlor retained Papazov, who wants to prove himself in the best way in Belgorod. With the support of partners, Nizhnevartovsk are able to fight. 3:2 in favor of the owners.
---
"Zenit-Kazan" – "Torch"
---

Butko, Mikhailov, Ngapet, Bednozh, Volvich, Volkov / Smolyar, Golubev / Krotkov
Zhukovsky / Antipkin, Zhigalov, Volkov, Bogdan, Гуцалюк, Safonov, Shoji
To Kazan, of course, you must immediately start winning all, to cling to St. Petersburg teammates on equal terms. With Mikhailov and Alekno in familiar places everything acquires familiar outlines, but a lot will depend on, how Poor Knife fits and with what foot Ngapet gets up. But they have to cope with the "Torch" - there it's not so powerful in the attack of Zhigalov, no hooks (although Bogdan is very good) and a potential conflict of interest is being planned for a bunch of positions. Antipkin's ambitions should conflict with, what legionnaires take for the game, not for the square of spare. If the Cries turns the situation into a constructive channel, it will be interesting. 3:1.
---
"Zenith" (St. Petersburg) - "Kuzbass"
---

Brizar, Poletaev, The gossip, Cameho, Yakovlev, Pashitsky, Melkozerov / Andreev
Kobzar, Zaitsev, Markin / Syrozhelez / Karpukhov, Krsmanovich, Shcherbakov / Tavasiev, Shishkin / Obmochaev (?)
certainly, tour match. A bunch of intrigues and parallels. I'll bet ... on the victory of Kuzbass in five sets. The composition of the "Zenith" is the best in the Super League, but let's suppose, that Brizard will not have time to play with partners, Klyuka and Kameho will swim at the reception, and Poletaev will not save. And at Kuzbass, eg, will light Zaitsev, and the rest will support. Kemerovo citizens can create a sensation on an emotional upsurge, and without them it's not interesting in volleyball.
---
Yenisei – «Lokomotiv»
---

Strilchuk, Klets, Skrimov, Ereshtenko, Kritsky, bug, Janutov
Abaev, LUBURIĆ, Ivovich, Savin, Kurkaev, Scherbynyn, Martynyuk
Both teams, taking high places for yourself, decided not to change horses at the crossing. Lokomotiv higher class, he must win, mindful of the last defeat in Krasnoyarsk. 3:0 in favor of the champion.
---
"Dynamo" – "Oilman"
---

Pankow, Sokolov, Derulo, The forest, Likhosherstov, Vlasov, Baranov / Kabeshov
???
I apologize for the ignorance of the composition of "Oilman", but I deliberately did not rummage through the Internet in search of those, who can go to the site in Moscow. Like any newbie, "Oilman" we will recognize during the tournament. I can assume, that there will be a diagonal Vasiliev, already played for Orenburg. Anyway, debutants have no chance in Moscow. The already impressive Dynamo squad received a powerful point upgrade at once in three positions at the base, and victories from Bryansk are expected. And not over the "Oilman". I think, that the game will end the bench hosts, 3:0.
It will be interesting to return to these fantasies after the first round - I hope, it will take place on time. And for today, as the host of "MuzOboza" Ivan Demidov once said, no more news. But will be soon.