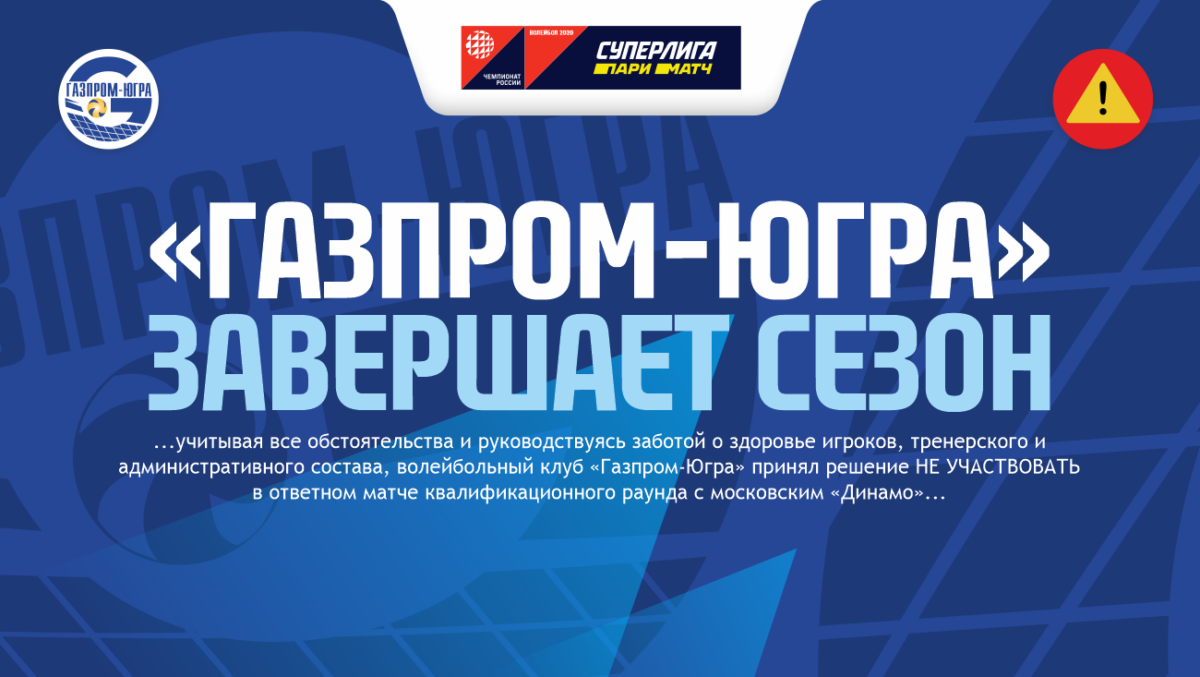 "Gazprom-Ugra" completes season
17.03.2020 / 11:17
The situation with the development of a pandemic coronavirus SARS CoV-2 changes daily: In countries and regions all the new restrictions are imposed. At the moment, there is no direct ban on the return game of the qualifying round of the Russian Championship between the capital "Dinamo" and "Gazprom-Ugra" in Moscow: there is only a recommendation to the Ministry of Sports of the Russian Federation to limit the holding of the All-Russian level competitions with 16 of March and the prohibition of Mayor Sergei Sobyanin on sports competitions under the roof with the number of participants, exceeding 50 human. What new documents may appear in a day or two, We do not know.
Nevertheless, taking into account all the circumstances and guided by concern for the players' health, coaching and administrative staff, volleyball club "Gazprom-Ugra" has decided not to participate in the second leg of the qualifying round with the Moscow "Dynamo" 21 Martha. This match was supposed to be the most important game of the season, to the same - the last official game of "Dynamo" in the Sports Palace on the street Lavochkin, the final glorious long history of volleyball place. But today, Unfortunately, we have to think about others, more important things. For the first time in the club's history, we have to finish the season by administrative measures, and not to fight on the landing. This decision was not taken lightly, but it fully meets the challenges, which we are currently facing our country and all mankind.
We hope for understanding on the part of Surgut and the capital fans, Moscow "Dynamo", Russian Volleyball Federation. Under these conditions, we have put the health of people above the struggle for athletic performance. season 2019-2020 years for "Gazprom-Ugra" completed. We leave with hope, that external circumstances, to force us to give up his beloved work, in the near future, will change for the better. Thank you for your support of our fans and bring them to apologize for the forced abandonment of the struggle for getting into the final of the six Russian championships.
Thanks a lot, everyone, health and peace of mind, before the meeting of the season 2020-2021!