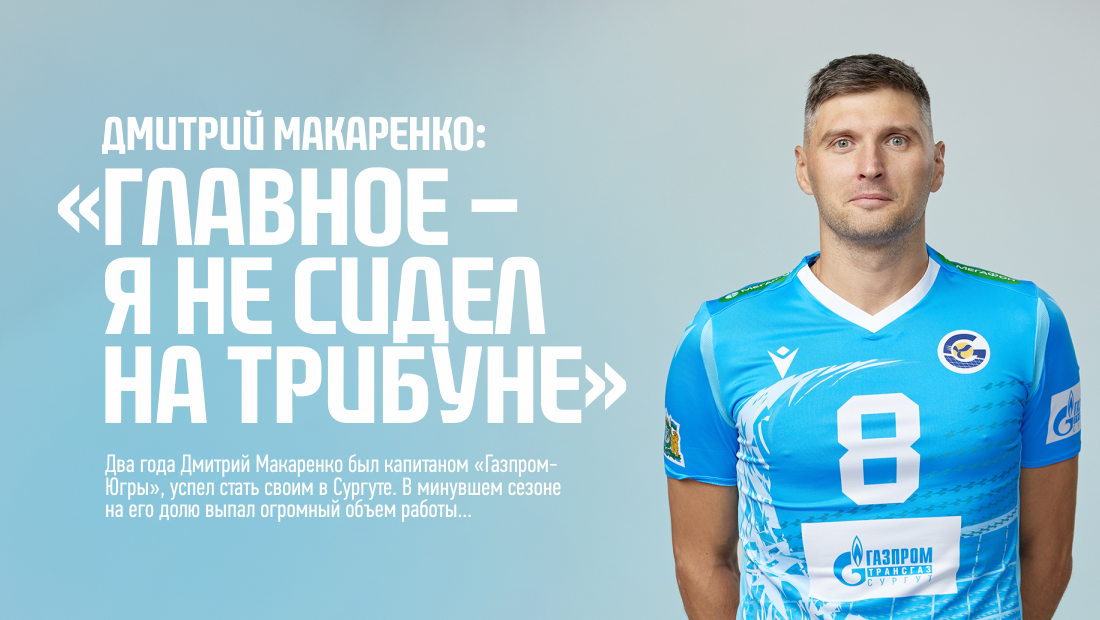 Dmitry Makarenko: "The main thing is that I didn't sit on the podium"
19.05.2023 / 22:38
For two years, Dmitry Makarenko was the captain of Gazprom-Ugra, managed to become his own in Surgut. Last season, he had a huge amount of work to do., which he honorably endured. Didn't miss a single match - iron man! We're sorry, that the captain leaves the team, but such is sports life. We found him in Kaliningrad, where for six years in a row he spends the summer - resting and preparing for new seasons.
– What was the last season like??
Ambiguous. But if last year we were unlucky, in this task, at least completed. Just a little short of playoffs. If we played the whole championship like this, like the latest games, would have taken a higher place and in the playoffs would have received a simpler opponent.
– Why didn't this "what if" work??
No athlete can say for sure, why did they play like this, and not otherwise. There are many factors. Probably, relaxed in matches with Belogorye, did not worry about the result, began to enjoy work more. Start playing with your strength and power. Lost a lot of five-set matches this season, it left its mark, emotionally experienced hurtful losses.
– How do you rate your game??
Let others rate. They say, that I'm not young (laughs - ed.), so I'm always ready, I take care of myself. I can say, that I'm not tired. the, that the season passed without injuries - already good, this is the main indicator of good shape. the main thing, that I was not sitting on the podium, and always helped to the maximum, did not let the team down as a captain.
– And what are the captain's functions in Gazprom-Yugra apart from those, what's in the rules?
I am a kind of intermediary between the players and management, coaching staff. Together we solved various problems - in the training, gaming processes. He told the young guys something. I try to motivate the team by my example: Yes, and Surgut added emotionally, the captain is a flint, who should be looked at and equaled.
– The captain is also responsible for the locker room?
The dressing room is a place for all of us, not for just one: here we relax, we communicate, getting ready. And for relaxation, humor, we have more Alexey Kabeshov replied. is he, usually, started, we all picked up - laughter sometimes stretched for twenty minutes. Separate him, by the way, thanks for that.
– And who else thanks?
Yes to everyone! To all the guys - they are great fellows, laid out one hundred percent and in games, and in training. Thanks to the coaching staff, Rafael Talgatovich - found the right words for us. Sure, many thanks to the fans, that they didn't leave us, came, supported – it was always a pleasure to play at the Premier Arena, the warmest feelings.
– What can you say about the team, where they spent two seasons?
I think, that Gazprom-Ugra will progress and delight its fans. I wish the team success, she has everything ahead. It has always been and will be a labor team, toughie.