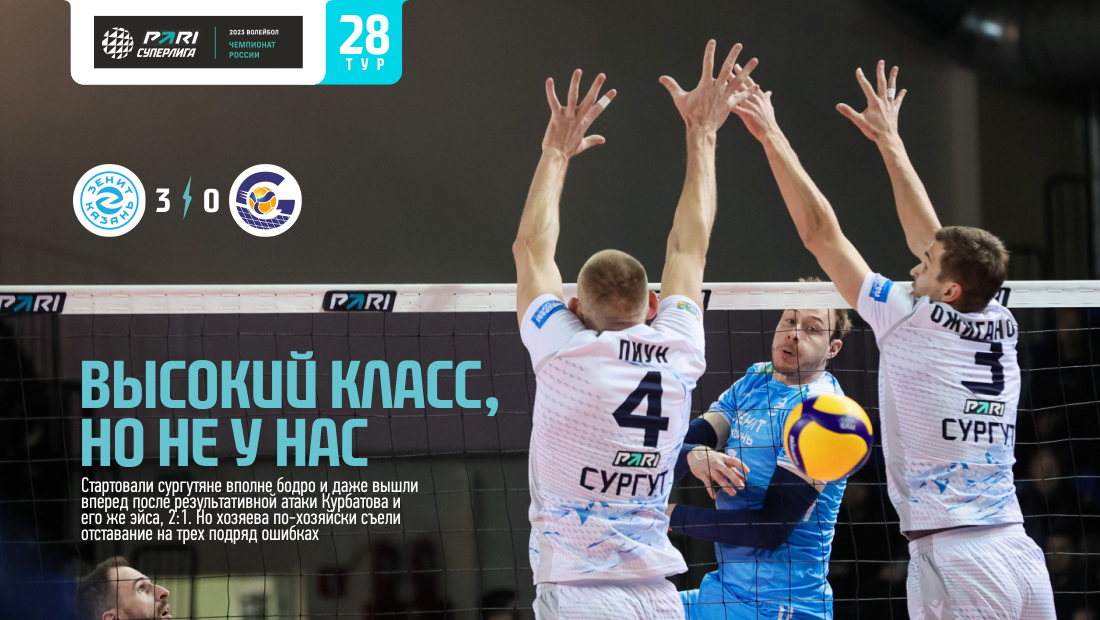 high class, but not with us
15.03.2023 / 22:10
Zenit-Kazan: Christenson - Mikhailov, D. Volkov - Deru, A. Volkov - Kononov, Golubev
---
Gazprom-Yugra: Ozhiganov - Shakhbanmirzaev, Makarenko - Katich, Piun - Kurbatov, Kabeshov
---
The Surgutians started quite cheerfully and even took the lead after a productive attack by Kurbatov and his own ace, 2:1. But the hosts ate the backlog on Rajab's three mistakes in a row - serving into the net and hitting the block and out, 3:5. Two more breaks "Zenith" took, waiting for Makarenko's emergency attack from the second zone along the cable into touch and Dmitry Volkov's counterattack, 6:10.
Next affected the superiority of Kazan in the class. Katic scores every other time (8:13), and Christenson after marriage in the transfer to Kononov, without blinking an eye, passes the first tempo to Mikhailov, 10:18. The Surgutians are doing something in defense, but it does not go on the grid at all, not counting isolated feats like Ozhiganov Deru's block (12:19). The ending came out like this: "Gazprom-Yugra" drags below, but in the sky the complete dominance of the owners. point, not to suffer, puts Kurbatov by touching the grid on the block.
Ace Dmitry Volkov claims the superiority of "Zenith" at the beginning of the second set, 1:5. Alekseev replaces Rajab, who failed to find the keys to the block of Kazan citizens, and Labinsky, diagonal, killer delivers to Kabeshov, 3:10. Ace Surmachevsky, replacing Deru - 4:14. Arguments in the form of a powerful feed, organized block and safety net, as well as Christenson, scattering our protective orders, overlapped with the marriage of the Surgut people in almost all elements and gave out the final figures.
In the third game, Zemchenok appeared in place of the diagonal in Zenit, and Labinsky replaced Volkov in the replay. We still had Botin instead of Makarenko in the second game. Two successful defenses and replays through the sixth zone bring us closer, 4:5. Ozhiganov dragging Zemchenko's attack, but on the third attempt, Denis gets his way and almost immediately draws up an ace, 4:8. Christenson decides to play out with a second touch attack, Kabeshov reacts, but ... catches the ball, 6:11. Against the backdrop of the organized game of the hosts, we are distinguished by one-time promotions: Alekseev knocks out an ace (10:15), Botin scores on a triple block (12:17) and feeds right through (15:21). The difference is, that between these events, Zenit players calmly withdraw and just as calmly take the replays: Christenson in his spirit flirts with almost all attackers, and the match-ball implements Labinsky.
Zenit-Kazan (Kazan)

3
:
0

Gazprom-Yugra (Surgut)
Details
| Date | Time | Championship |
| --- | --- | --- |
| 15.03.2023 | 21:00 | CR 2022-2023 |
Results
| | | | | |
| --- | --- | --- | --- | --- |
| Zenit-Kazan (Kazan) | 25 | 25 | 25 | 3 |
| Gazprom-Yugra (Surgut) | 13 | 10 | 16 | 0 |