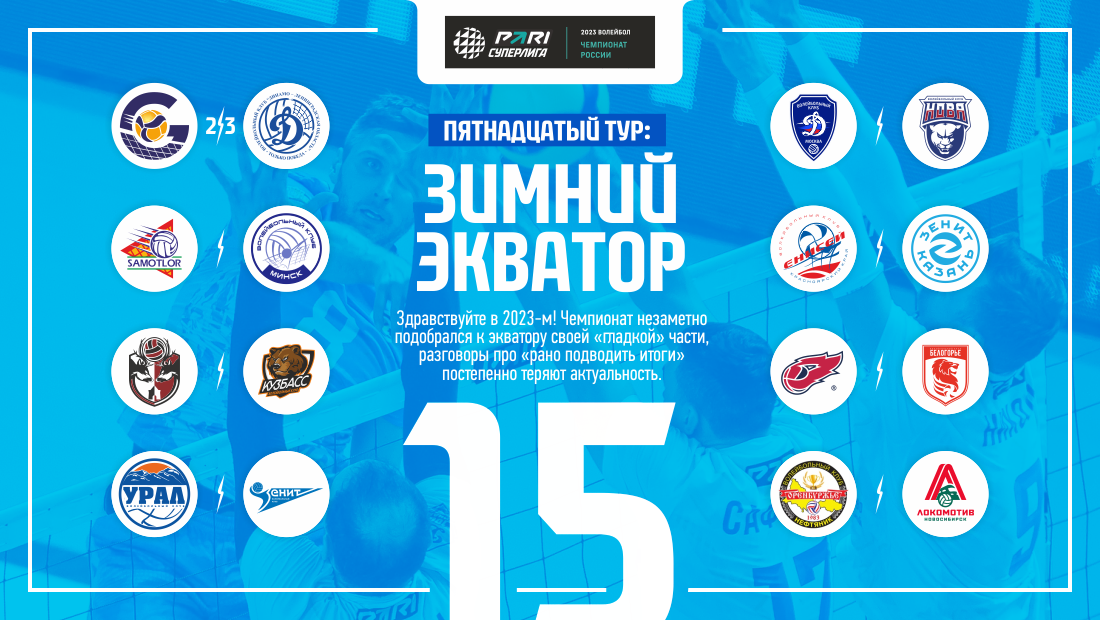 Fifteenth round: winter equator
02.01.2023 / 21:25
Hello in 2023! Championship imperceptibly approached the equator of its "smooth" part, talk about "too early to draw conclusions" is gradually losing relevance. The overall picture is slowly emerging, but for now... They say, how do you celebrate the new year, so you will pass it. hope, everyone greeted him positively, that's just positive in sports is not enough for everyone - we understand, who will be more lucky in the 15th round.

It will be interesting. Teams have an equal number of wins - two each, which means, that after the match someone will be able to break away a bit and keep hopes for the playoffs. At the same time, opponents approach the game on a different emotional background.: if the hosts go through a long losing streak, then the guests managed to interrupt it on the eve of the New Year, what, certainly, instilled self confidence. And where else to strengthen it, if not in Nizhnevartovsk? But still, the factor of native walls and more experience is for Samotlor. I think, Ugra residents will gather and not without problems, but they win: who else to beat, if not "Builder"?

And again interesting. Volga players in games with more complete opponents either start briskly, or give out something in the endings, but they are not enough for the whole match. Kuzbass is now that rival, with which you can try to compete throughout the distance. A lot will depend on the mood and the elusive factor called "which foot the diagonal will get up on". And Kletz, and Zheleznyakov are able to burn, but not to order. Kemerovo residents have the Dyachkov option, the owners - Antonov and unlikely, but possible Sidenko. In other lines, guests look more impressive, but ASK can compensate for this with courage.

Ufa residents continue the process of returning to their rightful place in the standings through a series of games with leaders. The sensation in the form of the defeat of "Zenith" is hardly visible, even despite the personnel costs of St. Petersburg residents. Anderson returned to service and everything is fine with Tolochko, even Kluka without a power attack. Ural will not be underestimated, sensing the breath of Kazan and Muscovites, guests will give it their all. Ural seems to have a Potaluk joker up its sleeve, but something he didn't shine in the last matches - they sorted it out? However, the hosts are simply obliged to drag at least one set into the fight, according to the laws of hospitality.
The most interesting will be on the coaching benches. Debut of Oleg Sogrin, Konstantin Bryansky's match against Alma Mater... On the court, everything is predictable. Even if the guests are mentally prepared, they won't be able to impose a fight on personnel.
And another game, sorry, predictable ending. Even if guests start experimenting, which is unlikely, they will win. Simply due to the same best resource and organization of the game, offered by Christenson. Wangyu, that at the start of the Kazan will come out all, and then according to circumstances. Yenisei has a core in the face of Yanutov, but on him, sorry, there is nothing special to string in a game with such an opponent. Different weight categories.

Most recently, the rivals were already in Novy Urengoy, but they didn't play with each other.. Despite Fakel's victory over Lokomotiv in the Russian Cup, I prefer guests. At first, Babkevich, barely reaching your level, injured again. Grankin and Gray Iron, of course, can say their veteran word, but, Secondly, the youth next to them play flashes, and "Belogorye" knows how to build up pressure constantly. Belgorod still have a vulnerability in the position of the second player, but it will affect in matches with more eminent rivals. Galimov and Masliev should have enough for Fakel, under the current Al-Khachdadi, Tetyukhin and Zabolotnikov.

Novosibirsk needs to lick the wounds of the Cup and Orenburg, with all the mood, is unlikely to be able to seriously interfere with this. Again we have to return to the conversation about the potential difference, even with the Lokomotiv infirmary still not empty. On the other hand, railway workers are "famous" for creating problems for themselves and then heroically overcoming them. Decisive factor, I think, there will be a serve and a game in the center through Lyzik and Kurkaev - here I will not open any America. Well, Luburic and Kazachenkov will have their say.
---
New Year's Vanga:
---