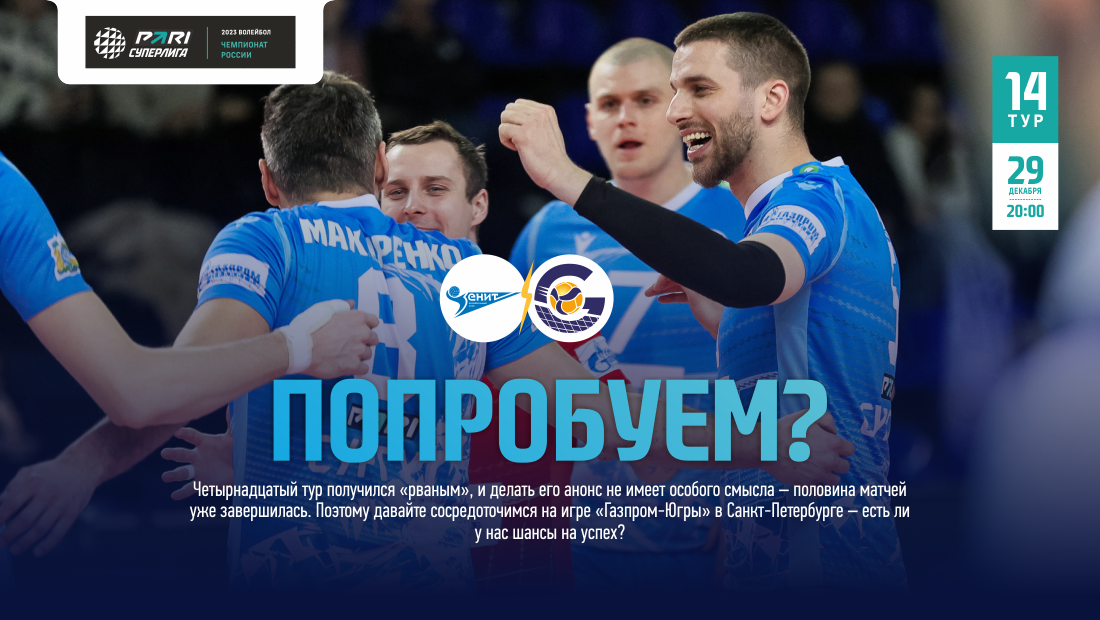 try?
27.12.2022 / 22:17
The fourteenth round turned out to be "torn", and making its announcement does not make much sense - half of the matches have already ended. Therefore, let's focus on the Gazprom-Ugra game in St. Petersburg - do we have a chance of success?
Viktor Poletaev and Ivan Yakovlev left Zenit due to injuries, back problems returned to Egor Klyuka, whose participation in the match is in question. This question can become very important., without a full-fledged Klyuka on the site, Zenit, in fact, remains without its leaders on the grid. One "but" - St. Petersburg has enough reserves, to close problem areas. What are they, by the way, and demonstrated in the 13th round, beating without Poletaev, Yakovleva and Kluki "Torch" with a score 3:0.
Matthew Anderson, who was called up especially in case of Poletaev's injuries, will play diagonally, player with diagonal experience in the US national team. They say, that he is no longer the same, smashing everyone and everything in the Kazan "Zenith" for a couple with Leon, but experience and skill have not disappeared anywhere. In the same match against Fakel, he scored 22 points with grandmaster efficiency 52% in attack, put two blocks and hit three aces.
The second attacking edge of "Zenith" in a truncated composition - Fedor Voronkov, who showed in the game with Fakel not only 60% in attack, but also 62% positive reception! This is clearly not an option for Gazprom-Ugra players, like the second follower, well known to us Kirill Ursov. However, Cyril has an Achilles heel - he does not always cope with the reception of a glider from above. But Zhenya Grebennikov has practically no weak points, so fine-tuning to Dmitry Kovalev will be, probably, close to ideal.
And then Kovalev, ousted from the "Zenith" is not anyone, and Igor Kobzar, will quickly scatter balls across the entire width of the net, without forgetting the depth: pipe for St. Petersburg is working properly. In the center, in the absence of Yakovlev, we will see another former Surgut citizen, Egor Yakutin, who copes with the work quite effectively along with his colleague Maxim Kosmin.
The composition of the "Zenith" is in any case powerful, they play at home, and still have not lost a single match in the championship. Nevertheless, just this factor plays into the hands of the Surguts, since all series end sooner or later - why not now? The moment to try to defeat the leader is almost perfect, although the chances are not very high. But they, at least, there is, because we have experience, there are fighters, good reception, the serve can fly and there is absolutely no pressure about the result. You can play loose and, what is called, catch a wave.
try?