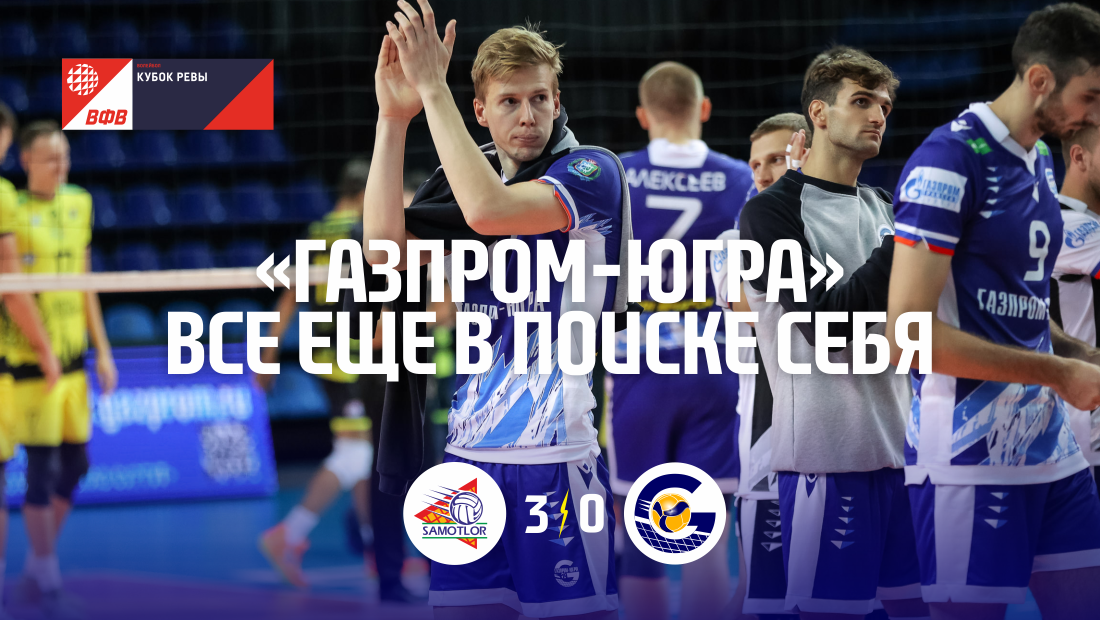 Gazprom-Yugra is still looking for itself
21.09.2021 / 16:25
The meeting with Ugra-Samotlor showed, that Gazprom-Yugra is still at the stage of developing the gaming space. Almost the entire first set of Surgut were in the lead, at times increasing their dominance to a large: 11:7, 17:14. Managed to more or less cope with Maxim Sapozhkov, Maxim Shpilev was captured in the fourth zone, Rajab Shahbanmirzayev regularly earned points, newcomer Ilya Kovalev entered the game well ...
All, what needed to be done to win was to keep the level of the game, but the people of Surgut are not yet able to do this. My own marriage fell: failed to break Ropavka's net twice, Shakhbanmirzaev and Rukavishnikov did not find the required speed - 17:17. Then - a failure by another couple of points in the "favorite" arrangement with a diagonal in the fourth zone, Kovalev's kick in touch and Shakhbanmirzaev's serve there, 22:25. In fact, gave their game to the opponent themselves.
In the second set, ace Shakhbanmirzaeva (10:9) immediately returned by ace Sapozhkov (10:11), and then, on dense feeds of Savely Pozdnyakova, Evgeny Rukavishnikov was never able to fix the marriage of partners in the reception, 11:16. Ivan Lukyanenko, who came out to pass, and Nikita Alekseev, who appeared a little earlier, did not make a break: Verny and Sapozhkov continued to torment us, and ace Alekseeva, towards the end, only sweetened the pill, 18:25.
Tired after Euro Kovalev makes two mistakes (1:5), "Samotlor" through the efforts of Pozdnyakov, Verny and Galimova gains superiority, 3:9. Fialkovsky comes out instead of Kovalev, and Nikishin, who started the set at the start, launches the ball into touch, 3:10. it seems, that you can put a point, but Nikishin got angry, and the Nizhnevartovsk team is also not all right with stability - the marriage went to the reception at the Rukavishnikov's serves, attacks flew out. Sapozhkov does not fit into the line ... Galimov, it seems, also hits out, but the video preview captures the touch of the block, 8:12. And a little later, the controversial moment after Nikishin's attack ends with one more point in the Samotlor's piggy bank, 8:14. Ivan is improving, Fialkovsky picks up the baton in the four, but the opponent played out Sapozhkov - three effective attacks and an ace, and then Alekseev lands in the block, 11:19.
Now, it seems, exactly all. The shock ending is carried out by Fialkovsky (pipe, block to Galimov, effective attack from four), but there is no one to pick up the impulse, Alekseev again knocks on the unit in an emergency, 19:25. The conclusions after the game are simple: with Nizhnevartovsk you can and should play at least on equal terms. Only for this it is necessary to keep concentration., more emphasis on serving and receiving quality. Nothing complicated, but this very basis, base, so far not in the game "Gazprom-Ugra".
Ugra-Samotlor (Nizhnevartovsk)

3
:
0

Gazprom-Yugra (Surgut)
Details
| Date | Time | Championship |
| --- | --- | --- |
| 21.09.2021 | 14:00 | CUP OF RUSSIA 2021. MEN. PRELIMINARY STAGE. |
Results
| | | | | |
| --- | --- | --- | --- | --- |
| Ugra-Samotlor (Nizhnevartovsk) | 25 | 25 | 25 | 3 |
| Gazprom-Yugra (Surgut) | 22 | 18 | 19 | 0 |