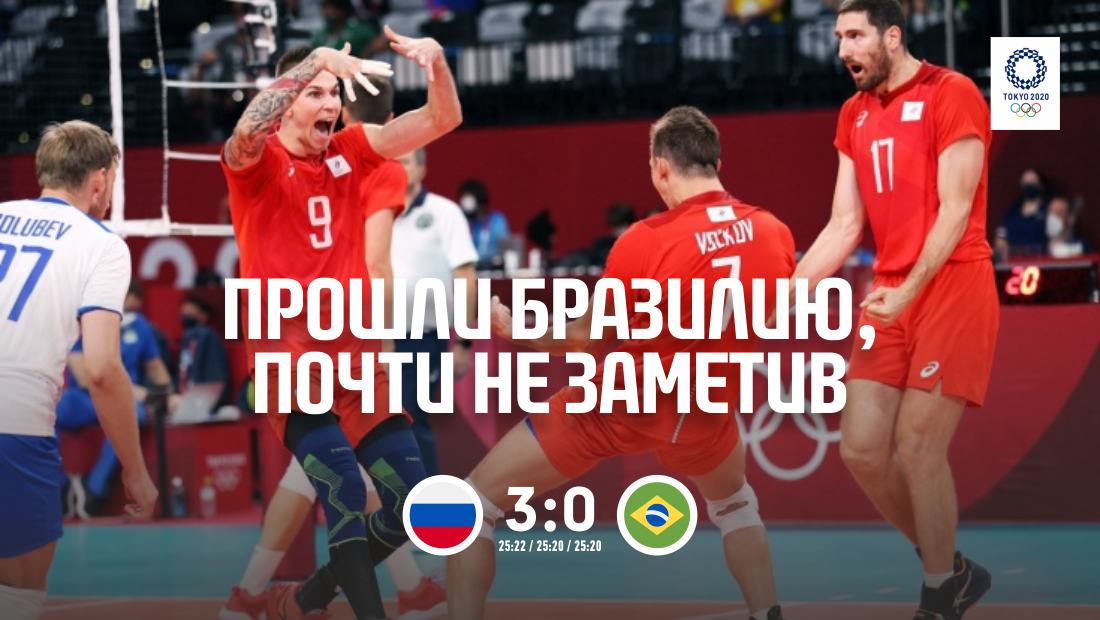 Gone Brazil, hardly noticing
28.07.2021 / 21:36
Remarkably, that the victory over Brazil is no longer from the realm of a miraculous miracle, but quite a working option. And you can't say, that the opponent resisted for the sake of, like the League of Nations, where everything was decided. The Brazilians needed victory like air, they tried it, and so, and replacements twisted, and the scenario of the previous match with Argentina was scrolled in my head.
But Russia is not Argentina. In the sense, what could we lose, only if they stopped themselves. And when the current Russian team rides in a tank, then everyone has problems., including tired (for the sake of objectivity) Olympic champions.
Sure, Ivan Yakovlev strengthened the game. His wall on the block in the first set if not broken, then seriously undermined the opponent's self-confidence. And Dmitry Volkov finished them off, who started not so hot, but then swayed and swayed everything around. Caught Wallace in a single block, scored from any position for every taste, crushed in feed.
Mikhailov did not go well again, but Kobzar tried very carefully to make Maxim comfortable, so that he picks up speed. It didn't always work out, sometimes too fast, but in general, the diagonal thanked the team, having starred in a four with an uncomfortable ball when counting 18:16 in the third set. If we let this ball go, we would go swing. And there Golubev, for once, pulled out a discount, and Volkov knocked out the ace with a wire - lucky, but lucky for those, who's lucky, 24:20. Well, the decisive point with a group block on Leal is a classic of the evening.!
It is very important to keep this game and this attitude. Yes, still wrong, sometimes stupid, sometimes just unlucky, somewhere Kobzar traditionally flirts - but in general the mechanism works, giving out crazy efficiency on the block and in the attack. Kobzar's adventurous game also has a downside - for once, the Russian national team played in the attack faster than the Brazilians! And there was a huge hidden bonus in that., because in power volleyball the Brazilians themselves know how, and the advantage is usually obtained precisely due to the speed.
All in all it feels like, that we can beat everyone. Can not see, who would be stronger than the Russian national team here and now. But this is the Olympics, ahead of the playoffs - it is important not to burn out, won't fail, it is important to stay focused, walk the edge of justifiable risk. All the fun is just beginning.
---
MAIN PHOTO: TORU HANAI / GETTY IMAGES