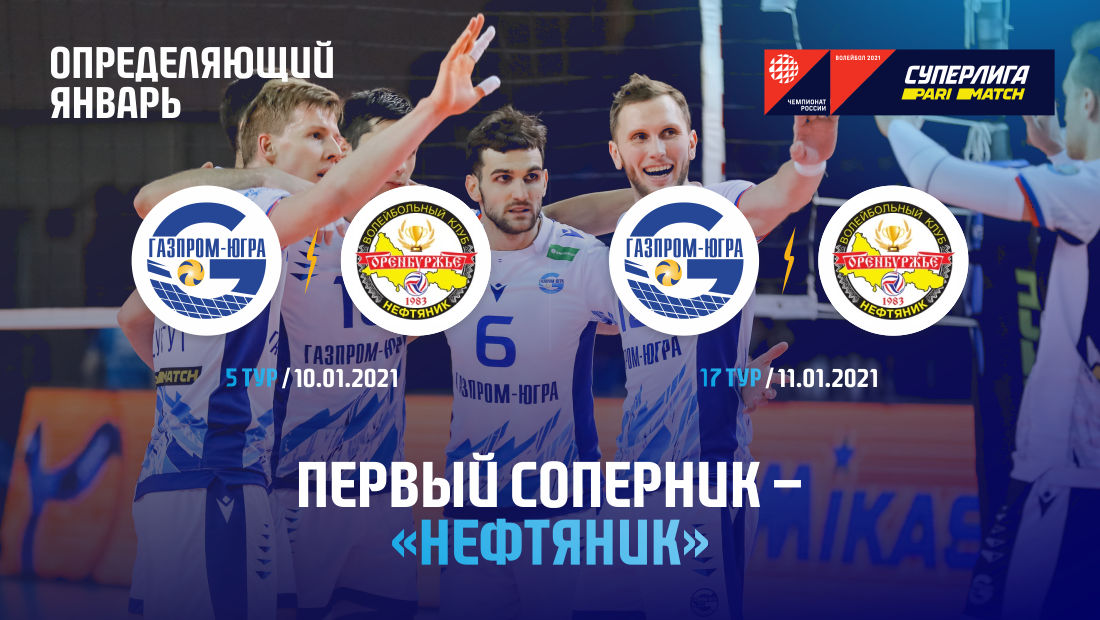 Defining January. The first rival is "Oilman"
09.01.2021 / 14:04
In the next two days, sunday and monday, Gazprom-Yugra will hold the first of three home paired series, in which, not without reason, expects to get hold of much-needed victories and points. 10 and 11 January, our rival is the debutant of the Super League Orenburg "Oilman".
Debutant is a conditional concept for this team. "Oilman" recently left the highest volleyball world, and Vladimir Vikulov, a pupil of Vladimir Putin from Perm, selected the team for the Super League from experienced fighters, many of which are well known to the Surgut fan. The connecting team Roman Egorov a couple of years ago due to injury could not really play for Gazprom-Yugra, but Leonid Shchadilov played quite productively in Surgut. But the main violin in Orenburg is still not played by them.
The main "asterisk" and "lighter" of "Oilman" – Maxim Purin. This one is quite short by volleyball standards., but amazingly jumpy player, able to play and finish the game, and in the diagonal, especially high-quality showed himself in recent matches. In the victorious match with Belogorie (3:2) Maxim pulled the team along, won 26 points and showing over 50% efficiency and reception, and in attack, having issued in addition three aces. Was the best Pudding in the last game against Zenit Kazan (1:3), in which the "Oilman" showed our superclub, that you won't be able to win in half.
Pavel Moroz, who returned to big volleyball, is looking for his former condition in the diagonal. While the game is going with varying success, but at times we see "that" Paul, who played for the Russian national team. Experienced Andrey Ananiev and Ivan Kozitsyn are playing in the center of the net next to Neftyanik, which the, true, was injured and his performance in Surgut is questionable. A couple of Purina in the game is left either by Leonid Shchadilov, or Nikita Kukhno, "Liberite" in the team Maxim Maksimenko, main binder - Konstantin Osipov.
Such teams are commonly referred to as "workers", meaning that they, not having bright stars in the composition, take their toll through work and dedication on the site. Surgutyans in their current state are somewhat similar to "Oilman", with that difference, that we have more new players, than using the existing ones to achieve the result. I dare to guess, that the victory over "Neftyanik" could go to Gazprom-Ugra (if you get) in a harder fight, than the previous two. On the other hand, probably, for the first time this season, Surgutyans can be called the favorites of the confrontation. Much in the outcome of meetings will depend on, how the leaders of both teams will play and who will be able to recover faster after the first game - after all, two days in a row in the Super League have not played for a long time.