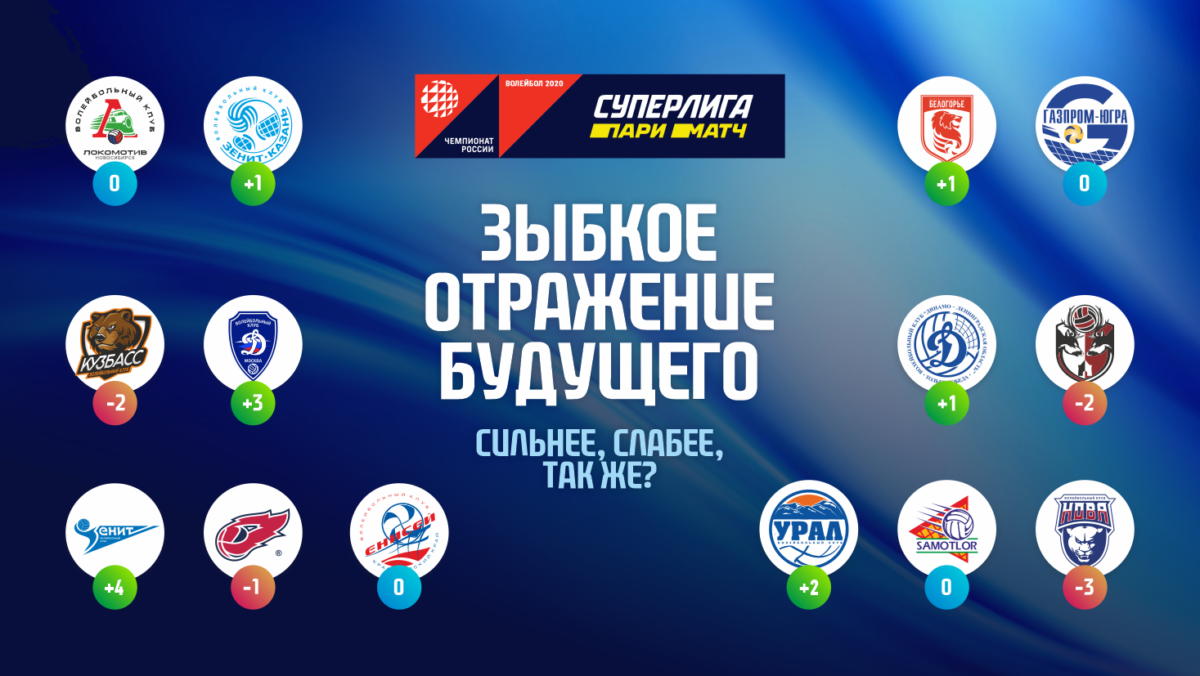 Unsteady reflection of the future. Stronger, weaker, same?
07.05.2020 / 12:00
Super League clubs have not finished picking for the new season, some didn't even start it. Nevertheless, a portrait of future teams is already possible - in general terms. What we decided to do, trying to answer the basic questions: teams intensified, weakened, stayed stand by? On a scale +/- five points compared to themselves last season.
---

"Lokomotiv" Novosibirsk 0
---
Replacing Bakun with Luburich does not promise any special breakthroughs, these are players of about the same level. But the departure of Dzhizgi, who seemed to have rubbed in Novosibirsk, and betting on young Abaev, is to some extent a risk. The backbone of the team is fully preserved, we have +1 for that, don't replay. But the Abaev factor gives -1 team karma score. The result is a full stand by.
---

Zenit Kazan +1
---
Return Alekno +1, Mikhailov's return to the usual place +1, the parish of Bednozha +1. Replacing central ones is not enthusiastic, no regrets. Equally. -1 for that, that Butko is not getting younger, and Laurent Alekno did not become an adequate replacement. Zenit will become even a little stronger.
---

"Kuzbass" Kemerovo -2
---
Leaving the main diagonal and the main game player is immediately -3 In total. In the case of the arrival of a diagonal level of Zaitsev (+1) the inevitable departure of either Kerminen, or Pashitsky, and they, too, are system-forming players in their roles (-1). On the plus side, we will appreciate the arrival of Verbov, but the team will still lose.
---

"Dynamo" Moscow +3
---
Muscovites are slowly, but surely turn into a superclub. The basis is, remain final, but the most important touches, which we will not see next season. In the meantime +1 for Sokolova, +1 for Podlesnykh, +1 for a balanced composition and Likhosherstova. Total confident plus in karma.
---

"Zenit" St.-Petersburg +4
---
And in St. Petersburg, the super club is almost assembled. Kluka - right away +2, it is very powerful. Poletaev and Grozer exchanged equally, though, of course, Poletaev is younger and more promising. Brizar - not yet a very clear solution, but deserves a plus. Melkozerov paired with Andreev can make the best duet in the country, +1. Zenit will become noticeably stronger.
---

«
Torch »Novy Urengoy -1
---
If Kluki's arrival in St. Petersburg is +2, then leaving the "Torch" -2? Not! The team has repeatedly proved, that she can play without Egor. But without him, of course, sadder, -1. The rest of the movements especially do not heel the assessment in any, no other way. Good, what saved Volkov, Bogdan and Shoji, but still Kluck is Kluk. -1.
---

"Yenisei" Krasnoyarsk 0
---
Krasnoyarsk, seem to be, decided to conserve success. The main roles are already distributed., those are gone, who played a little, came those, who haven't played in the Super League at all. Surprises are possible, we will see, In the meantime, all the same.
---

"Belogorye" Belgorod +1
---
Leaving Kolchin is a minus. It's not even in the figure of a specialist, but in, what's in Belgorod, seem to be, coaching leapfrog continues, which rarely contributes to success. The arrival of experienced Kolodinsky, Samoilenko is a plus. Conditional Shalpuk - also, of course, +1. The situation with the diagonal remains unclear. So far, a small plus, and we'll see.
---

"Gazprom-Ugra" Surgut 0
---
Muse Care -2. Anyway, the key was the player. On the other hand, diagonal with similar efficiency may come out of Vu?i?evi?. Till, without advances, +1. The remaining recruits - on growth, normally. We note in addition the preservation of Salparov and the revolving Chereysky with Dovgan. Gazprom-Ugra has always been a surprise team, therefore we fix stand by.
---

"Dinamo-LO" Sosnovy Bor +1
---
Replacing the center is approximately equivalent, Biryukov +1. Basically, Denis is able to create a difference compared to last season. We will stop on this.
---

ASA Nizhny Novgorod -2
---
Volzhans lost more. If Wiecki is able to equally replace Wendt, then Melkozerova and Shulepova, with all due respect, it will be difficult to replace. Well, Titic Markina is unlikely to block.
---

«Ural» Ufa +2
---
"Ural" once again decided to rise from the ashes. This time it may turn out - bearing in mind the full selection of Bagmetov and the invitation of Shulepov, +1. muse +1, Perrin +1. But let's not run so forward. At first, Muzay is not yet officially signed. Secondly, in Ufa there is always some kind of poorly studied factor, which does not allow the team to conquer the peak from year to year. Therefore in the black, but without fanaticism.
---

"Ugra-Samotlor" Nizhnevartovsk 0
---
I think, loss of Nikishin and Cosmin will be compensated by Bogachev and Bezrukov. And then our neighbors will come up with something else. Will not become weaker.
---

"Nova" Novokuibyshevsk -3
---
In Samara, seem to be, themselves shocked by the fact, what stayed in the Super League. So far - only losses, more significant. Gone Busel and Titic, questioned by Shenkel. In this state, it is difficult to assess the potential of the club., but so far he's in a deep minus. We put conditional -3 and let's hope, that something will change for the better.
In conclusion, I want to pay attention again, that teams were compared to themselves, not with each other. hope, it was interesting!