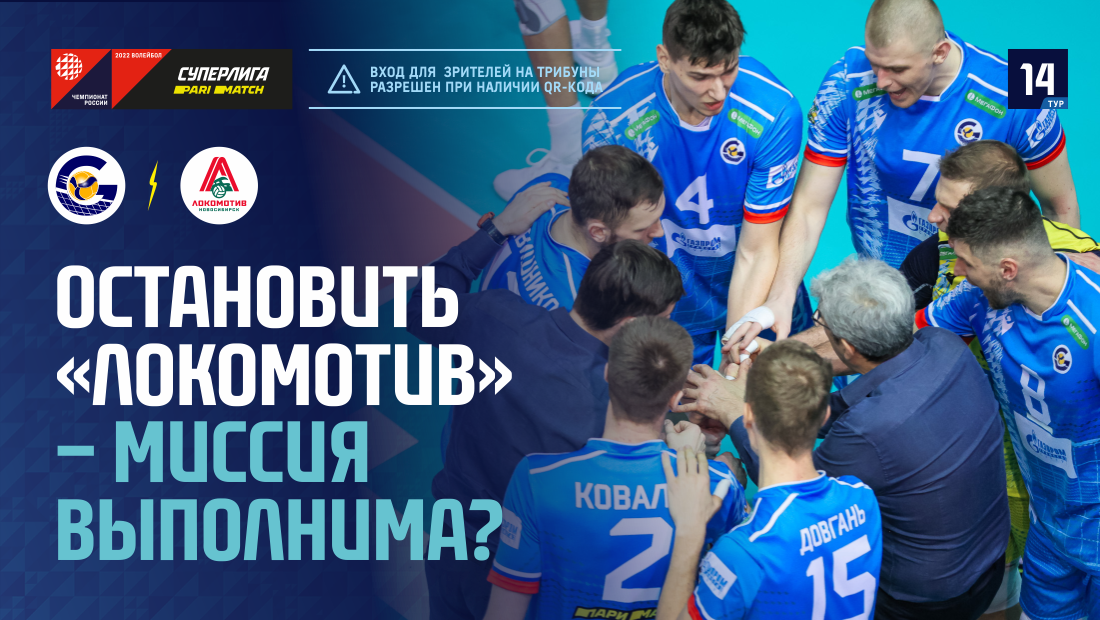 Stop Lokomotiv - Mission Possible?
20.01.2022 / 15:08
Second round begins, which means everything is new. 2 October 2021 of the year Gazprom-Ugra started in the championship with a defeat in Novosibirsk. Since then, Lokomotiv lost only once - to Zenit Kazan.. As a result, a confident second place and a direct ticket to the Final Six, if the championship ended here and now.
Railroad workers can be moved, in fact, two - the capital "Dynamo" and St. Petersburg "Zenith". There is no doubt, that they will make every effort for this and soon, 5 and 20 February, Lokomotiv will face them, and on a visit. Under these circumstances, Novosibirsk cannot lose points along the way., and the team will come to Surgut with serious faces and only for victory.
"Gazprom-Ugra" is fighting a little on a different level of the Superleague. Our direct rivals are teams from seventh to twelfth place, who are separated by only two victories. This batch will decide, who will get a ticket to the playoffs, and who will go through the unpleasant play-out procedure. And it seems that Lokomotiv is not from our sandbox, and not here you need to look for profit, but the truth is, that you need to cling to everything. Sensations in the Super League happen, including with the participation of the Surgut team, conquering all.
It remains to understand - what is the secret of Lokomotiv's success? Beyond the obvious: quality, one of the best in the Superleague, matchmaking, club strategy stretched over years, which is consistently implemented by the well-known in Surgut Plamen Konstantinov. Actually, this is the whole secret - the project started a few years ago to put the talented binder Konstantin Abaev into a large orbit gives a return, who has someone to rely on: LUBURI?, Savin, Perrin, Rodichev, Kurkaev, Kruglov…
The team is more experienced, than young, but there is the same Lyzik, rapidly breaking into the top Russian middle blockers. Submission flies (if flies) everyone has, and you don't know, from whom to expect a machine gun series. Responsible for receiving and protecting, yet again, experienced Martyniuk and Krivitchenko, in most situations confidently providing Abaev with a quality refinement. Finding bottlenecks at Lokomotiv will bring a lot of headaches to any coaching staff. Well, by the way, if the replacement Abaeva Tisevich comes out, you won't be able to breathe freely either.
Can, least, try to undermine the reception of the players from Novosibirsk - Savin is not always stable, Rodichev does not like gliders, Perrin can also ruin his team's pickup event. It will not work - at least turn off the replay from the pipe. LUBURI?, like Kruglov, loves and knows how to hit the line, deal with wing blockers, and Kurkaev and Lyzik (and Shcherbinin and Chereisky) – constant threat in the center of the grid, not allowing to run in advance to close the edges. Generally, quite a common story, when faced with such a powerful team. And the antidote recipe is also quite "standard": try to push off giving and receiving, keep eating and catch chances in replays due to softening. On paper it's easy, it's incredibly hard on the court.
But once a chance is given, should try to use it. Come to the game with one of the leaders of the Russian championship, it will be interesting. Andrey Arshavin and Vladimir Bystrov will also be interested - famous football players will come to Surgut to open the Zenith children's fan club and go to the volleyball light at the Premier Arena.