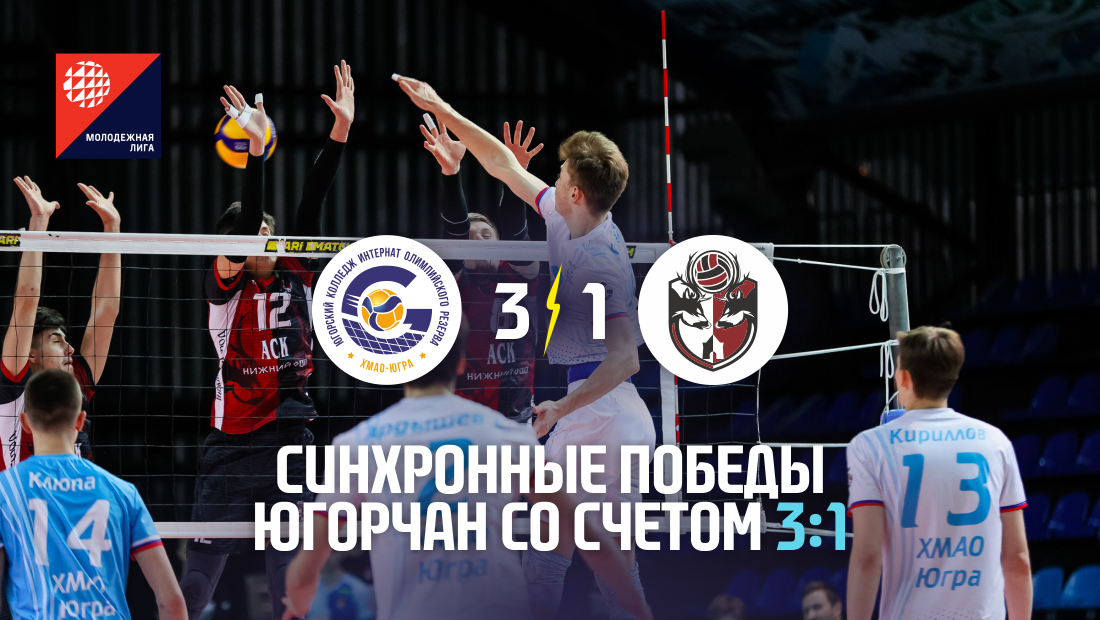 Synchronous victories of Yugorsk team with a score 3:1
06.01.2022 / 20:48
6-The first round of the Youth Volleyball League started in Surgut with the victory of the Samotlor school over the Kazan Zenit-UOR. The match turned out to be stubborn: only in the opening set, the advantage of Nizhnevartovsk was not in doubt - 25:14. In the future, the citizens of Kazan found the strength to offer desperate resistance to one of the leaders., losing in the second game on a swing - 24:26, and taking the third set 25:23. In the fourth game, Kazan had chances to switch the game to a tie-break, but in the end the balance swung in the direction of Nizhnevartovsk, 25:23.
The game between YUKIOR and ASK-2 passed with the same result, but in a quieter direction. Having achieved an advantage by the middle of the first batch (16:12), the owners have confidently developed the success (25:16). However, in the second set of minimal superiority in the ending (21:19) Ugra residents did not have enough, the opponent learned the lesson and snatched the victory with a bitter struggle, 25:27. In turn, he teaches the lessons of YUKIOR - and squeezes Nizhny Novgorod residents 25:18, 25:20 and 3:1 at the end of the match.
As part of YUKIOR, four played equally effectively: Ivan Skvortsov typed 16 points, show 58% efficiency in attack, centers Pavel Tebenikhin and Konstantin Bessogonov chalked up 13 points, and the first scored four times on the block, and the second showed 91% in attack, diagonal Danila Voronchikhin was less effective, but also blocked perfectly, won 12 points. At all, it was the two-fold superiority on the block that determined the final success of YUKIOR. In ASK-2, the leader of the attacks, Klim Mozhukhin, scored 18 points, becoming the most productive player of the match - but his partners did not support him properly.
YUKIOR (KhMAO-Yugra)

3
:
1

ASK-2 (Nizhny Novgorod)
Details
| Date | Time | Championship |
| --- | --- | --- |
| 06.01.2022 | 15:00 | 2022. RUSSIAN CHAMPIONSHIP. MEN. YOUTH LEAGUE |
Results
| | | | | | |
| --- | --- | --- | --- | --- | --- |
| YUKIOR (KhMAO-Yugra) | 25 | 25 | 25 | 25 | 3 |
| ASK-2 (Nizhny Novgorod) | 16 | 27 | 18 | 20 | 1 |