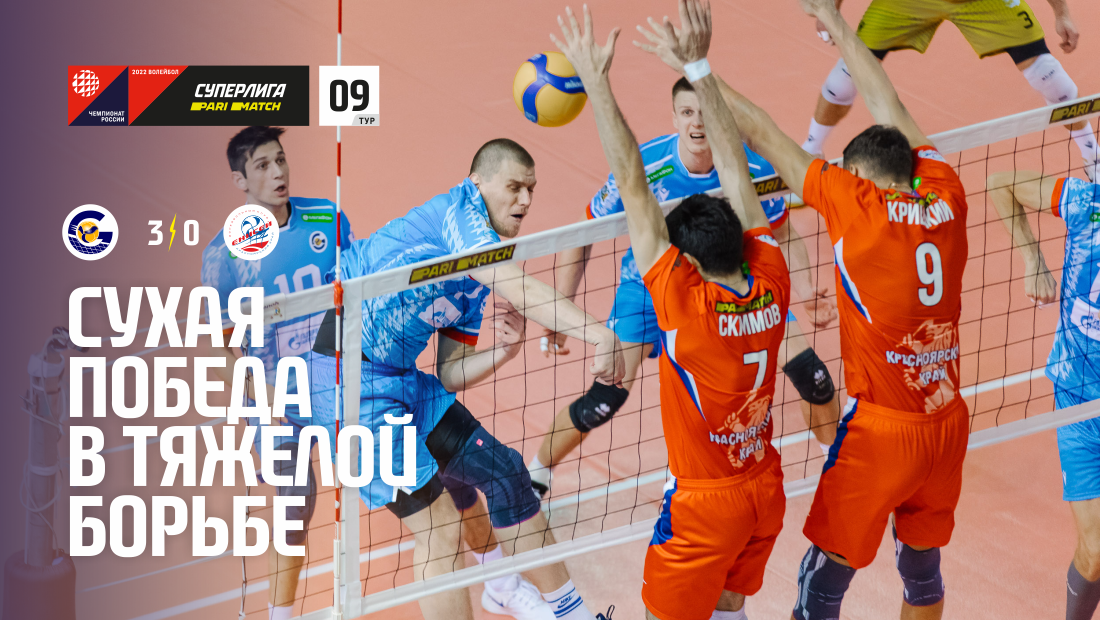 Dry victory in a hard fight
04.12.2021 / 22:03
Despite the dry score, the match in Surgut was not Siberian hot and was held in a bitter struggle. In the opening, partners in the Ukrainian national team Kovalev and Ereschenko exchanged a series of attacks - Surgutyan won with a clear advantage, 3:0. Then Lukyanenko hooked up Yakutin - his three attacks allowed him to keep what he got., 7:4. Krasnoyarsk residents were not taken aback and twice, thanks to a powerful feed, sneaked up close, but managed to overtake the owners only at the mark 17:17 - Kovalev fell under the block.
Let's go classic validol swing, within which the coaching staff of Gazprom-Yugra played a double substitution in two stages, removing Lukyanenko from the front line for one rally. The guests were the first to reach the set-ball after Makarenko served in the net, 23:24. Scrimov, in turn, shot the cable ... The rivals grabbed each other. Klets makes a fatal mistake, stepping on a three-meter line, kick Ereschenko the hosts are dragging in defense, and Kovalev scores in a steep diagonal, 26:25. The denouement came after the mark 27:27 - Alekseev implements an emergency ball, and Yakutin, without a shadow of a doubt, submits to the conflict zone between Yanutov and Skrimov, 29:27.
In the second game, the teams not only switched sides of the court, but also with roles on it - now the guests go ahead, and the owners are trying not to lag behind much. Yenisei's serve is flying, after ace Klets - 7:10. Alekseev responds with a cannon shot, 10:11. Maximov makes Kovalev wrong, 10:13... Ilya, angry, immediately hammers the ball into the line, and the owners' chase ends in success at exactly the same mark, as in the first set, 17:17.
Crazy prank, in which Eremin breastfeeds Klec's attack, Alekseev ends, 19:19. Second validol swing, second double replacement of Gazprom-Yugra, and Shakhbanmirzaev draws up an ace with a wire feed, the ball falls into an empty area, 24:22. Twice returned to the site, Alekseev can complete the set, but does not beat the block in difficult situations, 24:24. In the end, Lukyanenko directs attacks through Dovgan, and Yakutin again puts an end to the game, this time block Kletsu, 27:25.
In the third game, the residents of Surgut broke the unpleasant tradition of relaxing after winning two sets.. conversely, played very competently in the "block-defense" formation, having obtained by softening on the block and selfless actions below a lot of additional chances. Not all of them were implemented, at Yenisei, the bloc also knows its business, but the percentage of points scored by the hosts was clearly higher. Even two consecutive Aces Ereschenko (13:14) did not embarrass Gazprom-Yugra too much - Alekseev wins back at the hands of Scrimov, Makarenko in a captain's style completes a long game, another one after the defense of Eremin is realized by Dovgan, 17:15. Softening again, again Makarenko masterfully works with the block, 18:15. Shakhbanmirzayev's three handicap points are increased to four match-balls - 24:20. Yakutin sends out, Shakhbanmirzaev is covered by a block and at the mark 24:22 everything happens at once: reverse double swap, Rafael Khabibullin's timeout ... That was enough, to calm down and Lukyanenko will use a fail-safe weapon - pipe performed by Kovalev, 25:22.
Krasnoyarsk residents looked much better, than in previous rounds. They have all the leaders returned, great match gave Yanutov, the rest looked good too, but Surgutyans played the best quality match of the season today: tenaciously played the second number, and Lukyanenko fully showed his creative abilities.
Senior coach of VK "Enisey" (Krasnoyarsk) Yuri Marinin: Everything was close by, everything is very close. We started a little badly, then removed the errors. Basically, both teams played well, but here's a fatal mistake - Kletz's spade. Finishing ball, we could take the first set and then dictate our terms. It would be at least quieter. We've been on our nerves lately, we lose a lot, more results are expected from us.

Second batch - everything is exactly again, but Surgut played better in defense. From the defense played, a lot of difficult balls were raised, have a little better at disposing of their match balls. If you noticed, we don't have two again - Gavrilova, who should go out and help on the pitch, Kulikov is a first-team player ... Well, at least the rest are back.
Senior coach of VC "Gazprom-Ugra" (Surgut) Anton Malyshev: As you noticed, we had a big rotation and it all worked - I want to thank the guys for a good game. Yes, there were mistakes, there was a lot of nervousness, but in the end we withstood and did not miss this game beyond the third installment. Thank you to the fans, who came to support, it is very pleasant to please your viewer. There is still a lot of work ahead and let's evaluate it at the end., and not for individual matches. Today we did it, будем прибавлять дальше.
Central locking EC "Gazprom-Ugra" (Surgut) Egor Yakutin: Absolutely equal opponents played today, principled meeting - it was very important to win. Enisey has a good serve and a pretty good reception, today we managed to organize high-quality defense and finish off the balls in counterattacks.
Gazprom-Yugra (Surgut)

3
:
0

Yenisei (Krasnoyarsk)
Details
| Date | Time | Championship |
| --- | --- | --- |
| 04.12.2021 | 19:00 | CR 2021-2022 |
Results
| | | | | |
| --- | --- | --- | --- | --- |
| Gazprom-Yugra (Surgut) | 29 | 27 | 25 | 3 |
| Yenisei (Krasnoyarsk) | 27 | 25 | 22 | 0 |