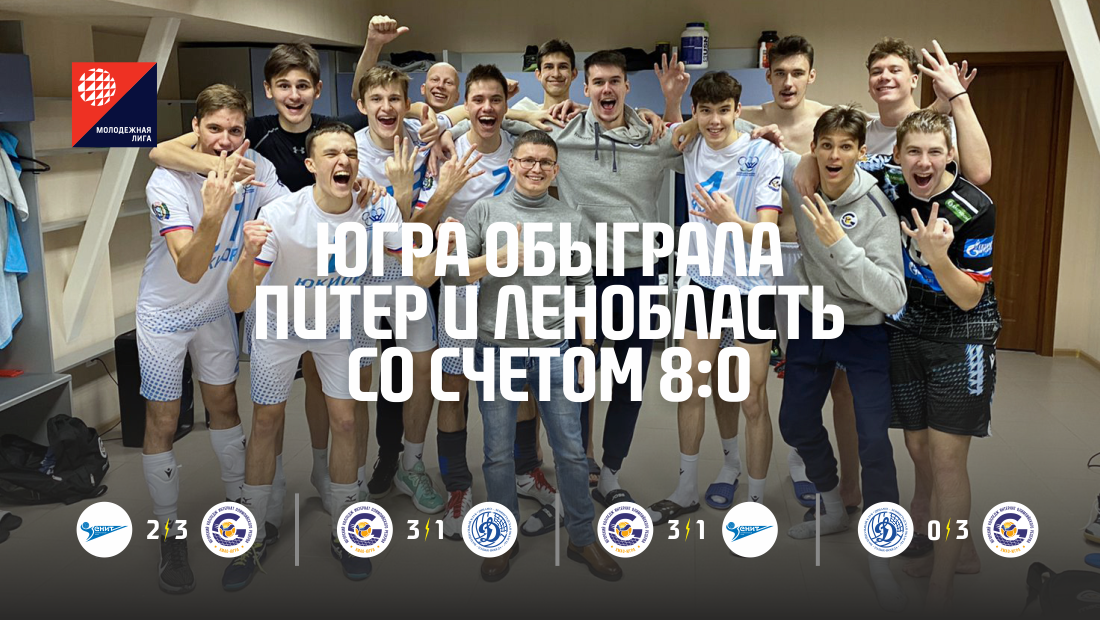 Ugra beat Peter and Leningrad region with a score 8:0
21.11.2021 / 21:12
Games ended in Surgut 4 round of the Russian championship in the Youth Volleyball League. Two Ugra teams - YUKIOR and SSHOR Samotlor - have not lost a single match to teams from St. Petersburg and the Leningrad Region. Swapping rivals for the last time, Nizhnevartovsk and Surgutyans beat Zenit-2 and Dynamo-LO-2 with the same score 3:0.
In the match "SSHOR Samotlor" – "Zenit-2" was the most tense first batch, which Vartovans won on the balance sheet, 25:23. Then it went easier, 25:20 and 25:19. YUKIOR lost in the score during the first game, but closer to the end he managed to turn the game over with 13:16 on 21:19 and took the set also with a minimal advantage, 27:25. The second and third sets were again a little easier for the Ugra team, 25:20 and 25:22.
Having won four wins, YUKIOR and SSHOR Samotlor have noticeably strengthened their positions in the standings. Nizhnevartovsk team took a foothold in the second line of the standings, second only to Novosibirsk Lokomotiv-SSHOR, and the residents of Surgut climbed to fifth place, bypassing ASK-2. In the next round 16 and 17 December, my neighbors and I will meet in face-to-face confrontation in Nizhnevartovsk, and YUKIOR has a theoretical opportunity to catch up with the Vartans who have gone ahead.
Dinamo-LO-2 (Pinery)

0
:
3

YUKIOR (KhMAO-Yugra)
Details
| Date | Time | Championship |
| --- | --- | --- |
| 21.11.2021 | 17:00 | 2022. RUSSIAN CHAMPIONSHIP. MEN. YOUTH LEAGUE |
Results
| | | | | |
| --- | --- | --- | --- | --- |
| Dinamo-LO-2 (Pinery) | 25 | 20 | 22 | 0 |
| YUKIOR (KhMAO-Yugra) | 27 | 25 | 25 | 3 |