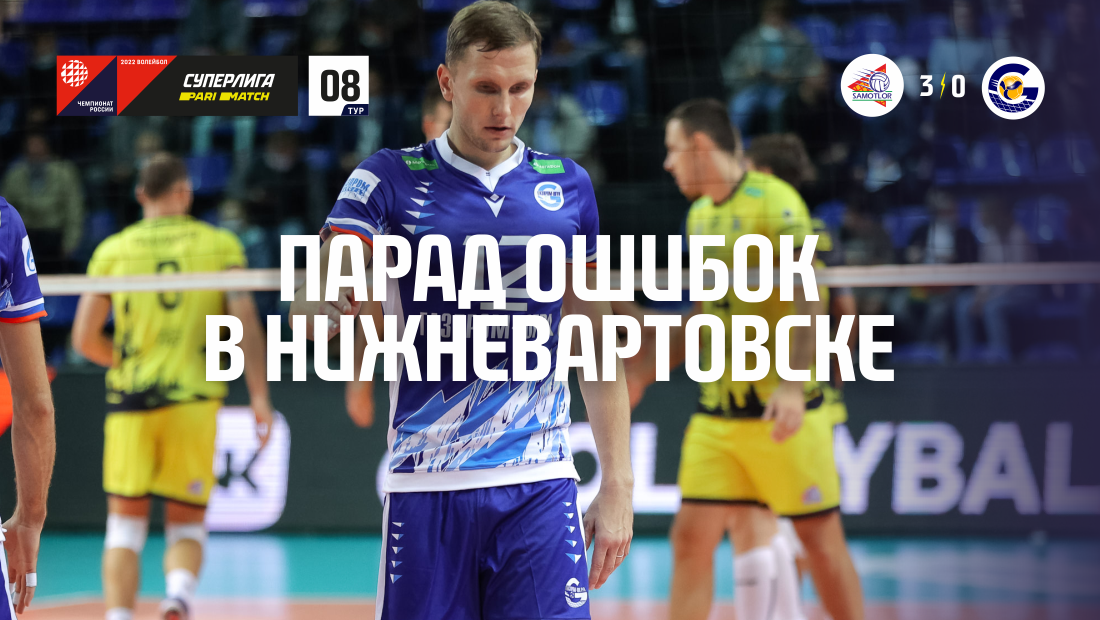 Error parade in Nizhnevartovsk
20.11.2021 / 19:59
Gazprom-Yugra was wrong too much, to win in Nizhnevartovsk. The first batch became a mutual parade of errors in the serve, the owners had even more of them - eight versus six for the Surgut. But Nikita Alekseev's game didn't go well, and while Lukyanenko, who came out instead of Rukavishnikov, probed other ways, the account was held in favor of "Ugra-Samotlor", 12:16. Failed Sapozhkov - hit twice in touch, and Krasikov, who came out to serve, chalked up an ace to his account., 18:18. The equal ending was cut short by Alekseev's kick in the direction of the wall, 24:26.
In the second batch, the residents of Surgut seem to have picked up the keys through the first tempo, began to pay dividends Alekseev, but the Vartans responded in kind, and the ace of Verny allowed them to come forward for the first time, 13:14. Kovalev is sad at Gazprom-Ugra, and then the block finally covered Yakutin, 15:18. Shakhbanmirzaev, who came out as part of a double substitution, scored twice, but all this is on loan, guests did not succeed in breaks. Galimov put a dot in the set with a pipe, 21:25.
The third set at Samotlor began with Litvinenko, who came out at the end of the second game, and did not spoil the picture. Alekseev's stance in the attack from the second line - 3:5. Tsepkov scores a challenge ball - 9:11. Nevertheless, excellent Dovgan zone once again establishes parity, 15:15. Galimov works out in defense after the attack of Kostylenko who came out instead of Kovalev and twists the ball from the block into the antenna, 17:19. Alekseev answers, and in the next tough rally, he scores again - but this time with a mistake, 18:20. it, perhaps, was the key point.
In a nervous ending, marriage fell in abundance on both sides., but a small handicap in the score allowed the hosts to bring the set and match to victory, 23:25. Surgutyans lost to a slightly more organized opponent. The hosts, showing nothing supernatural, just played more cleanly and used - functional, psychological? - failure of guests. Days and games like this happen, they must be meticulously disassembled in the game plan and quickly forgotten at the psychological level. There is a short break in the championship ahead, which the residents of Surgut should use to reboot.
Ugra-Samotlor (Nizhnevartovsk)

3
:
0

Gazprom-Yugra (Surgut)
Details
| Date | Time | Championship |
| --- | --- | --- |
| 20.11.2021 | 17:00 | RUSSIAN CHAMPIONSHIP 2022. MEN. Super League |
Results
| | | | | |
| --- | --- | --- | --- | --- |
| Ugra-Samotlor (Nizhnevartovsk) | 26 | 25 | 25 | 3 |
| Gazprom-Yugra (Surgut) | 24 | 21 | 23 | 0 |