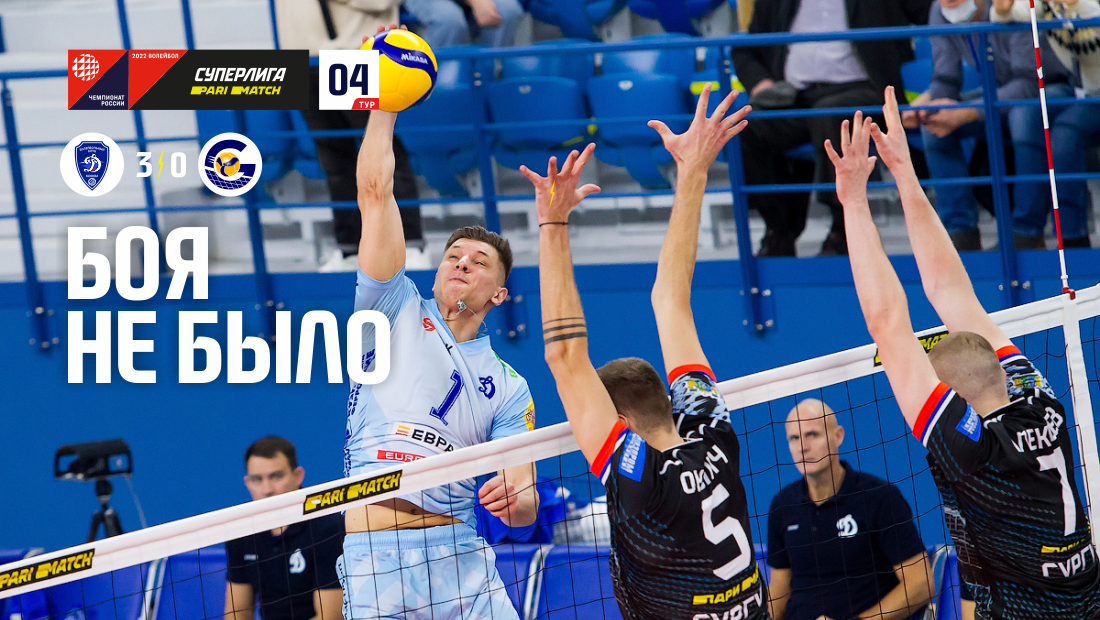 There was no fight
23.10.2021 / 22:30
At the beginning of the first game after Egor Yakutin's ace (2:1) thought, what will be the fight, but three aces in a row from Yaroslav Podlesnykh, and then ace Ilya Vlasov (4:10) put everything in its place. Dynamo scored five points from the serve, six more became block prey, plus six of our mistakes when putting the ball into the game were the result, 13:25. This is math, but in fact we were bombed with a serve and put the squeeze on a block.
In the second game, the composition of the Surgutyans on the site was updated by two-thirds, but Likhosherstov did not postpone the matter and showered Gazprom-Yugra with his weighty gliders, 1:7. Gradually, the guests came to their senses and returned, if not to the fight for the set, then just the game. Aces of the owners were very "in the way", but, at least, Lukyanenko passed much more interesting than Rukavishnikov, "Fed" the first pace and gave a little freedom to Alekseev, 20:25.
The third installment could be interesting, but both players slipped, Kovalev and Kostylenko, Lukyanenko swam a little. Throw in yet another lot of feed scraps, the reception knocked out at the end of the game - and 11:12 turned into 12:18. Dynamo put the squeeze on Surgutyans without difficulty, 16:25. to be honest, we didn't understand, how strong are Muscovites, because this evening the people of Surgut did everything themselves.
Dynamo (Moscow)

3
:
0

Gazprom-Yugra (Surgut)
Details
| Date | Time | Championship |
| --- | --- | --- |
| 23.10.2021 | 20:00 | RUSSIAN CHAMPIONSHIP 2022. MEN. Super League |
Results
| | | | | |
| --- | --- | --- | --- | --- |
| Dynamo (Moscow) | 25 | 25 | 25 | 3 |
| Gazprom-Yugra (Surgut) | 13 | 20 | 16 | 0 |