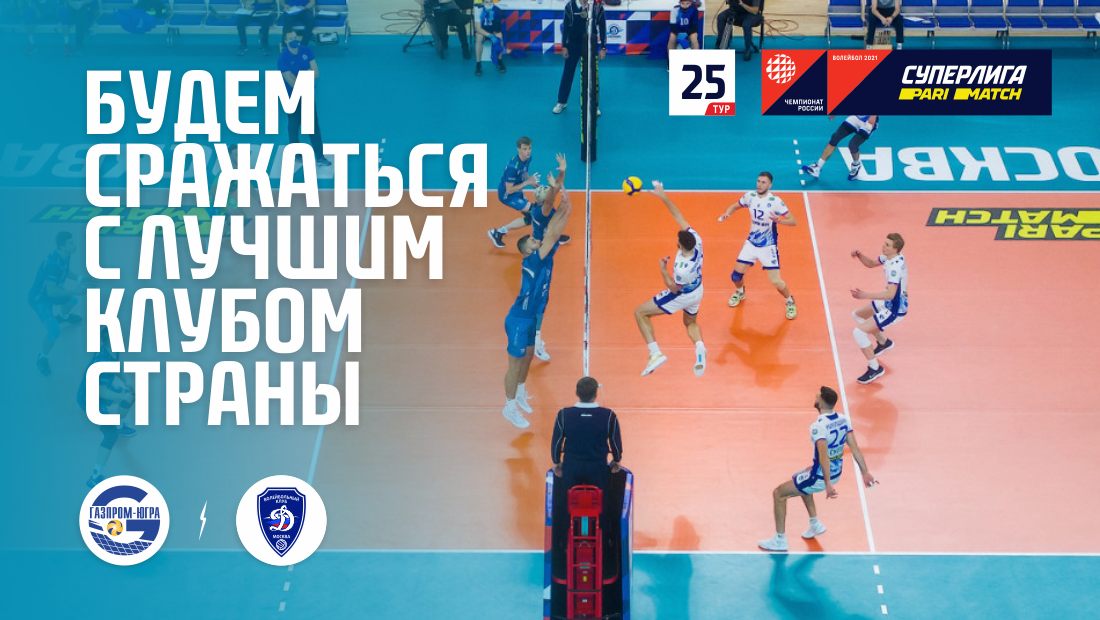 We will fight with the best club in the country
05.03.2021 / 18:39
The winner of the Russian Cup is coming to us, CEV Cup finalist, winner of the regular part of the national championship. Dynamo Moscow is the best club in the country in playing here and now. Testing yourself in a match with such an opponent is a challenge for Surgutyans.
On the eve of Dynamo confidently beat the French "Montpellier" in the semifinals of the European Cup, and the Surgut club agreed to give Muscovites a little more time to fly to Surgut, therefore the match will not take place on Saturday, and on sunday. A sharp change of time zones if it affects Dynamo, it is not critical - after all, professional athletes are adapted to such loads, and a short voyage to France hardly knocked down biorhythms.
Another thing, that in Montpellier the main diagonal Muscovites Tsvetan Sokolov was injured and his participation in the upcoming game is questionable. However, Dynamo's staffing allows Konstantin Bryanskiy to feel calm: Sokolov's replacement Romanas Shkulevichus is potentially capable of playing the main striker in almost any Russian club. Meeting him on a good day for Romanas does not bode well, what can, eg, confirm in Kazan "Zenith".
At all, the search for weak points in Dynamo is equated with the search for pineapples in the Surgut forests. It is a stretch to talk about the characteristic feature of the still young Pavel Pankov, from time to time to sacrifice reliability in favor of entertainment., the flip side of which is a creative varied matching game. Which is only a plus in the presence of such performers, like Sam Daru, Yaroslav Podlesnykh, Vadim Likhosherstov, Ilya Vlasov plus the same diagonal and Anton Semyshev with Maxim Belogortsev. A separate story with the libero: Lauri Kerminen played well in Montpellier, but also Evgeny Baranov, declared for the national championship, looks no worse.
Dynamo loves and knows how to create constant powerful pressure on the serve, which, together with a high block, allows you to collect whole baskets of break balls. Generally, anyway, "Dynamo" nowadays very few people in the teeth. It remains only to ask the secret of the golden key from the Novy Urengoy "Torch", the only team, managed to beat Muscovites this season, and twice. Surgut analysts probably make sense to review these games - in order to catch some nuances. And for our players - to understand, that there are no invincible rivals. Let's fight, as always. "Kuzbass" took our feet away from us at their home site, we will see, what will happen to Dynamo at the Premier Arena.