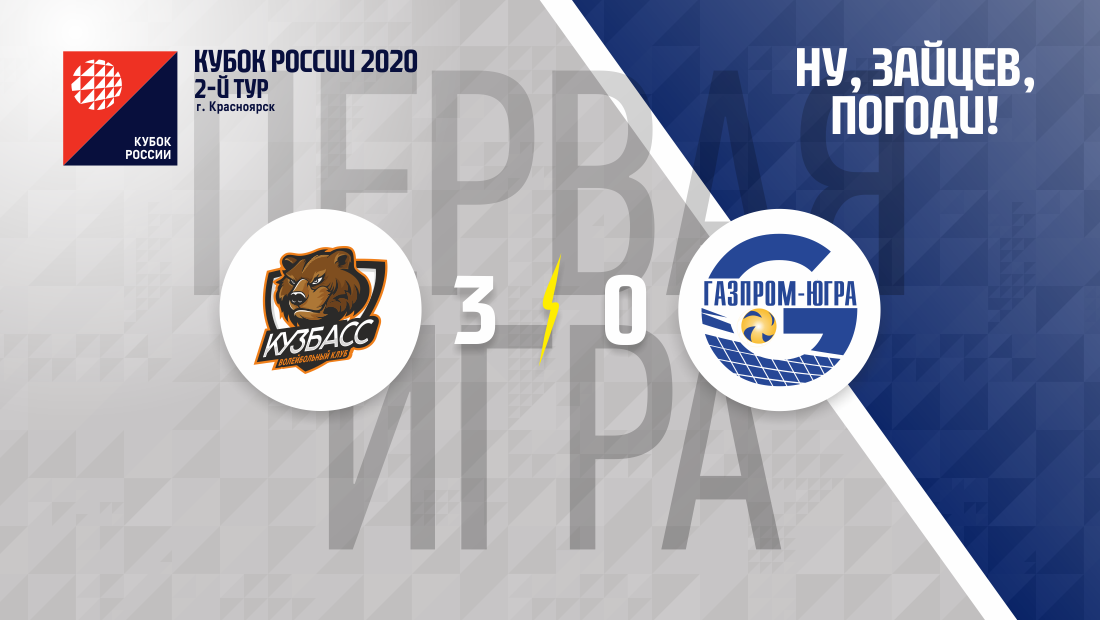 Well, Zaitsev, weather!
17.09.2020 / 16:12
The second round of the preliminary stage of the Russian Cup was started by Gazprom-Yugra in Novosibirsk with a match against Kuzbass. On the eve of the Kemerovo team, they had a full-size five-set duel with the Yenisei and decided not to delay the meeting with the Surgutyans - the battlefield went to the site.: Kobzar-Zaitsev, Markin-Pakshin, Shcherbakov-Krsmanovich.
In the first game, the Surgut residents practically did not show themselves in any way and lost, what is called, on all fronts and on business, 17:25. In the second set, the beginnings of resistance were outlined, Gazprom-Yugra even took the lead - 11:9, 12:10. And it's not even about counting, but in, that from time to time the game rose to a pretty decent level. But the result, as it should be, made by Ivan Zaitsev - at first he did not let the opponent go forward, then ace equalized the score (12:12), and broke the game (13:14). Kirill Kostylenko spent the first half of the meeting extremely inexpressive, now his mistakes allowed the opponent to break away, 14:17. Actually, this backlog was enough for Kuzbass, although in the end Gazprom-Ugra looked quite cheerful - and Miskevich scored, and Zaitsev restrained, and Nikishin attacked without a block with a good reception ... 21:25 and a little more optimism before the third game.
Optimism turned into a stubborn hack right up to the ending. We've become more aggressive in serving, why Kuzbass stopped passing workpieces in training mode, the result of a good reception was the interaction of Rukavishnikov and Kostylenko, more or less fully earned the first tempo. Zaitsev still scored almost everything for Kuzbass, Markin looked confident, but from the center of the Kobzar grid we almost weaned. Eventually - 11:10 after ace Rukavishnikov, 13:12… 18:18. And again Zaitsev made the game. First found the tip of the blocking finger, 18:20. On Markin's excellent serve, we ate a block twice, and then Zaitsev replayed the block twice due to experience, 20:24. Substitute Shakhbanmirzaev knocks on the wall, 20:25.
Kuzbass (Kemerovo)

3
/
0

Gazprom-Yugra (Surgut)
Details
| Date | Time | Championship |
| --- | --- | --- |
| 17.09.2020 | 14:00 | Cup of Russia 2020 |
Results
| | | | | |
| --- | --- | --- | --- | --- |
| Kuzbass (Kemerovo) | 25 | 25 | 25 | 3 |
| Gazprom-Yugra (Surgut) | 17 | 21 | 20 | 0 |