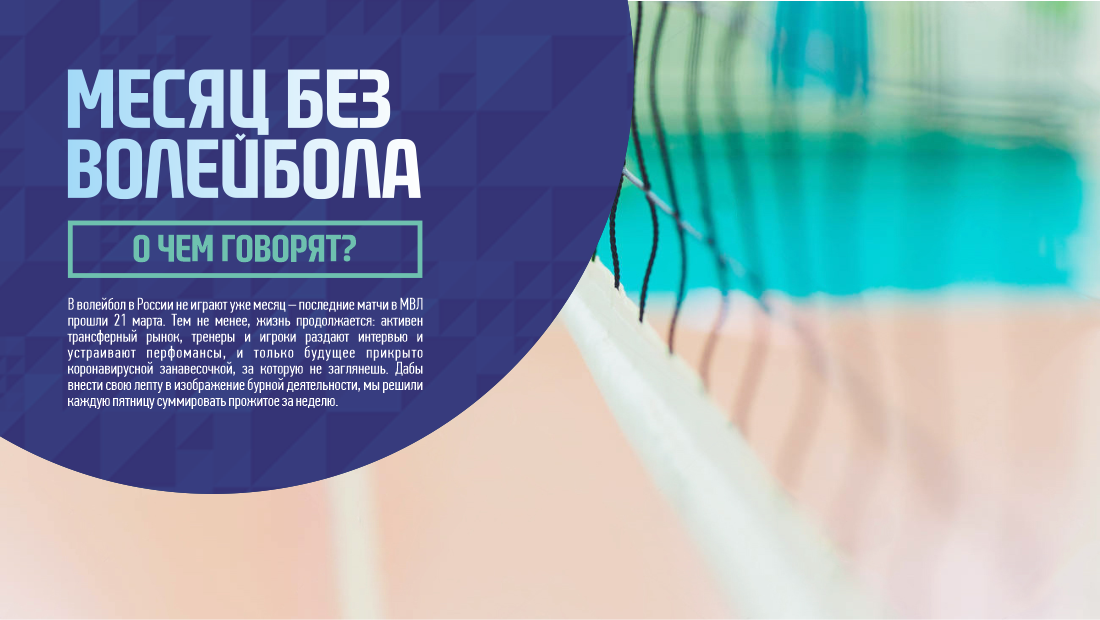 A month without volleyball. What are they talking about?
24.04.2020 / 16:30
They haven't been playing volleyball in Russia for a month already - the last matches in the MVL have passed 21 Martha. Nevertheless, life goes on: active transfer market, coaches and players give interviews and performances, and only the future is covered by a coronavirus curtain, for which you will not look. In order to contribute to the image of violent activity, every Friday we decided to summarize the past week.
---
Transitions and window of opportunity
---
There was a lot of evidence, rebuttals, something hung ... Kluka and Poletaev in St. Petersburg, Pashitsky remains in Kemerovo, Muzay rushing about, Anderson is free, but he won't go to Siberia ..., amusing situation. Transfer window not yet open, what we will play in the next season and whether it will be at all is unknown, paperwork is frozen for obvious reasons. Nevertheless, everyone continues to play this game.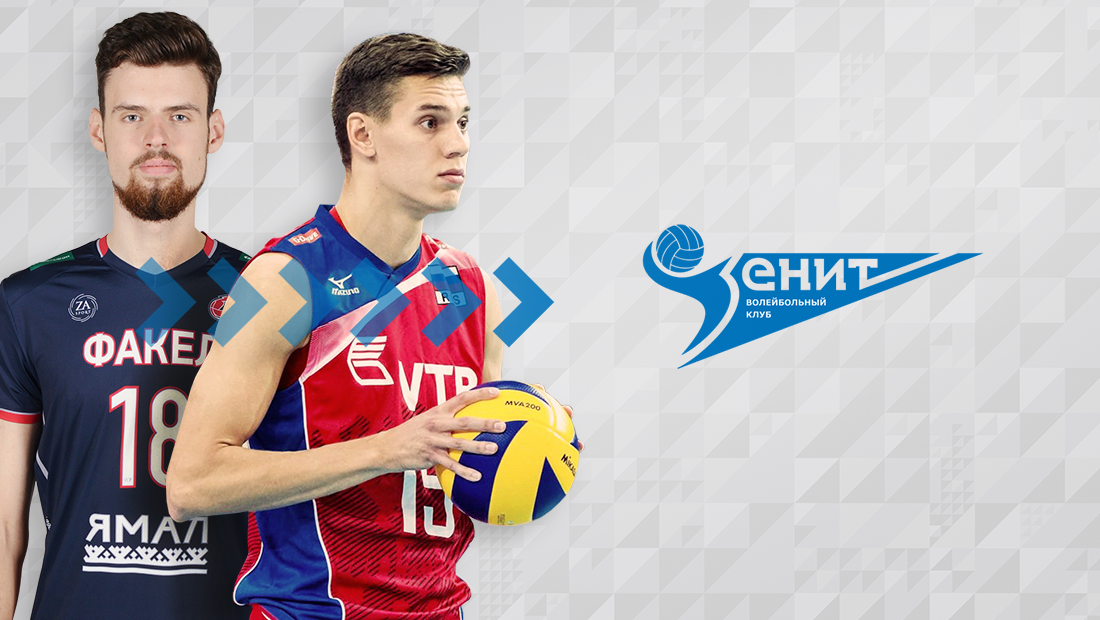 Determining factor, which are not yet understood by all, but which every day more and more puts pressure on the situation - financial resources disappearing in front of an amazed public. Oil fell almost in minus, the economy is noticeably floundering, ruble in a low squat ... Today, problems in foreign markets, tomorrow - with sponsors, the day after tomorrow - with sponsored.
In Europe, this situation played out faster, since there are more dependent on the attendance of matches and broadcasts: cut contracts and even bankrupted some clubs. Everyone suffers, from small teams to grands - the same Modena cannot keep Anderson and Zaitsev, Civittanova is ready to part with Leal. Will there be adequate demand for these top players? And on many others, either sagging in income, either completely left without a club?
Consequently, very tasty offers from Europe have already flashed on our market, which a month ago could not be in principle. The only question is, Do they adequately perceive the situation in Russia?
In this sense, by the way, very interesting is the situation with Maciej Musay. First, the player and his agent pulled the rubber, trying to knock out the best marriage proposal from several Russian grooms. And now, seem to be, already the "bride" needs to be reminded of her existence ... Let's see, how it will end - I hope, to everyone's pleasure.
---
Conversation
---
While the players and coaches have time for the car - it's time to talk about the past season, share today's experiences and tell fortunes for the future. In the stream of monotonous interviews, arranged according to the pattern "the season was hard / strange" – "All the guys are great" – "We will work on the pitch" – "Take care of your health" I would single out a video with Yegor Klyuka and revelations of Maxim Mikhailov.
Yegor under the pressure of questions talked about a pandemic, differences between Russia and Belarus, revealed some new (anyway, for me) personality traits. Moderately elegantly walked away from answering a question, why did not move to Kazan, quite diplomatically described his departure from the "Torch". What I noticed - when the questions concerned Yegor personally, he was open and frank. As soon as the topic of conversation slipped into club affairs, immediately included a certain "autopilot". Although through it you can see something interesting. By this, properly, interview and interesting, take a look.
Maxim Mikhailov, vice versa, surprised by an extremely tough run over, and I will not pick up another word for the diplomatic usually Maxim, by Tuomas Sammelvio. Say, soft finnish comrade, why his training can turn into a booth. Direct sentence from the leader of the team. What was it?
---
Sammelvio restart
---
Personally, I think, that while Sammelview is practicing the study of statistics in twine in self-isolation, his unshakable position as coach of the Olympic team begins to thaw in the manner of April snow. Happen Olympics on schedule, no one would jerk - horses at the crossing do not change, Sammelvuo would take the team to Tokyo. But then the year of odds suddenly fell. For someone it's good, can heal injuries, Express yourself. For someone bad, it is necessary to prove something to someone again.
Tuomas last season took a serious challenge, simultaneously trampling several sensitive legs with his transition from Kuzbass to St. Petersburg Zenit. "Zenith", as known, finished fifth in the championship, worsening performance (whatever it was). That is, Sammelvyuo worsened his coaching indicators. Recall the European Championship, world Cup, - and ahead of another club season ...
Generally, a window of opportunity appeared and Maxim Mikhailov, voluntarily or not freely, launches a test ball into it. Now Sammelvuo, in fact, need to prove again, that he is worthy of taking the national team to Tokyo. And the purchase of Brizar, perhaps, will strengthen Zenit, but she'll surely knock out a comfortable stool from under the head coach "I lead the base club of the national team".
---
«Lokomotiv» – champion?
---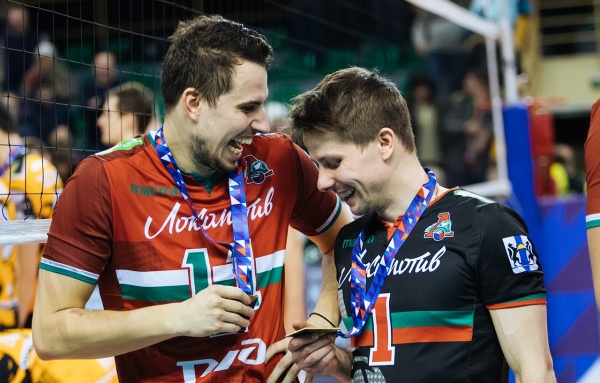 Key question, which asked everyone and everything. Players and coaches of Lokomotiv, understandably, answer in the affirmative. The rest recognize the championship - but with reservations. Maxim Mikhailov again against, what is there to do.
My humble opinion: if we want to "forget the past season as a nightmare" (Egor Klyuka), then let's forget. There were no 19 rounds, there were no interesting games, no effort wasted, experiences, nerves, validola, tears and joys. And then there's no champion.
If we don't want to forget all this, then the champion remains in place. Yes, force majeure intervened, how do you not call him. They did not finish. But everyone played, in one game, according to one rule, and regular season completed. It's time to put an end to this, Lokomotiv finished first and he is a strange champion of the strangest season in history.
---
See you in a week!