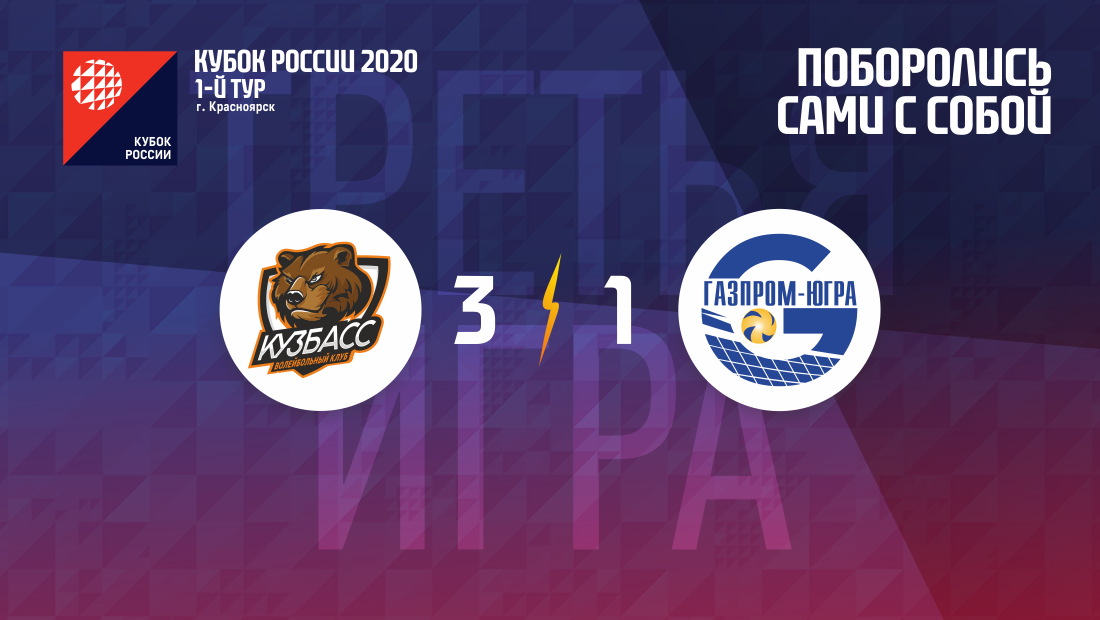 Fought with yourself
10.09.2020 / 16:00
The realities are, that Gazprom-Yugra can play on equal terms with the second line-up of Kemerovo residents. With the first it can also - but not for long. In the first batch, residents of Surgut held out to the mark 5:5, after which they failed on the serves of Evgeny Sivozhelez - 5:12. Further a matter of technology, the opponent calmly finished with a step, while we were trying to run after, 21:25. I remember the exit of Chereysky and the immediately intensified game on the block: covers were discharged to Demakov, Pakshinu, Zaitsev and Sivozhelez, due to which we managed to catch up in the account.
In the second game, Zaitsev went to play, The Kobzar was replaced by Krechetov, Karpukhov appeared, and the place in the diagonal was taken by Glivenko. The drawing of the game has not changed., 4:9 and now on our site Slobodyanyuk, Ahaminov, Shahbanmirzaev. Krechetov answers the ace Slobodyanyuk with two, 10:18. Zaitsev draws up two aces and leaves the site, in the end Nikishin doesn't want to give up - two attacks and an ace. The last draw is indicative: Nikishin's excellent serve leaves Cubzass without attack, but Akhaminov passes the pipe out of tempo, and the iron game turns into defeat, 15:25.
In the third game, residents of Surgut started cheerfully - 5:0: covered by Glivenko, Pakshin is wrong. Glivenko is rehabilitated on the serve, on his series we have problems again, and the account is already 15:15. Then the teams went on a level to the very junction: good again in the ending Nikishin, Shakhbanmirzaev scores, and the decisive point is obtained by a block on Karpukhov, 25:23.
Fourth set, we lead again, 15:12, and again Kemerovo residents are catching up, this time with the help of ace Krechetov, 15:15. Next is a familiar picture to the mark 20:20. it seems, that we can fight again for the ending, but Kostylenko is crushed by a block - 20:23. Cyril is still filming, but a successful attack by Tavasiev and an unsuccessfully played pipe fix 21:25 and 1:3.
It is difficult to draw conclusions on the game, Yes and, to be honest, I do not want. impression, that our team fought more with itself, rather than a rival. And if in the composition of "Kuzbass" players are visible to the naked eye, able to make a difference (starting with the same Zaitsev), in our country these are seen only sporadically.
Kuzbass (Kemerovo)

3
:
1

Gazprom-Yugra (Surgut)
Details
| Date | Time | Championship |
| --- | --- | --- |
| 10.09.2020 | 14:00 | Cup of Russia 2020 |
Results
| | | | | | |
| --- | --- | --- | --- | --- | --- |
| Kuzbass (Kemerovo) | 25 | 25 | 23 | 25 | 3 |
| Gazprom-Yugra (Surgut) | 21 | 15 | 25 | 21 | 1 |