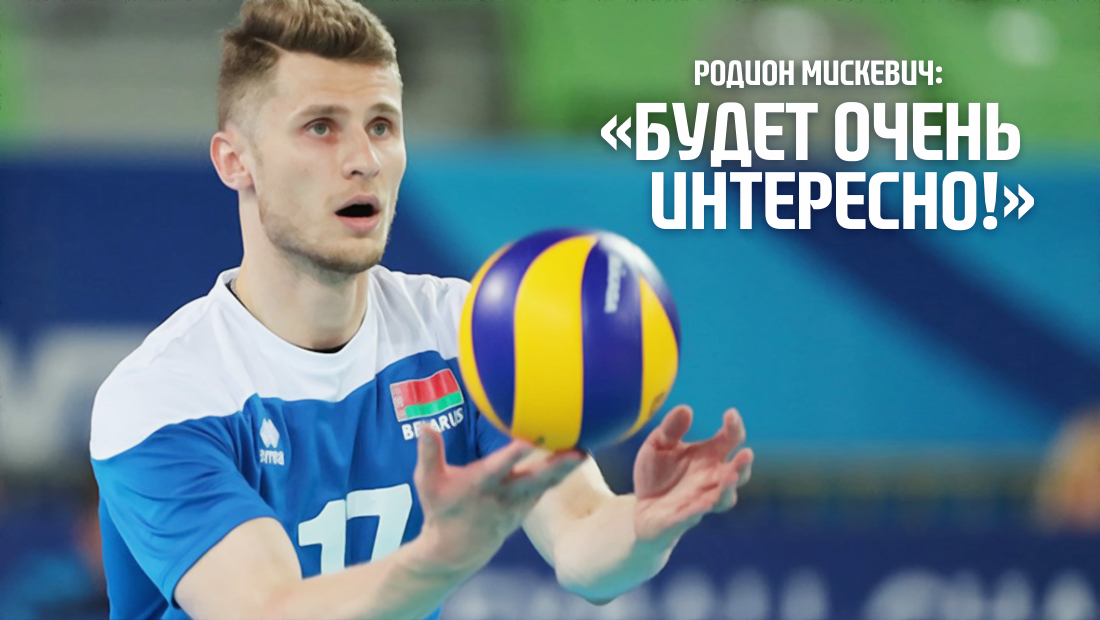 Rodion Miskevich: "It will be very interesting!»
10.07.2020 / 16:16
The Belarusian diagonal Rodion Miskevich will spend the next year in Surgut. We well remember him from his performances for the Ufa "Ural", and he spent the last year in Italian Serie A. curious, that he was the first to call Rafael Khabibullin ... However, better let him tell you everything.
---
Rodion, how did you end up at Gazprom Ugra?
When I found out, that there will be no Vuchevichich in Surgut, asked his friend Denis Chereysky phone Rafael Talgatovich. Called, we talked for a long time and, eventually, came to an agreement. Not in one conversation, of course. I have been following the Surgut team for a long time, they talk a lot about her. It was interesting to try it here..
And what they say?
How to work with players in Surgut. I see, that many grow here, are revealed. I had options for continuing my career in Europe, Turkey, but I wanted to try myself again in the Super League, on the highest level. And Surgut was interested in its approach before., so it all coincided.
You played in two of the strongest leagues in the world - Italian and Russian. You can compare them?
There is a stereotype, that the Russian Super League is more athletic, and the Italian championship - more about technology and tactics. But you look at the athletes, who play in Perugia or Civittanov! I think, that the level and approaches are about the same, in any case, if you compare the top teams. Well, the important difference between Italy is less distance, much easier to ride games.
What else did you understand in two years in Italy? Language learned?
When traveling to Italy, English was better than Italian. Now the opposite. I understand almost everything, I can talk, I read books. I'm generally interested in languages. As for Italy itself, there is a very strong contrast between north and south. Our team was based in the south, south of Rome is always emotions, expression. Everything is much calmer in the north.
How did this season end for you??
At the very beginning of March we arrived at the game in Piacenza, and the opponent's libero found a high temperature. Game canceled, we didn't even enter the hall. Arrived home - and immediately on a monthly quarantine, since Piacenza is located north, in the so-called "red" zone. After quarantine I got home.
There is some news from the national team of Belarus?
No news, it seems that nothing is planned for the foreseeable future. Interesting, what will happen next year - there, in addition to the Olympics, also the European Championship must pass. Although not a fact, that the Olympics will take place at all. Our team is not "threatened" by this tournament, but the event is so massive, which still affects training plans, and just look, I really want to experience this as a spectator.
Recent years are you in sight. Let's get back to the little-known - to the start of your career.
The most common start. I ran around the stadium at school, ran into an invitation to the section. At first I didn't want to walk - I was sick, like all the boys in the yard, football. But gradually got involved. From the third composition - to the second, then first, from gymnasium - to the sports class. Moved from Grodno to Minsk, to the Olympic reserve school - also reluctantly, there was not much desire to leave hometown. But got involved again, it turned out. Minsk is now a favorite city, three years in the local "Builder" I remember with great pleasure. Then year in italy, two years in Ufa, Italy again ... Already used to travel, to moving.
Idol, role model you have?
I think, that no one needs to imitate, you have to be yourself and achieve the result yourself. I have a great desire to improve, this is more important, than to look at idols.
In Surgut, eat alone or with family?
I'm still single,
I'm going alone.
With what thoughts?
Good mood. I don't like to think of something for the future, but sure, that the upcoming season will be very interesting.
And right away. In the first round of the championship "Gazprom-Ugra" takes your former club "Ural", for which Macie Musay will play, speaking before you in Surgut.
You see, I say - it will be very interesting!