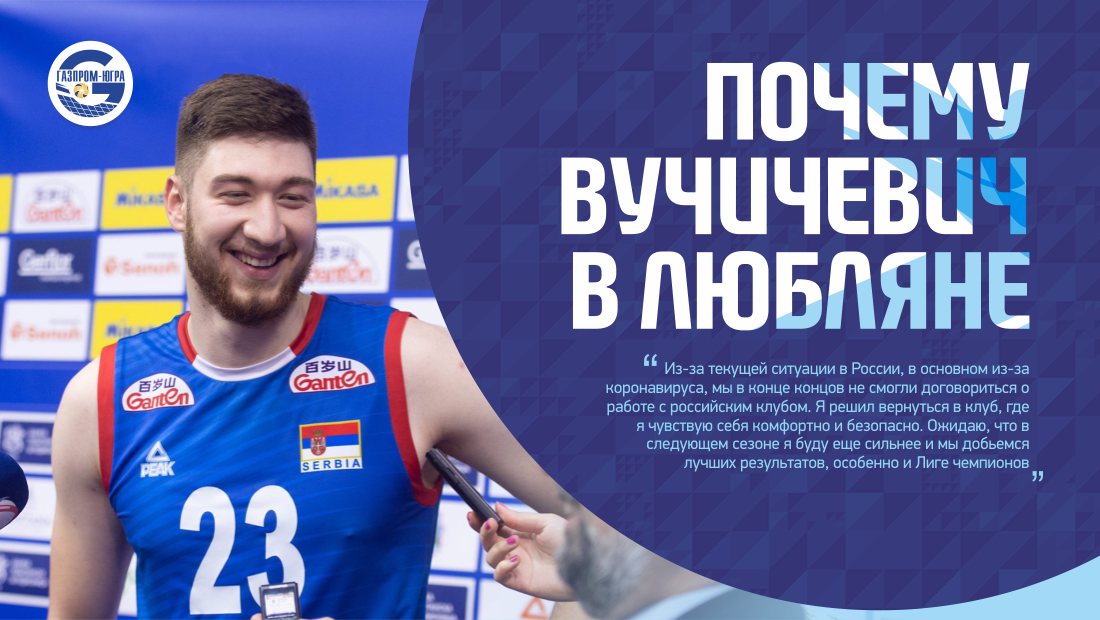 Why Vucichevich in Ljubljana
08.06.2020 / 16:35
ACH Volley Volleyball Club from Ljubljana reported, that diagonal Bozhidar Vucichevich, signed a two-year contract with Gazprom-Ugra, returned to the Slovenian team. "Due to the current situation in Russia, mainly due to coronavirus, in the end we could not agree to work with a Russian club. I decided to return to the club, where I feel comfortable and safe. Awaiting, that next season I will be even stronger and we will achieve better results, especially the Champions League, - said Vucichevich to the press service of ACH Volley.
Gazprom-Ugra is sympathetic to ACH Volley's desire to retain a talented player and considers it necessary to comment on the situation.. The contract concluded with Vucichevich provided for compensation for the termination of his contract with ACH Volley before 30 April 2020 of the year. Surgut club did not fulfill this condition, because until today has no information, regulating the championship of Russia in the season 2020/2021 years.
Will the Super League in the upcoming season be open or closed, whether the legionnaires will take part in it - these issues are obviously and directly linked to the signing of contracts with foreign players. Therefore, the fulfillment of contractual obligations in relation to Vucichevich and ACH Volley was frozen until the relevant documents on the Russian Championship in the Super League appeared. About this and the club, and the player were notified. They could either enter the situation and wait a bit, or take some steps - which was done by them.
In fact, we are all - and the All-Russian Volleyball Federation, and Gazprom-Ugra, and ACH Volley, like the whole volleyball community, - were taken hostage by the coronavirus pandemic. In a situation of dynamic uncertainty, all parties try to minimize possible risks., at the same time maintaining an understanding of what is happening and mutual respect. Gazprom-Ugra does not refuse Bozhidar Vuchichevich, club sees no obstacles to renegotiation, taking into account the views and actions of all interested parties. If the contract with the Serbian diagonal is not restored, Surgut team has resource opportunities for signing other players.