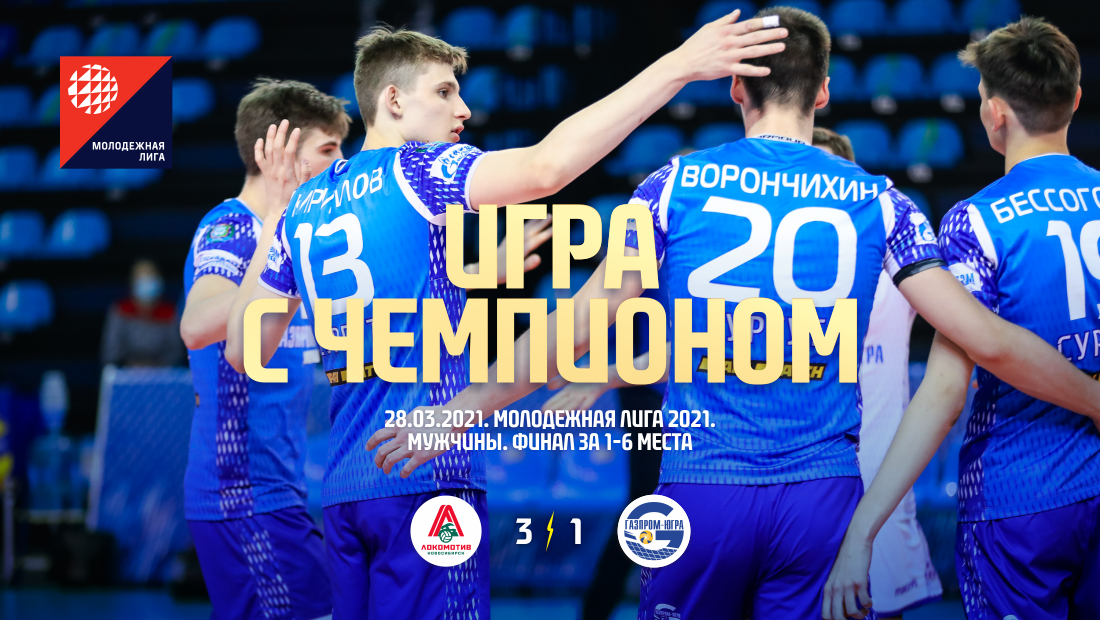 Playing with the champion
28.03.2021 / 22:50
Already at the end of the fourth game day of the second round of the "final six" it was clear, that gold will go to Siberia, to Novosibirsk. For the people of Surgut, everything was still undecided, and in case of a victory over the railroad workers, "Star of Yugra" could hope for bronze, but something happened, what happened. Lokomotiv remained on the winning rails.
First set, equal score in the opening - 5:5, "Star" goes into the lead – 8:5, but not for long, Siberians in the middle of the set – already ahead. Two aces by Roman Murashko – and Loko is six points ahead, score 16:22. У сургутян – Slobodyanyuk breaks through the defense of the Siberians, Vakhmyanin conducts an attack, but further down the game – Novosibirsk block is impenetrable, 18:23. Kirill Vlasov completes the set, twice ace.
The Siberians start the second game with an effective serve, our Maxim Kirillov also answers with an ace and an equal score at the beginning of the set - 7:7. Maxim twice more with his serves brings points to the "Stars" piggy bank, score – 12:9. The triple block of our team works, good attack of Pavel Vakhmyanin, score 21:12, "Star of Yugra" – ahead. On our set – more railwaymen have the serve out and the second batch with a score 25:19 won by the people of Surgut.
In the third set, the team captain Pavel Stradomsky effectively attacks Zvezda Ugra, Slobodyanyuk is reliable in the attack, while Lokomotiv has a block and the score on the scoreboard is equal - 11:11. But at the end of the set, there was a slight advantage in favor of the Siberians., score – 20:23. Surgutyan feed flies out, guys are at risk, Loko also has a filing marriage. But, excitement and again filing out at Zvezda, 21:25. The third set for Lokomotiv-SSHOR. 2-1.
And in the fourth set there was still hope for the Surgutyans to cling to the victory. The game is on an equal footing, ace draws up Kirillov, and Lokomotiv again has a reliable block and an equal score - 11:11. "Star of Yugra" does not allow the opponent to break away in a row, but she herself cannot achieve a breakaway and the teams come to the end of the set with an equal score - 21:21. Siberians serve two aces, and at the match-bole, Lokomotiv's block closes our attack. Novosibirsk won, but the fourth place for the players of our team is not insulting. "Star of Yugra" showed itself well in the games of the season 2020-2021.
Lokomotiv-SSHOR (Novosibirsk)

3
-
1

Ugra star
Details
| Date | Time | Championship |
| --- | --- | --- |
| 28.03.2021 | 14:00 | RUSSIAN CHAMPIONSHIP 2021. MEN. YOUTH LEAGUE |
Results
| | | | | | |
| --- | --- | --- | --- | --- | --- |
| Lokomotiv-SSHOR (Novosibirsk) | 25 | 19 | 25 | 25 | 3 |
| Ugra star | 18 | 25 | 21 | 21 | 1 |