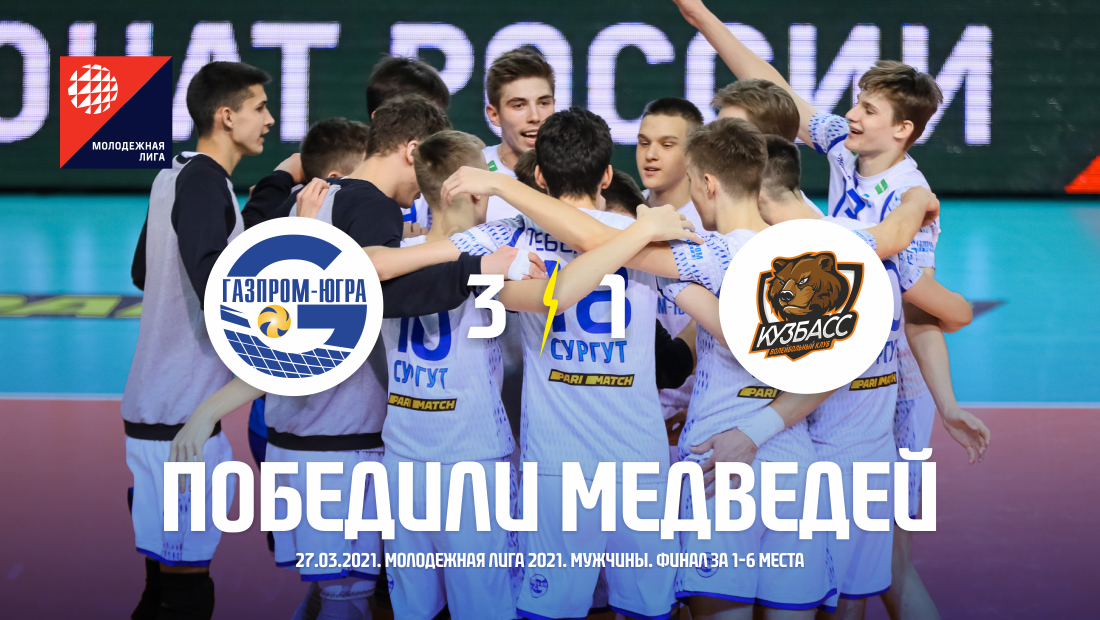 Defeated the bears
27.03.2021 / 21:55
There are problematic teams in volleyball games, with which a positive game does not add up. For our players – this is the undefeated "Torch", and with the Kemerovo "Kuzbass-2" in the first round we had to play in a tie-break.
With an equal play at the beginning of the first set, Zvezda's attitude to win was already visible, score - 8:8. Next - the attack is carried out at the first pace of Surgut, block works, Pavel Stradomsky is attacking and the score is already – 15:10, ahead of the "Star of Yugra". Siberians attack, serve two aces, score – 17:16, but on powerful serves Tebenikhin Surgutyans earn five break points, а партия завершается эйсовым дуплетом Павла Тебенихина – 25:16.
Apparently, a relatively easy victory in the first set made negative adjustments to the game of Surgutyans and with an equal play in the opening – by the middle of the set, the score is already 9:16 in favor of Siberians. Ace serves Vasily Grishin and when counting 13:20 - time-out at the coaching staff of Zvezda Ugra. The score gap is too large, attempts to catch up in the end of the set are unsuccessful, residents of Kemerovo Ace finish the second batch – 18:25. Score: 1-1.
Third set and already at the beginning, Surgut are three points ahead, score 7:4. Stradomsky attacks, the first tempo of Bessogonov works, score – 11:6. Pavel Vakhmyanin carries out a powerful attack in the middle of the set, the score gap is already ten points, 19:9. At the end of the game, Zvezda's defense sank, Kuzbass earns five points in a row, but on our set-bole, in Kemerovo, the serve flies out, score - 25:19. The third batch - against the "Ugra Stars".
And in the fourth set, Surgut did not give Kuzbass a chance for revenge, block started, наши атаки приносят брейковые очки, ace served by Pavel Stradomsky, score – 11:4. Next - Max Kirillov has an ace and already ten points in the assets of "Yugra" – 16:6. By the end of the set, the Siberians win back four points, but Slobodyanyuk's attacks lead Zvezda Ugra to a match-ball, and the winning point in today's game is put by Pavel Vakhmyanin with an attack in the line.
The victory over "Kuzbass-2" is very important for the fight for medals, but I really don't want to conquer wooden, and for this you need to defeat the railroad workers from Novosibirsk in the final game of the "Final Six".
Ugra star

3
-
1

Kuzbass-2 (Kemerovo)
Details
| Date | Time | Championship |
| --- | --- | --- |
| 27.03.2021 | 17:30 | RUSSIAN CHAMPIONSHIP 2021. MEN. YOUTH LEAGUE |
Results
| | | | | | |
| --- | --- | --- | --- | --- | --- |
| Ugra star | 25 | 18 | 25 | 25 | 3 |
| Kuzbass-2 (Kemerovo) | 16 | 25 | 19 | 17 | 1 |