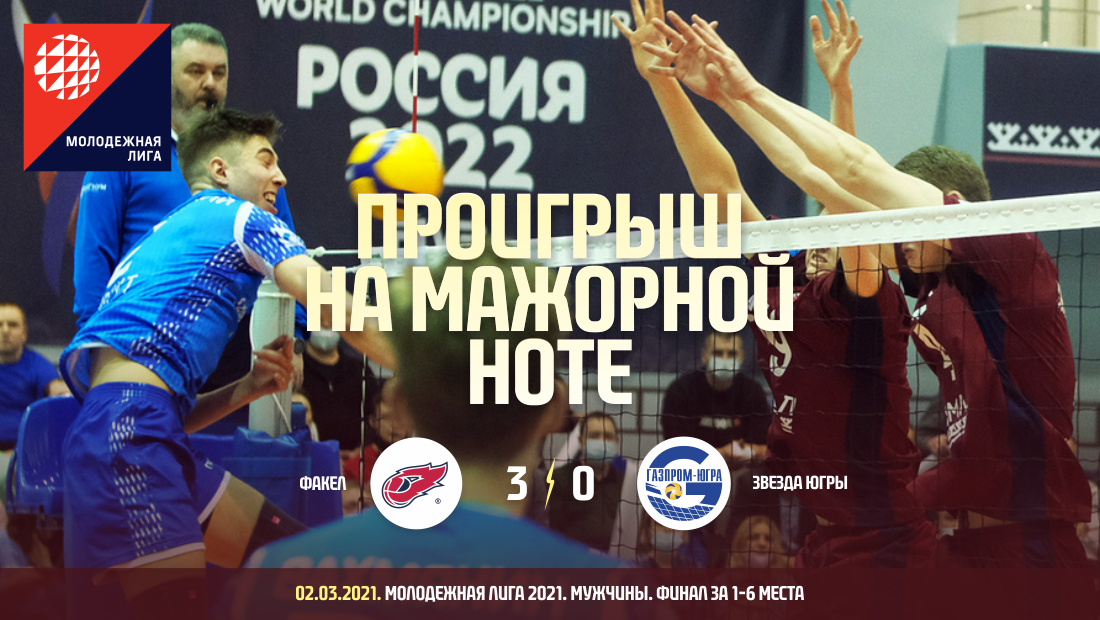 Losing on a positive note
02.03.2021 / 22:03
The first game day and immediately meeting with the owners of the site. Powerful stands support – and a festive mood reigns in the camp of "Fakel". Youth games – this is a bright event for a small town on the Arctic Circle.
so, first set. "Star of Yugra" – on the pitch. The ball goes out-of-bounds, the excitement affects and already in the opening the score - 3:6, owners lead. Pavel Tebenikhin attacks with the first pace, у сургутян связка и блокирующий поменялись амплуа и Макс Кириллов проводит результативную атаку, but the gap in three goals persists - 6:9 on the board. Further – Alexander Slobodyanyuk gives an ace, атака «Факела» упирается в одиночный блок Павла Страдомского и равный счёт – 13:13. Beautiful ace is designed by Pavel Vakhmyanin and "Zvezda" – ahead -17:15. At the end of the game, the teams go with an equal score - 22:22, but the people of Surgut are attacking out-of-bounds, а у хозяев площадки работает блок и сет-бол у «Факела», 22:24. Vakhmyanin conducts an attack, but also on our serve there is an attack of the Novy Urengoy people - 23:25 and the first set for the hosts. (1-0)
At the beginning of the second game, "Zvezda" manages to get ahead. Oleksandr Slobodyanyuk attacks and block-out – at the "Torch", Pavel Stradomsky conducts two aces. Again the powerful serve of our player numbered 2, the Kirillov-Tebenikhin block is in operation, score - 9:4 и тайм-аут у хозяев. But by the middle of the set Zvezda's advantage melted away - 16:16. Further – blocking "Fakel" Mikhail Sidorenko attacks with the first pace, and our serve flies out, and on the attack, the ball also flies far into the tundra. At the end of the set "Torch" gives out an ace - 19:22, and the Novy Urengoy people come to the set-ball with a score 22:24. On our serve, Root Enns is attacking effectively - 22:25 on the board, second set for "Torch".
And in the third set, it did not work to turn the tide of the game, the hosts attack effectively. «Звезда Югры» проводит красивую атаку из сложной позиции, score - 5:6 , but ace – at the "Torch" and the hosts are gaining points again. By the middle of the set, Zvezda has earned four break points in a row, the score is equal - 16:16, but our attacks crash against a reliable block of Novy Urengoy, and we do not have an attack insurance. At the end of the game, the "Torch" attack takes place, Slobodyanyuk attacks, but our feed flies to the net - 21:24, и «Факел» завершает партию эйсом Станислава Антонова – 21:25. (3-0), home win, but you can't say, that ours played badly. It was one of the brightest battles of our team. Just a little bit was not enough. It is seen, that our guys are in good shape, and we hope for the victories of our youth squad.
Andrey Chirkov: - The first game had to be won, but many of our mistakes did not allow us to complete the set with a victory, Voronchikhin entered the game unsuccessfully. We will play against Lokomotiv tomorrow, сейчас проведём работу над ошибками и будем готовиться к игре.
Fakel-2 (New Urengoy)

3
-
0

Ugra star
Details
| Date | Time | Championship |
| --- | --- | --- |
| 02.03.2021 | 18:00 | RUSSIAN CHAMPIONSHIP 2021. MEN. YOUTH LEAGUE |
Results
| | | | | |
| --- | --- | --- | --- | --- |
| Fakel-2 (New Urengoy) | 25 | 25 | 25 | 3 |
| Ugra star | 23 | 22 | 21 | 0 |