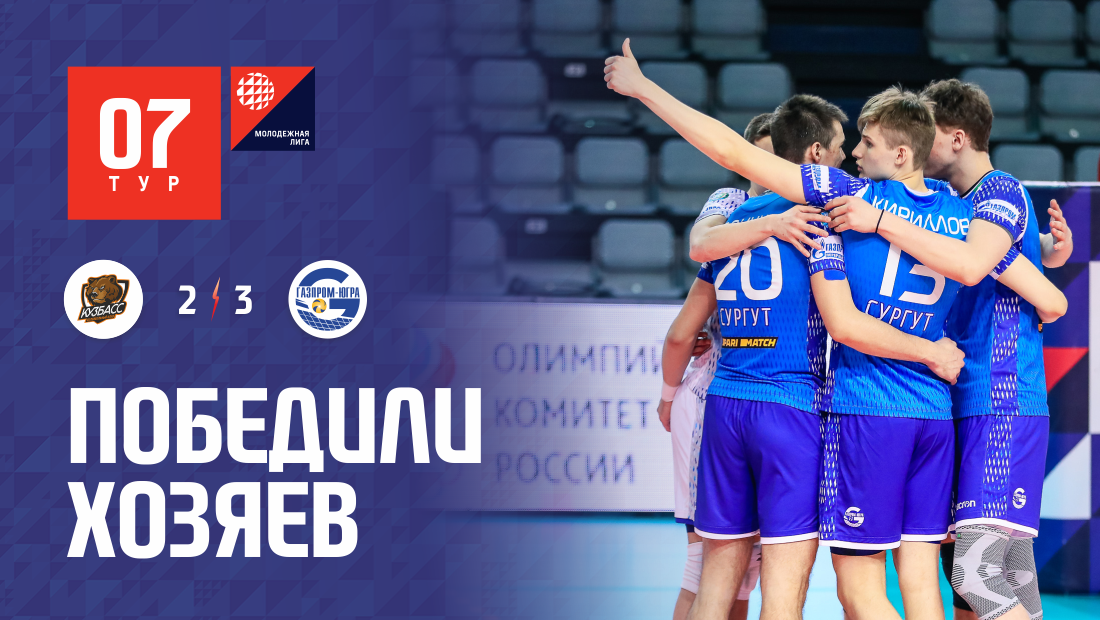 Defeated the hosts
11.02.2021 / 22:22
The first game day of the final round of the preliminary stage – and the first victory in a tough and nervous game with the team of the owners of the site - "Kuzbass-2".
First batch, game of trial and error and in the opening - equal score – 6:6. Kuzbass takes the lead after exchanging errors on serve. Надежно работает блок хозяев площадки Поторочин-Гендлер, score - 7:10. "Star of Yugra" compares the score with Danil Voronchikhin's attack, further – at its filing – ace, кемеровчане атакуют в аут и первый тайм-аут берёт тренер наших соперников. But the coaching break didn't help, Voronchikhin prepares an ace again, the first tempo of "Star" – 17:15, Surgut residents are already ahead. At the end of the set – the score is equal again – 20:20 and on a long swing the hosts press. First batch score 31:33 in favor of "Kuzbass-2".
Second set. At the beginning of the game, Zvezda has a two-point advantage, our Tebenikhin-Stradomsky block is working , ace submits Maxim Kirillov - 13:11, but by the middle of the set the score is again equal – 16:16 and we come to the ending with an equal score – 22:22, So – supply to the network from Kuzbass, our block works and the time-out of the residents of Kemerovo is on our set. Pavel Stradomsky makes an effective attack on the Siberian serve - 25:23. The party is behind us.
In the third set, already at the beginning of the game, Kuzbass-2 has a five-point advantage - 5:10. Andrei Chirkov has a timeout, which the, apparently, said the right words to his players – residents of Surgut compare the score - 12:12. But by the end of the set, it is impossible to close the attacks of Kemerovo residents, Siberian player Andrey Tkachenko gives out two aces and a score – 19:22, "Kuzbass" – ahead. And again the Kuzbass-2 block is in place, closed our discount and attack at first pace, score – 21:25. 2-1 in favor of the owners.
Fourth batch. «Звезде» надо побеждать, but again an equal score, despite the big marriage at the "Kuzbass" – 9:9. After a timeout of Siberians "Star of Yugra" is gaining points. On serving – ace Tebenikhin, Slobodyanyuk's attack and Pavel Vakhmyanin's play in the playoffs. We are ahead – 18:13 и в концовке партии – the Tebenikhin-Vakhmyanin block is reliable, twice closed the attacks of "Kuzbass". Ace on serve is given by Pavel Stradomsky, while Kuzbass attacks out-of-bounds on our set -25:17, equal score by lot – (2-2).
Tie break, on the serve, our opponents take risks and make mistakes, serve flies out and we have – Vakhmyanin's powerful attack, teams change sides of the court when scoring 8:5 in favor of Surgutyans.
Maxim Kirillov gives a much needed ace – 12:8, but when counting 13:10 time out for our coaches. Alexander Slobodyanyuk attacks Kuzbass-2, but for a match, a victory point, attack at first pace, staged by Konstantin Bessogonov. The first victory of the star of Ugra in 7 round – (3-2).
Kuzbass-2 (Kemerovo)

2
-
3

Ugra star
Details
| Date | Time | Championship |
| --- | --- | --- |
| 11.02.2021 | 18:00 | RUSSIAN CHAMPIONSHIP 2021. MEN. YOUTH LEAGUE |
Results
| | | | | | | |
| --- | --- | --- | --- | --- | --- | --- |
| Kuzbass-2 (Kemerovo) | 33 | 23 | 25 | 17 | 11 | 2 |
| Ugra star | 31 | 25 | 21 | 25 | 15 | 3 |