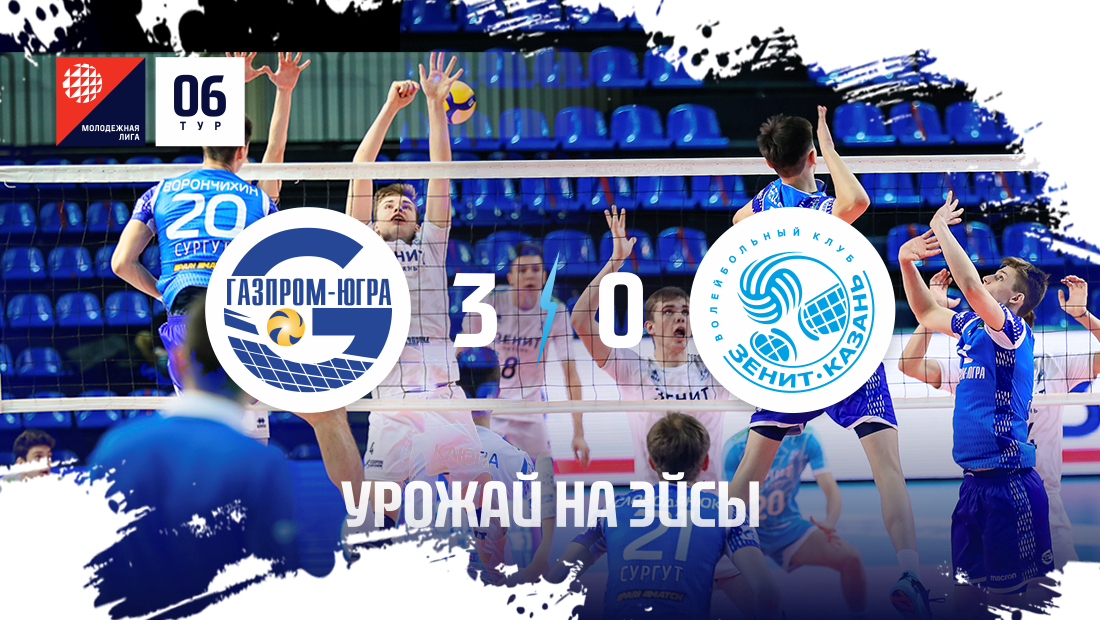 Harvest for aces
01.02.2021 / 00:25
Game over. Ended up home, the penultimate round of the preliminary stage. What we have? Sixteen wins, six losing games. Four less, than the leader and five more, breathing in the back "Kuzbass-2". But Kuzbass played four games less. So that, only "Dynamo-LO" can still compete for a place in the elite six of the final.
Now our guys need to breathe out, enjoying the laurels of victory and preparing with renewed vigor for the upcoming games in Siberia.
Now – about today's game. Our team won, what is called "in the classroom". Opponents from Kazan still have to work and work. But, they are much younger. They have – everything is ahead, as it was with our guys last season, were young, not yet fledged.
The first set has begun. With the filing of Kirillov, Pavel Vakhmyanin earns a point by attacking in the end game. Second serve - out. Further - the attack at the first rate of the "Star" and, Alas, network – on serving "Stars". Like this, at the beginning of the game we go with an equal score on our mistakes and marriage at the serves of opponents -7:7. И при равной игре приходим опять к равному счёту – 12:12. And then - a network on the supply of Kazan residents, our Danil Voronchikhin attacks, работает надёжный блок Кириллов- Vakhmyanin and the guests' first time-out, score on the scoreboard - 15:12. «Звезда» удерживает преимущество в концовке сета в три очка – 21:18. But further – скидка Максима Кириллова и второй тайм-аут у команды «Зенита-УОР». Our block stops the Kazan attack, and Alexander Slobodyanyuk, своей мощной атакой, earns five set balls. Our – подают в аут, «Зенит» отвечает тем же и первый сет – our 25:19.
Second batch. And in the opening - again an equal play and an equal score - 7:7, but Pavel Vakhmyanin gives an ace, this is just the beginning. And the coaching staff of Zenit takes a time out. But when counting 10:7 – already the second ace of Pavel and again the time-out of the visiting team. Further – again ace and another ace! Score 13:8, substitution for filing, but Zenit would not accept this ball either. При таком перевесе в счёте сургутяне не расслабились. The Kirillov-Bessogonov block is in operation – score 16:9. In the end, a six point gap remained – 22:16, guests serve out. On serving- Slobodyanyuk, ace again. Our set-ball and again ace Alexandra! This is how the second set ends. 25:17.
And the third batch. At the beginning – equal score, but we have – ace Bessogonov, and Zenit-UOR – beautiful attack. Max Kirillov compares the score with ace - 10:10, but Kazan comes forward - 11:13 and Andrei Chirkov already has a time-out, the coach of our squad. Score again equal score -18:18, and our central blocker Bessogonov scores with the first tempo. Атака «Зенита» летит в аут, Oleksandr Slobodyanyuk attacks into the block and - out from the hands of the block, score – 21:18. Дальше – опять работает наш первый темп, attack "Zenith" and our match-ball with the score 24:19, guests attack, but on his serve - out. Natural account - 25:20. Our team's victory in a three-set game. Well done!
Ugra star

3
-
0

Zenit-RBM (Kazan)
Details
| Date | Time | Championship |
| --- | --- | --- |
| 31.01.2021 | 17:00 | RUSSIAN CHAMPIONSHIP 2021. MEN. YOUTH LEAGUE |
Results
| | | | | |
| --- | --- | --- | --- | --- |
| Ugra star | 25 | 25 | 25 | 3 |
| Zenit-RBM (Kazan) | 19 | 17 | 20 | 0 |